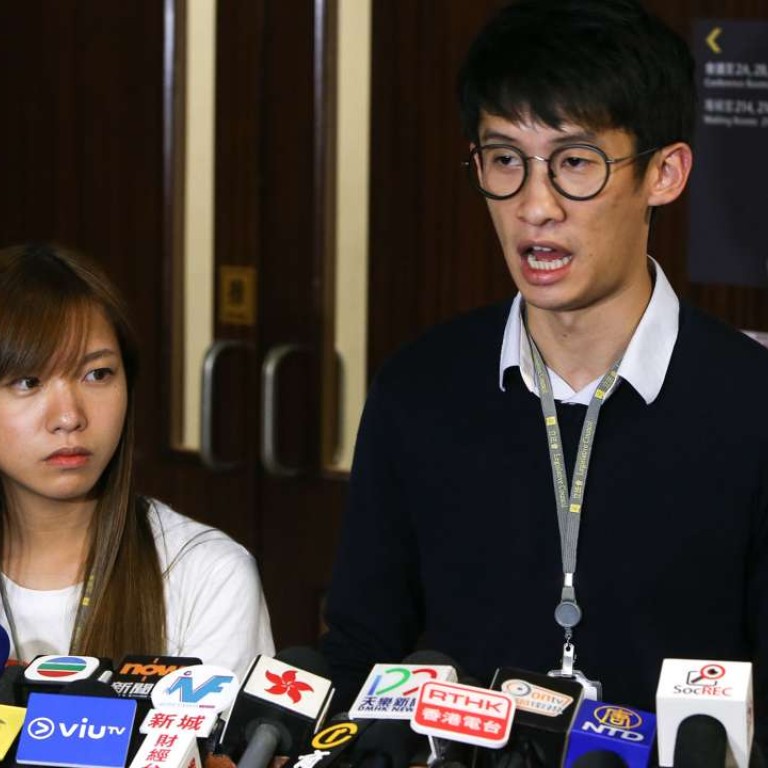 Vulgar Legco rebels must be suffering from deep self-hatred
Alice Wu likens the derogatory antics of the Youngspiration pair to Donald Trump's campaign of offence, but believes they may have gone over the edge and are inflicting self-harm
US presidential candidate Donald Trump's fixation over pronouncing China like the last two syllables of "vagina" has caused quite a stir and a lot of laughs (thank you, Alec Baldwin), but at least it makes some sense now – now that the recording of him in a lewd discussion with TV host Billy Bush has been made public.
And then we had two Hong Kong lawmakers go out of their way to call China "Cheena" (or "Shina" if you wish) in taking their Legislative Council oath. It's a derogatory twist, more offensive than calling ethnic Chinese "Chinks". "Cheena" isn't just another word for China. It carries degrading connotations (the dehumanisation of the Chinese people by imperial Japan), and painful historical wounds (Japanese invasions). It is unacceptable, unfit for the public sphere and displays a lack of concern for human decency. And, as in the case of Trump, it should raise the question of whether the pair who purposefully uttered it possess the necessary judgment, temperament and character for public office.
Instead of admitting their intention to taunt and offend, Youngspiration's Sixtus "Baggio" Leung Chung-hang and Yau Wai-ching chalked it up to their "accent". Yau then accused critics of discrimination. That's as ridiculous as Trump's accusations of moderator bias, being given a defective microphone and, more recently, blaming "locker room talk" for his disgusting comments about women.
Leung refused to acknowledge the offensiveness of the term, citing Sun Yat-sen's use of the word. But the term did not reach its full derogatory status until May 1930, more than five years after Sun's death, when the then government of China rejected the name and made it clear others cannot determine what their nation is to be called. Perhaps Leung should go a step further, and blame Sun for dying before "Cheena" had lexically evolved fully into being offensively oppressive. Sun's use of the word does not cure its evolved perniciousness. To assume so would be to embrace a deliberate ignorance of history.
By Leung's "logic", "negro" should be acceptable, too, given that Abraham Lincoln used the word. Fortunately, Leung is wrong, or the US Army would not have had to apologise in 2014 for mistakenly stating that the word was acceptable in referring to black or African American personnel.
Like Trump, Leung and Yau take people for fools. Perhaps most ironic is that their shared sense of arrogance and entitlement is very much like that of the Japanese imperialists.
There is little doubt that Leung and Yau intended to offend. The most despicable part may be their refusal to admit it. Yau, who recently made "banging" part of public discourse, managed to go one step further in bastardising the public sphere that is an integral part of democracy. I'm talking here of her deliberate mispronunciation of "republic", turning it into another derogatory term. Swearing doesn't require special skills. Being sophomoric isn't an excuse. Being completely ignorant of the extent of one's insensitivities is, as Hillary Clinton told Trump in the first presidential debate, "liv[ing] in your own reality".
If some suspect Trump to be a pathological narcissist, it is not unreasonable to suspect that Leung and Yau suffer from a form of extreme self-hatred. Self-hatred isn't just a strong dislike of oneself, it also refers to hatred of one's own race or nationality. To Leung and Yau, it's not just about welcoming and accepting antagonistic views of Chinese or China, it's about creating and perpetrating it. They have, in fact, gone over the edge and are inflicting self-harm.
And, in this sense, we should perhaps be more concerned for Leung and Yau than Trump. What transpired in the Legco chamber on Wednesday reminds me of what the late Toni Morrison wrote in The Bluest Eye: "They seemed to have taken all of their smoothly cultivated ignorance, their exquisitely learned self-hatred, their elaborately designed hopelessness and sucked it all up into a fiery cone of scorn that had burned for ages in the hollows of their minds―– cooled―– and spilled over lips of outrage, consuming whatever was in its path."
Alice Wu is a political consultant and a former associate director of the Asia Pacific Media Network at UCLA
This article appeared in the South China Morning Post print edition as: Vulgar Legco rebels suffering from self-hatred