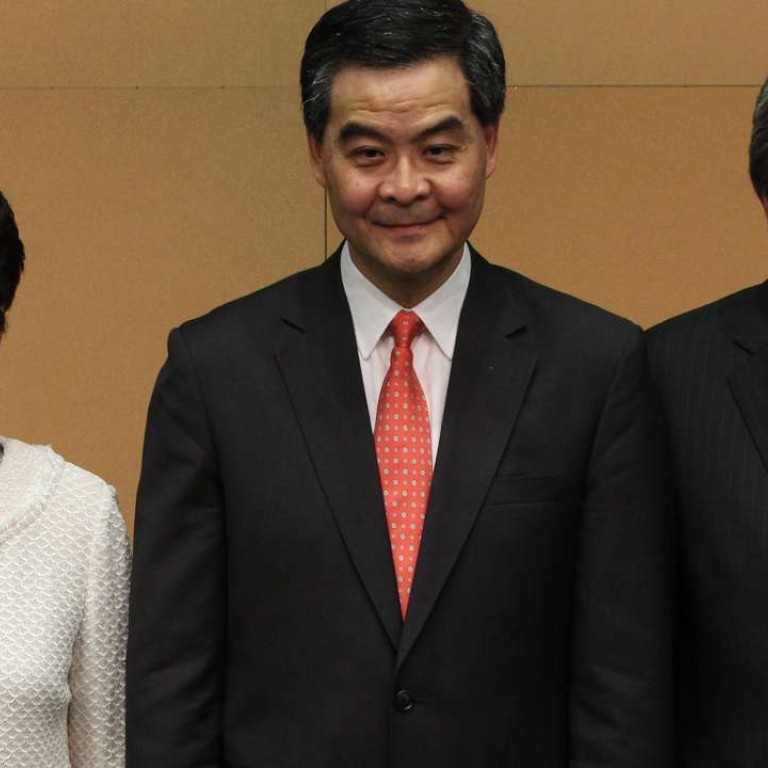 Hong Kong localists' oath-taking antics only play into the hands of Beijing hardliners
Gary Cheung says the drama could boost Chief Executive Leung Chun-ying's chance of a second term, given the central government's need for a trusted leader over a popular one
Even as they denounce the conduct of Sixtus Baggio Leung Chung-hang and Yau Wai-ching during their first attempt at oath-taking on October 12, Beijing and the Hong Kong government may actually be thankful for their
offensive antics
, for they have saved the authorities (at least for now) from any trouble that may have been brought about when they formally assumed office.
Before the newly elected Legislative Council was sworn in, some
Hong Kong officials
had apprehensions about lawmakers who champion self-determination, and even independence, for Hong Kong taking up their positions.
The Basic Law
states that legislators are immune from legal action
over statements made in Legco meetings, and it would be nearly impossible to secure a two-thirds majority of members to unseat those advocating independence, for a breach of oath, if such calls were made outside the legislature.
Feng Wei, the deputy director of the Hong Kong and Macau Affairs Office, said in March that he was fully prepared to accept the reality of young radicals winning Legco seats in the September election, but expected them to mature politically over time. The two Youngspiration lawmakers obviously crossed the line for Beijing. The pair have only played into the hands of mainland officials in favour of playing hardball with Hong Kong.
The oath-taking controversy also offers local officials and Beijing loyalists a golden opportunity to reassert the city's "executive-led government" and deny the existence of separation of powers.
Amid criticism that the government's filing for a judicial review of Legco president Andrew Leung Kwan-yuen's decision to let Yau and Leung retake their oaths violated the principle of separation of powers, Rita Fan Hsu Lai-tai, Hong Kong's sole representative on the National People's Congress Standing Committee, said the Basic Law "makes no mention" of separation of powers. Former Basic Law drafter Maria Tam Wai-chu joined in, arguing that separation of powers was not how Hong Kong's political structure was defined.
Whatever the label, Hong Kong's political system is characterised by checks and balances and distinct roles among the executive, the legislature and the judiciary. Although late paramount leader Deng Xiaoping
(鄧小平
) said in 1987 that it would be inappropriate for Hong Kong's political system to be based on "separation of powers", Beijing went on to accept checks and balances among the three branches of government. The oath-taking fiasco has reignited debate on the issue and could eventually upset the fine balance between the three branches,
particularly if Beijing steps in by interpreting the Basic Law
if the local courts do not rule in favour of the Hong Kong government in the judicial review.
Some mainland officials have been gauging the opinions of Hongkongers from different sectors on likely candidates to be the next chief executive. Aware of the opposition to Chief Executive Leung Chun-ying, mainland officials who have been doing the intelligence gathering are particularly interested in how Hongkongers view Financial Secretary John Tsang Chun-wah and Chief Secretary Carrie Lam Cheng Yuet-ngor.
The oath-taking controversy appears to have given a timely boost to Leung Chun-ying, whose chances for a second term looked slim after
Tsang declared in July that
he was prepared to run.
Fan was right in warning that Beijing might back a trusted candidate for next year's chief executive race regardless of his or her popularity, if independence talk continued to gather steam. Leung stands to benefit, as Beijing has considered him trustworthy since the Occupy movement in 2014. The two localists may lose their seats, but all Hong Kong people are paying the price for their antics.
Gary Cheung is the Post's political editor
This article appeared in the South China Morning Post print edition as: Localists' oath-taking antics only play into the hands of hardliners