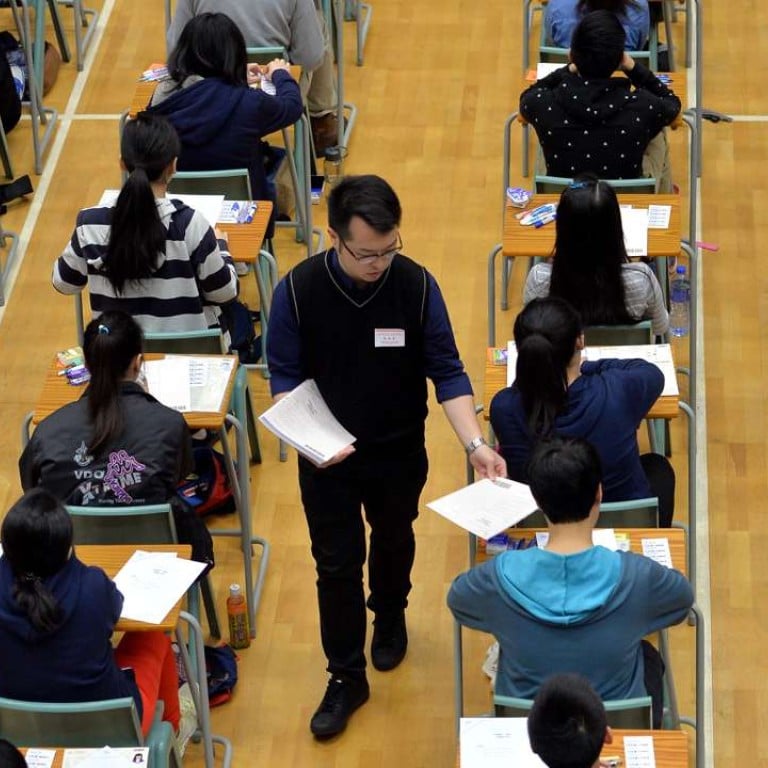 Poignant suicide notes show how teens in Hong Kong are crumbling under the burden of expectations
Qijin Cheng and Paul Yip say it is time to reassess our value and school systems, as youngsters write about losing their sense of worth
In the past decade, suicide rates overall have been decreasing both in mainland China and Hong Kong. However, rates among young people have exhibited a different trend, especially among boys. Given that family size is shrinking and many have only one child, these tragedies can be devastating for the surviving members.
A recent
Post
report of a teenage boy's suicide on the mainland
reflects our recent study on Hong Kong student suicide notes. The boy perceived himself to be worthless and a burden to his parents since he couldn't make it into high school. Our analysis of local student suicide notes suggested that being a burden to others was a constant theme. Associated with the apologies was gratitude towards others (parents, siblings and friends most of the time, and teachers sometimes) for being so kind as to support or care for the person. So what made them feel so hopeless about the future that they simply decided to switch off at such a tender age?
A decade ago, suicide rates for women were higher than for men in rural areas of China, which was unusual compared with the rest of the world. Anthropologists found many rural suicides occurred after quarrels with family members. A theory was proposed that suicide was often seen as a way to leverage one's power in family politics and to resist domestic injustice in rural China.
However, when we reviewed local student suicide notes, we did not see such anger about being mistreated by family members. Rather, they often expressed appreciation for them. There were a few cases when the individuals indicated that their parents (mostly fathers) were very strict or even harsh; however, in their last messages, they wrote that they understood that their parents' harshness was just because they cared about the family and their children.
This phenomenon is different from experiences in Western countries. According to the "interpersonal theory", a popular hypothesis to explain suicide in the US, people kill themselves when they see themselves as a burden to others, and feel thwarted in their sense of belonging, that is, feelings of loving and being loved. Apparently, Hong Kong and mainland students who committed suicide did not lack feelings of loving and being loved. In contrast, their suicide notes revealed a striking love for family members and care from them.
So what went wrong? Unconditional and devoted love from family members is supposed to boost self-confidence and protect against adversities. That is why the shortage of love/belonging becomes a crucial risk factor for suicide in the US.
However, as manifested in the suicide notes, some of our teenagers perceived love but the love was conditional on whether they could achieve academic success or make a fortune for their parents. The positive connection between family members appeared to be fragile and materialistic. The students' sense of "belonging" was replaced by the sense of "belong to," i.e., being possessed by their parents.
They perceived that they ultimately needed to succeed academically and in making money. When they felt they would not be able to meet such requirements, they saw themselves as "worthless" and as having no further reason to exist. Did they obtain the idea of "worth" from their parents, formal education, social norms, or other sources? It requires empirical studies to find the answer.
It is time for us to re-examine our value and school systems. Is there too much emphasis on academic achievement? Have we provided alternative routes of success? Has our education system failed to equip them with life skills and self-reliance?
It is so very sad to read the suicide notes of young people; each death has a devastating effect on their loved ones and society as a whole. Can we turn it into an opportunity for change? They left messages for us to understand them and we should respond by converting these messages into an effective suicide prevention strategy to prevent future loss. Let's cherish every opportunity to talk to our young people, let them know that their parents' love is unconditional and their well-being is worth everything.
Qijin Cheng is a research assistant professor, and Paul Yip is director, at the Centre for Suicide Research and Prevention, the University of Hong Kong
This article appeared in the South China Morning Post print edition as: When the burden of expectation is too much to bear