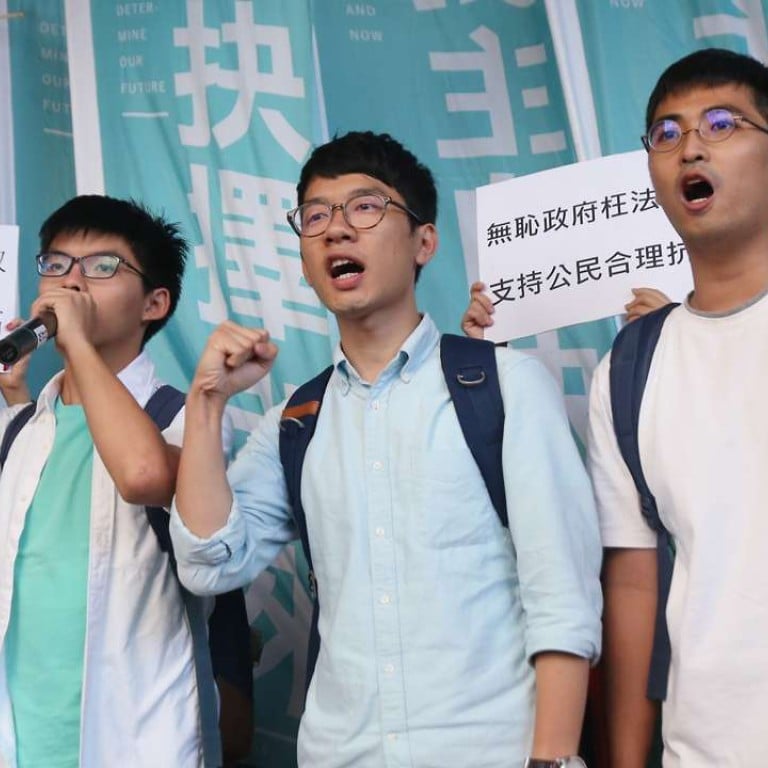 Time for Hong Kong's young and old to unite for a better future
Joseph Wan says the upcoming change in leadership in Hong Kong offers an opportunity for the younger generation to shake off their ignorant and unruly tag, and take an open-minded and confident role in political discourse
As the chief executive race heats up in Hong Kong, it is important to discuss the role of young people in the political arena.
For certain, 2016 was a year marked with extremes – from the rise of Donald Trump in the United States, to the "Brexit" vote in the UK to leave the European Union, and here in Hong Kong, the support for localists in the Legislative Council election. Now, 2017 is gearing up to be another year full of political intensity, especially for this city.
Indeed, whoever is elected Hong Kong's next chief executive has to have the support of the majority of young people.
Watch: Carrie Lam resigns as chief secretary to run for top job
"United we stand, divided we fall," wrote Aesop, the ancient Greek storyteller. Today, the significance of his words are, I believe, more critical than ever.
Hong Kong can only grow and develop with a united base, or rather, a strong and broad "coalition" across sectors and generations.
The chief executive has a difficult job, and building such a coalition will be challenging. But I urge all our youth to be open-minded.
It is no secret that small groups of young people have differences with the leaders who govern Hong Kong. However, when I look at the current crop of chief executive candidates, there is genuine caring about the people and a desire to put our city at the forefront of scientific and business innovation.
It is in the best interests of the city to pull together and stick together, for, in the long run, Hong Kong's economy and people will reap the benefits. Constantly bashing our leaders with baseless arguments will only damage society.
Young people often hold a different point of view from those of older generations. Not only do the youth have to learn to work with their elders, but also vice versa. In running Support! International Foundation, my team and I have seen our share of aggressive scepticism from adults who seemingly believe that young people are mindless and irrelevant.
The older generation needs to understand the very real concerns of the younger generation.
Granted, there are some factions of youth who enjoy shouting pointless and, frankly, quite idiotic rhetoric. However, when we see our young people struggling to pay their rent, or
secondary and even primary school students screaming out for help
– given the unbearable pressures of Hong Kong's flawed education system, it's time for the older generation to listen.
Watch: Education secretary answers students' questions
Even for freshly graduated, college-educated people, life is hard. They still live with their parents and are unable, without draining the coffers, to afford to live in their own home. When even a modest 400 square foot flat in Happy Valley, say, costs upwards of HK$5 million, many begin to wonder whether they will ever be able to afford a home of their own.
This feeling of unhappiness can quickly snowball. Young people begin to believe that the government is working against them. So, when this growth in anger happens, people become sharply divided, and the city, as a whole, is thrown into political chaos and inefficiency.
In the case of housing, it is meaningless for the older generation to disregard those concerns, because they are genuine. Whether we like it or not, we are all part of the same big family. Dismissing each other's concerns and complaints can only be detrimental. Instead, we should focus on compromise. Issues are multifaceted, and each party will bring to the table a different set of eyes and opinions. A positive collision of ideas and perspectives will ultimately bring about the best outcome. The youth of Hong Kong have to take a confident and open-minded role in it all.
So what is youth involvement in politics? It is young people demonstrating a willingness and openness to embrace the contrasting views in the current political landscape. It is young people staying positive about the future of Hong Kong. It is young people who are able to create and participate in a cross-sector and cross-generational community of collaborators.
It is not shouting thoughtless and irresponsible remarks.
Currently, the youth of Hong Kong are viewed by older generations as ignorant and unruly; it's sad, but I can understand and relate to such an opinion. Any adult who turns on the television and immediately sees young lawmakers-elect proclaiming reckless things that do more harm than good will feel a sense of disgust.
It is not difficult to deduce why many older people believe what they do.
More than ever, now is the time for young people to step up and show Hong Kong (and the older generation in particular) their positivity and willingness to play a leading role in shaping the next stage of success.
We are a diverse, international city. I have had the privilege of working with many amazing and intelligent young minds. For us to remain a leading, innovative and global city of the east, our younger generation has to be involved in our politics. Only then can Hong Kong really reach its pinnacle.
Joseph Wan is founder and president of Support! International Foundation in Hong Kong
This article appeared in the South China Morning Post print edition as: youth face moment of truth