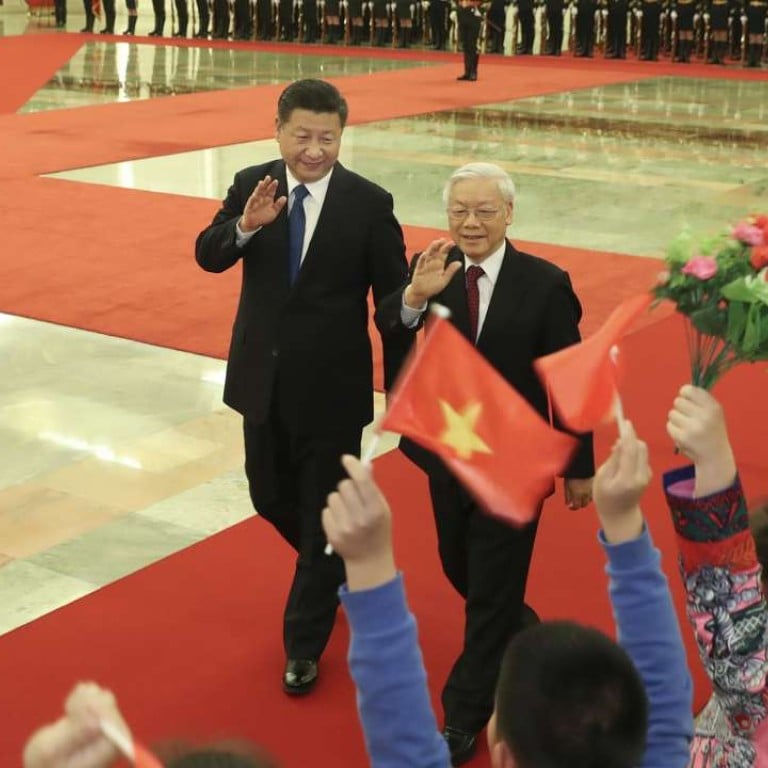 China the elephant in the room as Vietnam and India draw closer in defence cooperation
Neeta Lal says in seeking to strengthen their military capabilities, India and Vietnam face a diplomatic challenge with a wary China looking on
When Nguyen Phu Trong, the general secretary of Vietnam's Communist Party, and Chinese President Xi Jinping ( 習近平 ) met in Beijing last week to weigh up bilateral ties, India couldn't have been far from their minds.
New Delhi and Hanoi have been steadily cranking up their military relationship in the Asia-Pacific region, much to Beijing's chagrin. By leveraging its friendship with India, Vietnam hopes to offset the rising power of its northern neighbour, with whom it fought a brief war in 1979.
For India, Vietnam is increasingly at the heart of its "Act East" policy, a blueprint to expand its footprint across East and Southeast Asia. By building relations with states like Vietnam, Delhi hopes to provide a counterweight against Chinese adventurism in the region. It anticipates that a robust defence collaboration with Vietnam, coupled with the US lifting the Vietnamese arms embargo, can boost Hanoi's defence capabilities against China.
With Hanoi and Delhi also sharing concerns about China's access to the Indian Ocean and the fraught South China Sea, the latter has helped beef up Vietnam's naval and air forces. While on a visit to Vietnam last September, Prime Minister Narendra Modi not only elevated the Delhi-Hanoi "strategic partnership" to a "comprehensive strategic" one, he also provided Vietnam with a line of credit of
US$500 million for defence deals
.
In addition, Delhi has chivvied BrahMos Aerospace, an Indo-Russian venture which produces the world's fastest supersonic cruise missiles, to accelerate sales to a list of five countries topped by Vietnam. Vietnamese fighter pilots are also being trained on Indian fighter jets.
These developments are clearly making Beijing uneasy, with India's bid to sell the surface-to-air Akash missiles to Vietnam leading the Global Times to comment that if the Indian government "treats its enhancement of military relations with Vietnam as a strategic arrangement or even revenge against Beijing, it will only create disturbances in the region".
Beijing's pique probably has Trong under pressure. But, for now at least, neither he nor Modi seem overly worried.
Be that as it may, neither Vietnam nor India are in a position to antagonise China. Beijing is Hanoi's top trade partner and the power it can bring to bear on it is no match for Vietnam's outreach to India, Japan or even the US. Delhi too, needs to inject the right dose of diplomacy, military relations and, now, arms sales into its Vietnamese mix while managing what is perhaps its most challenging strategic relationship – the one with China.
Neeta Lal is a Delhi-based editor and journalist
This article appeared in the South China Morning Post print edition as: A case for strategic balance