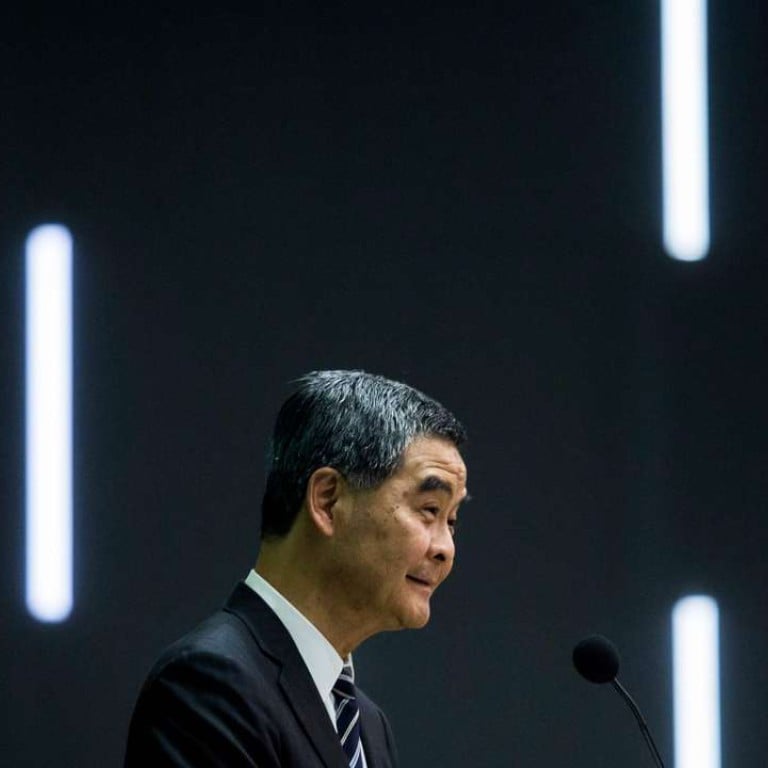 By dividing Hong Kong, Leung proves to be anything but the unifying figure he promised to be
Alice Wu says despite his recent declaration that he has fulfilled his campaign promises, the city's outgoing chief executive has shown himself to be a divider with little tolerance for other views
You don't have to be an ABC (Anyone But CY; in other words, a Leung Chun-ying hater) to take note of the strange way the chief executive ended his
final policy address
: "All commitments in my election manifesto have basically been implemented." They have not. And what does "basically" mean anyway? Was he checking things off a bucket list?
But what stands out most in his swansong address is that he did not seem to be singing for us. And perhaps that's what people will remember him most for.
This stands in stark contrast with how he sold himself during his bid for office in 2012. His campaign featured a pen, notebook and folding chair prominently, to portray him as an "everyman" – personable, approachable and able to relate to the average citizen. But, since his victory, these items have been under lock and key.
He became less personable, but could get "personal" – we saw this when he, out of the blue,
fired secretary for home affairs Tsang Tak-sing
. Some said Tsang was collateral damage, penalised for having a brother, Jasper Tsang Yok-sing, who openly challenged Leung and posed a potential threat.
In
his manifesto
, Leung said: "I believe in elections, and I believe in the power of people. I believe in the synergy that comes from unifying different sectors of the community." His assertion that all his election commitments had been implemented is disputable, not simply because of the goals not yet met, such as standard working hours; more than that, he didn't engage people despite saying in his manifesto that, "the importance of consulting and listening to different views really came home to me".
"One Heart, One Vision" was his rallying call; he made sure we understood it as a unifying call for society. But, as it turned out, it was more about one man's vision and one man's determination to push on with it. For almost five years, there was little call for a common purpose.
Leung tried to divide and conquer. The
fight he picked
by giving an old, obscure article in a student magazine prominence backfired disastrously on him. Since he attacked the student writers behind an issue of
Undergrad
, a University of Hong Kong Student Union publication, for "advocating independence", more people have rallied behind the
call for independence
. Leung became the common enemy that united the people. The new rifts in society and within his own team are testament to his divisiveness, quite the opposite of "Leung the unifer", the image he had tried to sell to the people.
For someone who claimed to have understood "the importance of accepting monitoring by the media and the general public", he really didn't take that to heart, either. And judging by how Carrie Lam Cheng Yuet-gnor
handled the Palace Museum controversy
, there's no sign that the administration is receptive to being monitored by the news media and public.
Lam will have to do quite a bit of explaining to distance herself from Leung. Being labelled "Leung 2.0" is not a political asset. The
praise he bestowed on her
, especially when compared with the little he has said about her opponent and ex-colleague John Tsang Chun-wah, may not play to her advantage.
Whoever becomes our next chief executive will inherit a more divisive Hong Kong. And that is part of Leung's legacy: new political fault lines that will make reaching a consensus very difficult. Hong Kong's toughest job has got tougher still.
Leung is correct in pointing out that housing issues are a tough nut to crack, but his assertion that he has basically carried out his pledges is a hard pill to swallow.
Alice Wu is a political consultant and a former associate director of the Asia Pacific Media Network at UCLA
This article appeared in the South China Morning Post print edition as: Leung the leader proves to be a far cry from Leung the candidate