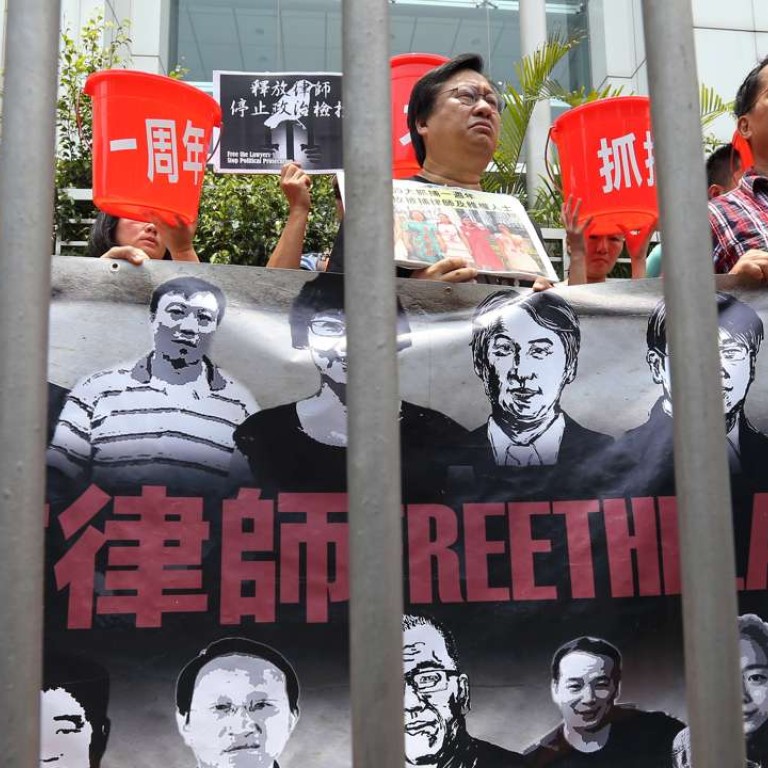 Without freedom for rights lawyers, how can China lay claim to a just legal system?
Nicholas Bequelin says President Xi Jinping's legal reform drive is being undercut by the crackdown on lawyers and bureaucratic interpretations of national security laws
Many endured months of secret detention under a legal provision that allows police to hold state security suspects at a place of their choice, outside the formal detention system. Several were tortured and almost all were denied contact with lawyers or relatives. Some issued chilling public "confessions". Four have already been convicted and two jailed. Five
more await trial
.
This doesn't fit easily with President Xi Jinping's ( 習近平 ) insistence on vigorously developing the legal system in China as the main instrument for the government and the party to rule the country.
Xi took office with the
bold promise to "put power in a cage"
, or deter
official abuse of power
, and followed through by giving fallen political rival Bo Xilai (
薄熙來)
the closest thing to a transparent trial by China's standards, abolishing the notorious system of re-education through labour, and picking "the rule of law" as the theme of the fourth party plenum in 2014.
China has since put in motion an ambitious plan to address admitted deficiencies in its judicial system: corruption, abuse of power, political interference, miscarriage of justice, forced confessions and torture.
But at least two things are threatening this agenda. The first is the failure to recognise that rights granted on paper are effective only if redress is available when they are denied or violated. Without effective remedies, rights on paper are worthless, and lawyers are indispensable to securing these remedies.
Lawyers are not always popular figures, and China is no different. Chinese lawyers are accused of being useless and a waste of money, and even rabble-rousers. But the role of the legal profession remains crucial in the administration of justice, if simply because lawyers are the only ones within the justice system whose main duty goes to the plaintiff or the defendant. This is all the more important in a system that does not recognise judicial independence: without lawyers, ordinary citizens have virtually no hope of claiming their rights against powerful state machinery.
For Xi's legal reforms to have a chance to succeed, much greater freedom will need to be given to lawyers, starting with a most fundamental one: allowing lawyers to form their own independent professional associations instead of keeping them under the thumb of the Ministry of Justice. Only then will they be on a firm foothold to ask that the state respect its own laws.
The second thing that threatens Xi's legal reform ambitions is of his own making: the reckless expansion of the national security laws and their conflation with protecting the political power of the party. While his intention might have been to prevent the emergence of political challenges, the prominence of this agenda has created strong incentives within the state security bureaucracy to use their newfound powers – including incommunicado detentions – and blow up minor cases of social contention or dissent as plots against national security involving "hostile foreign forces".
This is exactly what they appear to have done with the lawyers and rights activists caught up in the current crackdown: the who's who of the Chinese human rights community, upright, courageous individuals tackling sensitive cases that often pit them against powerful interests, such as the police or local bosses, have now been recast through a vicious state media campaign as unsavoury colour-revolution zealots
paid by foreign powers to create chaos in China
. Understandably, this deters the profession at large from engaging in politically sensitive cases.
With this year's
focus on China
, one hopes this campaign may even go some way in convincing Xi that he should see lawyers as allies rather than enemies in his effort to improve China's legal system.
Nicholas Bequelin is East Asia director at Amnesty International, based in Hong Kong
This article appeared in the South China Morning Post print edition as: Lawyers need free rein for Xi's reforms to work