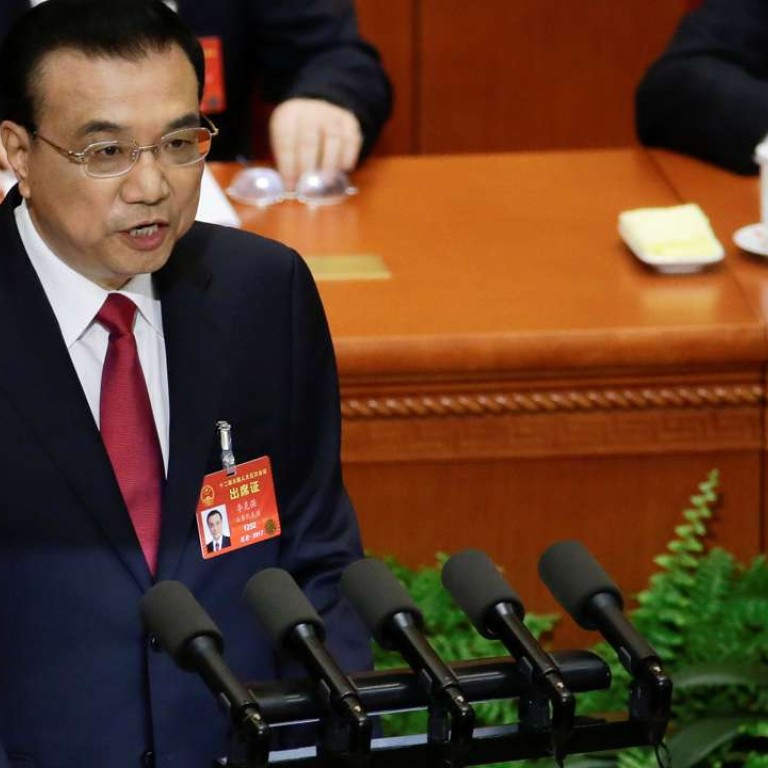 China must take the lead in championing global free trade
The government's pledge to maintain stability is in the interests of all, and the rebalancing of the economy towards services could jump-start global demand
Uncertain economic times require a steady hand on the financial tiller. The government work report delivered by Premier Li Keqiang (李克強) had that in mind, the goal being a GDP growth rate of at least 6.5 per cent or slightly higher with the focus on restructuring and reform. A slew of reasons to reduce risk have either arisen or loom, most significantly the autumn leadership shuffle, the protectionist ways of new US President Donald Trump, Britain's withdrawal from the European Union, elections in Europe that could change the political landscape and a sluggish outlook for the global economy.
Caution, resilience and staying the course are paramount, as much for the world as China.
Beijing needs to keep growth at a rate of at least 6.5 per cent to accomplish plans and ensure job creation. Last year's level of 6.7 per cent was the lowest in 25 years and the decreased forecast highlights the economic challenges. Trump's threat to impose tariffs on Chinese exports is particularly worrying. Li's conservative outlook outlined to delegates at the National People's Congress was therefore understandable, as was his contention that China had to be alert to vulnerabilities in the financial system.
Restructuring and reforms are aimed at ensuring sustainability while moving China to the next stage of its economic development. Goals include cutting excess production of steel by 50 million tonnes and coal by 150 million tonnes, while trillions of yuan will be pumped into infrastructure projects. The "One Belt, One Road" trade initiative, boosting links with Asia, Africa, the Middle East and Europe, offers great growth potential for the nation, region and beyond.
Li said efforts to lessen the potential hazards posed by non-performing loans, shadow banking, bond defaults and internet finance would be dealt with through a "firewall against financial risks". Furthering that mindset, the defence budget increase of about 7 per cent looks to safeguard national interests while shouldering increased international expectations to assist with global peace; with Trump seeking a 10 per cent rise in US military spending, the moderate Chinese increase also reflects a desire by leaders to avoid being dragged into an economically damaging arms race.
Maintaining stability will assist China, but it is also in the interests of the world's financial system. Although the Chinese economy has slowed, it remains by far the single biggest contributor to global GDP growth. Beijing's rebalancing of the economy from manufacturing and investment to household consumption and services could jump-start global demand. Protectionism has no place; China needs to further open its economy and lead the global charge for free trade.