Asean
Get more with myNEWS
A personalised news feed of stories that matter to you
Learn more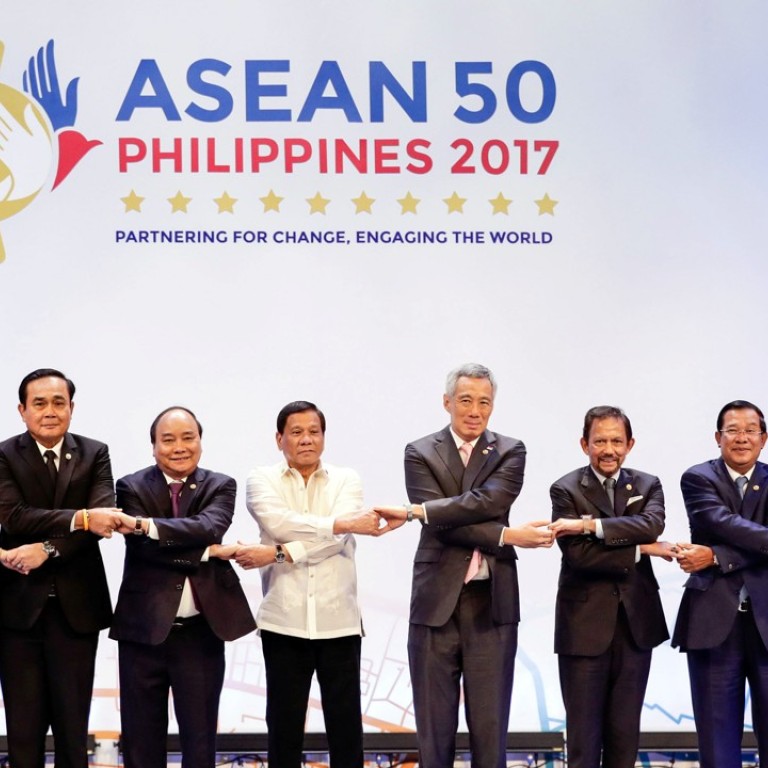 'Belt and Road Initiative' helping to calm waters in Southeast Asia
Territorial disputes in the South China Sea are being handled more rationally as all sides seek to cash in on global trade development strategy
Two weeks ahead of the summit for the "Belt and Road Initiative" next weekend in Beijing at which more than two dozen heads of state are expected, the Asean meeting in Manila could have cast a shadow over it on the issue of territorial claims in the South China Sea. But leaders of the Association of Southeast Asian Nations finally agreed on a communique that Beijing could live with, reaffirming the importance of security and freedom of sea navigation and overflight, without provocative references to militarisation or reclamation.
This reflected a desire on both sides not to let the South China Sea territorial issue get in the way of positive developments in relations, the belt and road trade plan being the prime example. The role of Asean members in the scheme is important to its success because Southeast Asian countries are integral to the belt, or maritime part. To ensure success, however, China needs to strengthen ties with Asean and build trust and consensus. After all, not every Asean nation was happy with the softer language in the communique. But pragmatism prevailed. Nonetheless, the communique did note concerns expressed by some leaders over developments in the South China Sea and emphasised the importance of mutual trust and confidence.
Both sides would do well to focus on practical achievement. In this respect, progress towards completing a framework of a code of conduct to cover unplanned encounters in the South China Sea by the middle of this year is welcome. China and Asean have both committed to achieving an operational code this year. At this stage, failure to deliver would do nothing for the credibility of either side.
Both sides need a peaceful Southeast Asian region, with the threat to stability posed by North Korea's nuclear and missile programmes looming large and China's belt and road ambition dependent on stability. A key player at the belt and road forum will be Indonesian President Joko Widodo. During a visit to Hong Kong before going on to mainland China, Widodo made it clear Indonesia needed investment that created jobs for Indonesians, not just Chinese workers. On the other hand, business leaders in Jakarta say Indonesia can attract even greater Chinese investment and play a key role in Beijing's global trade development strategy with policy continuity and a strong supply of talent.
In a further reflection of a soft regional stance towards Chinese activities in the disputed waters, current Asean chairman, Philippine President Rodrigo Duterte, visited Chinese warships on their first visit to the Philippines since 2010 and raised the prospect of future joint exercises. This not only highlighted fast-warming bilateral relations but also showed that the South China Sea issue need not block regional cooperation if it is handled with sensitivity on both sides.