Shock firing of FBI chief James Comey is yet another episode in Trump's White House soap opera
Kevin Rafferty says the un-American lack of due process and dignity in the sacking of the FBI director, especially as he led investigations into claims of the Donald Trump campaign team's ties with Russia, is inappropriate meddling worthy of a B-grade reality show
What happened in the US on Tuesday was surely a rejected pilot reel for a B-grade TV reality show about an apprentice president playing at running the White House.
Donald Trump
abruptly fired James Comey
, the head of the Federal Bureau of Investigation, with a four paragraph letter hand-delivered to his office.
Either the president was badly informed about the whereabouts of the director or he wanted to deliver a petty humiliation in front of FBI staff, because Comey was not in his office in Washington – he was giving a pep talk to FBI field agents in Los Angeles. As he spoke, he looked up to the TV screens to see the flash headline proclaiming that Trump had fired him.
Watch: FBI director fired
Comey laughed and said he thought it was a fairly funny prank, only to find the joke was on him. Any film director would have rejected such a scenario as too melodramatic to be believed.
Comey was three years into a supposedly 10-year fixed-term appointment. Trump cited letters from US Attorney General Jeff Sessions and his deputy Rod Rosenstein recommending Comey's dismissal, and claimed: "It is essential that we find new leadership for the FBI that restores public trust and confidence in its vital law enforcement mission."
But, oddly, Trump also told Comey: "I greatly appreciate you informing me, on three separate occasions, that I am not under investigation." This was a reference to FBI investigations into Russian interference in the US presidential election, and claims that members of the Trump campaign colluded with Russia.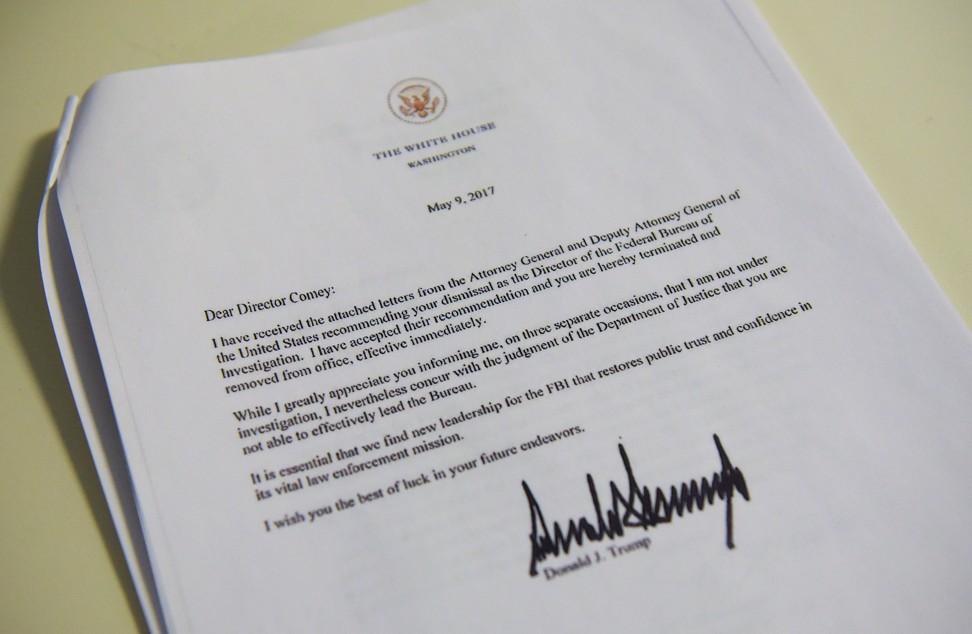 Trump's claim that Comey had exonerated him only added to the storm clouds of smoke. Prosecutors said it was unthinkable that the FBI chief would have any such cosy conversation with the president, especially about an ongoing investigation in which Trump might be a major player.
In support of the sacking, Rosenstein produced a memorandum citing Comey's controversial handling of investigations into emails of former secretary of state and Trump's presidential opponent Hillary Clinton. Comey's actions meant that "the FBI's reputation and credibility have suffered substantial damage", Rosenstein argued.
But here is the odd thing: the Democrats claimed Comey's announcement, 10 days before the election, about reopening the case of the Clinton emails
may have cost her the White House
, while Trump praised Comey's "guts" in doing so.
Did the president really fire Comey for unprofessional behaviour in damaging his opponent's election chances several months ago – or was there something more sinister at play? The Wall Street Journal speculated that Trump might be jealous over Comey getting more media attention.
More likely, claimed the conspiracy theorists, was Trump's fear that the Russian investigation was getting too close to the White House, not least with the issuing of new subpoenas in the cases.
Even sensible commentators hyperventilated about the dangers to American democracy and rule of law. It is a 21st-century
Watergate
, said some.
The lack of due process, the sudden moves, with all the documents dated May 9, the failure to give Comey a dignified departure, are all un-American.
The tortuous plot of the B-grade soap took the White House staff by surprise. They were ready to go home, believing they had scored a win-win, with Democrats and Republicans both happy to see the back of Comey, when the firestorm of protest broke.
Watch: "A grotesque abuse of power"
The account in Politico rings true: that Trump was so enraged by his inability to control the Russian narrative that he would sometimes scream at his TV when new stories broke about the probe. So he decided to act, believing he could then choose his own candidate to run the FBI and close the investigation, oblivious to claims of abuse of power, even from some Republicans.
The tragedy is that this is not a TV soap opera or reality show, but the real White House. Anthony Romero, executive director of the American Civil Liberties Union, rightly said: "President Trump's dismissal of Comey raises questions about the administration's inappropriate meddling in [FBI] operations – precisely at a time when the bureau appears to be investigating the president, his advisers, and his campaign for potential collusion with Russian agents in our last election."
Russian President Vladimir Putin must be celebrating: he laid out banana skins for the US, and Trump not only slipped on one, but has played a game of dancing on Russian banana skins. Xi Jinping ( 習近平 ) must be chuckling all the way to his next meeting with real world leaders, because those in charge of the White House have turned American claims to be the leader of the free world into a soap opera.
Kevin Rafferty has reported from Washington DC under eight US presidents