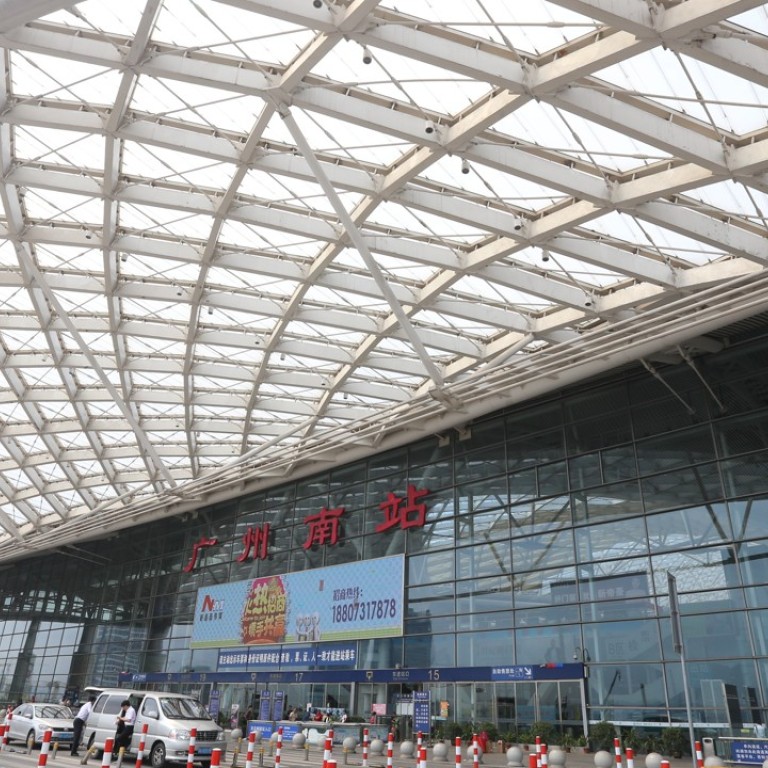 How Hong Kong can gain from joint immigration checks on express rail link
Tony Kwok says a joint customs facility would mean faster and easier access to key mainland cities, benefiting not only commuters but also Hong Kong's economic future, in view of mega projects like the belt and road and Greater Bay Area
One thing we can be certain of is that, when the Hong Kong government releases proposals for a joint immigration checkpoint for the cross-border express rail, opposition legislators will go all out to block it.
The benefits of the Guangzhou-Hong Kong express rail link are obvious. Getting from Hong Kong to the nearest express rail terminus in Shenzhen will take less than 15 minutes, with a maximum frequency of one train every three minutes. Over 100,000 people are expected to travel on the line every day, so imagine the total time saved. It will also give Hong Kong direct access to mainland cities through the 20,000km national high-speed rail network, without the need to change trains. This will make it more convenient for mainland citizens to travel to Hong Kong, thus facilitating tourism.
It is clear that Hong Kong needs closer integration with the mainland for future economic prosperity. The express rail project is particularly timely, given the Belt and Road Initiative and the Greater Bay Area project, as it puts Hong Kong within close reach of key mainland cities. The strategic significance and potential economic benefit are enormous, so really there is no reason to object to the setting up of a joint immigration checkpoint so as to maximise its efficiency.
Actually, the opposition can only come up with two arguments, both weak. First, they say setting aside a small area for the mainland immigration checkpoint is akin to giving up Hong Kong's sovereignty. Second, they say mainland law enforcement should not be allowed to exercise its power in Hong Kong.
Article 7 of the Basic Law states: "The land and natural resources with the Hong Kong SAR shall be state property". The city government is only responsible for management of the land. Hence, it would be legitimate for the central government, if need be, to set aside an area for use by mainland customs, just as some of our land is currently being used by the PLA and the Ministry of Foreign Affairs.
Watch: 'Legal responsibilities of express rail passengers will not increase'
As for law enforcement agencies exercising their function in another jurisdiction, there are several international examples, especially on joint immigration checkpoints: such as Canada/US; Ireland/US; UK/France and UK/Belgium.
A joint checkpoint has been in existence for years in Shenzhen Bay, with operating legislation going through the Legislative Council without objection. To further ease the mind of sceptics, I propose that mainland customs and immigration officials stationed at the checkpoint should only be allowed to exercise their power within the restricted area – and on customs and immigration law, not any other mainland criminal law – and that their movements be restricted in the way the PLA garrison's is.
The best way to quieten the opposition is through the pressure of public opinion. A recent survey carried out by the Democratic Alliance for the Betterment and Progress of Hong Kong found 63 per cent public support for a joint checkpoint. The support rate would have been much higher if the survey had covered regular cross-border commuters.
Once it announces its proposals for express rail immigration and customs co-location, I suggest the city government carry out a survey of commuters at the Lo Wu, Lok Ma Chau and Shenzhen Bay border crossings, asking whether they support a joint checkpoint.
I believe public support will be overwhelming and therefore deny the opposition any excuse to raise objections.
Joint customs facilities will greatly enhance the efficiency of the immigration procedure and save everyone a lot of time.
Tony Kwok is an honorary fellow and adjunct professor at HKU SPACE and council member of the Chinese Association of Hong Kong & Macau Studies
This article appeared in the South China Morning Post print edition as: Joint express rail checkpoint will help keep HK's economy on track