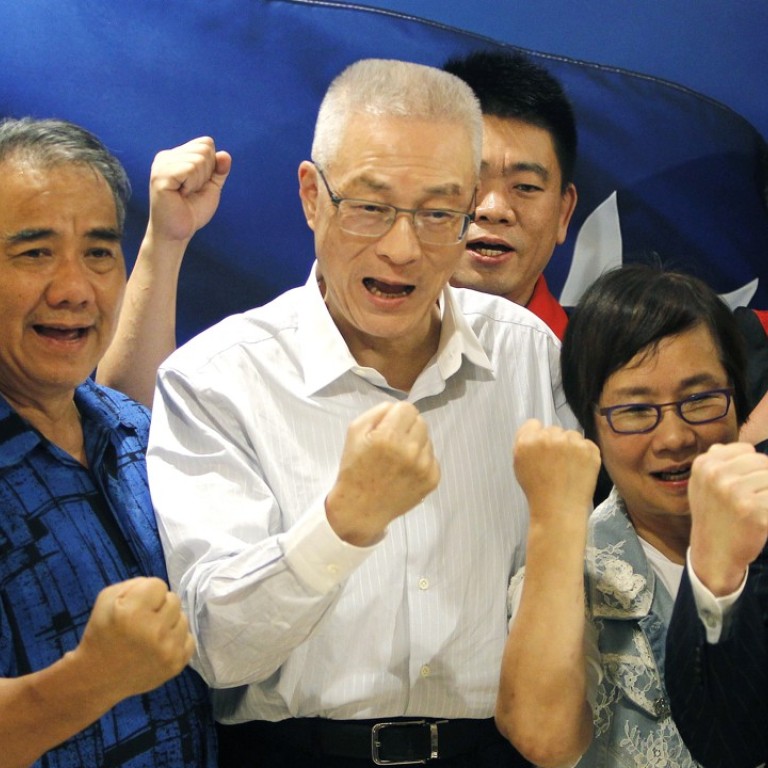 Why Beijing will be watching as Taiwan's new KMT leader gears up for local elections in 2018
Michal Thim says the newly crowned Wu Den-yih will have to either choose the middle ground to appeal to young Taiwanese voters who care little for unification, or stay rigidly pro-Beijing and lose elections
Former
Taiwan
vice-president Wu Den-yih prevailed among six contenders for the Kuomintang chairmanship, defeating not only incumbent Hung Hsiu-chu but also the former Taipei mayor, Hau Lung-pin. Hau's defeat is the latest in a string of electoral defeats for high-profile KMT princelings, while Hung's gamble of bringing the election forward did not quite work out. The faithful voted for Hung but it was not enough to defend the mandate.
In the end, Wu's victory was a result of bringing in the largest number of voting delegates in the history of KMT chairmanship elections. It was also the first time that an incumbent had lost.
However, the result was not surprising. Last year, after then-chair and defeated presidential candidate Eric Chu resigned, Hung did not face competition from party heavyweights like Wu or Hau. Her firebrand style and adherence to a fundamentalist interpretation of the KMT's pro-unification ideology endeared her to party hardliners, but she did not appeal to more moderate members, or swing voters and young people who don't care about unification.
In many ways, Wu's victory is a return to normalcy. The problem for Wu and the KMT is that it is a return to "2008 normal". Taiwan's political landscape has shifted significantly in the meantime. Support for unification is at an all-time low, and an advantage in party identification has moved to the ruling Democratic Progressive Party, which has a 10-point lead in core support. The only other time the DPP overtook the KMT in the party identification indicator was in the early 2000s, when the People First Party split from the KMT and commanded significant support.
The situation is very different now, there is no challenger to the KMT's position as leader of the pro-unification pan-Blue camp. That implies either that young voters do not find the KMT appealing, or dissatisfaction with the DPP government does not mean an increase in KMT support. Neither is good news for the KMT.
The first test for the KMT will be the local elections next year, and
Beijing will be watching
Wu's efforts. For the Communist Party, the new KMT chairman is a
downgrade from Hung's cross-strait positions
, but he is acceptable. The problem for Wu and the KMT is that they cannot serve two masters. Either the party moves to the middle by toning down the traditional elements of KMT ideology (Chinese nationalism, unification) or it holds the ideological ground, pleases Beijing and keeps losing elections.
Wu will have to take all this into consideration and come up with a winning strategy.
Michal Thim is a Taiwan analyst at the Prague-based think tank, Association for International Affairs, and a member of the Centre for International Maritime Security
This article appeared in the South China Morning Post print edition as: Balancing act for KMT chief