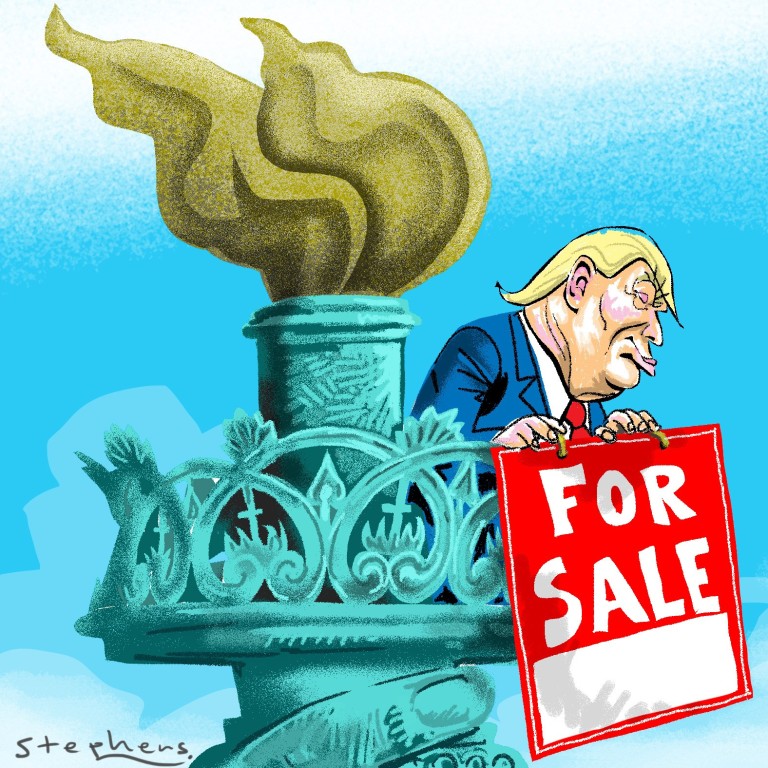 How Donald Trump betrayed American values and Jeffersonian legacy with trip to Saudi Arabia
Patrick Mendis says the transactional president is undermining US democratic ideals with his economic determinism, as seen in his closeness to the Saudi kingdom, which he previously condemned as a top funder of terrorism
In his highly choreographed first overseas trip, President
Donald Trump
appeared to have repeated president Richard Nixon's trip to Saudi Arabia and other countries in the Middle East during the Watergate crisis some 33 years ago. Like Nixon, the returning chief American diplomat remains entangled in a major scandal – Trump's involving Russia.
Unlike Nixon, however, Trump's
choice of the Saudi kingdom as his first stop
not only undermined America's democratic allies but also disregarded the founding Jeffersonian values of the republic. His selection seemed to compensate for his anti-Islam rhetoric and minimise his disastrous immigration policy of banning Muslims from countries other than Egypt, Turkey and Saudi Arabia, where the Trump family has business deals.
Watch: Trump joins Saudi sword dance
Saudi Arabia has for years been considered one of the worst human rights offenders. The disoriented White House has thus mistakenly transmitted the exact antithesis of American values on religious freedom, human rights, democracy and personal liberty that would emphasise the country's moral vision and current standing in the world.
Trump, a former businessman, is a transactional leader as opposed to a transformational one. The Trump White House, with political operatives as his brain trust, is a hodgepodge of short-term tacticians, neither fully immersed in US history nor in international affairs. Their policies appear to be measured in pure financial terms.
The foundation of American primacy has, however, derived from the reflective actions of "transformational" leaders like Franklin Roosevelt, Harry Truman and Ronald Reagan.
The current White House and State Department, with Trump's Secretary of State Rex Tillerson – ­another transactional businessman – are being questioned about their abilities to manage the complex ­organisations of the US government, where, as designed, there is "nobody in charge," as the late US statesman Harlan Cleveland put it.
Given all this, why did the White House choose the absolute Saudi monarchy, whose strict sharia law – the ­Islamic religious law Trump has repeatedly denounced – is ­inimical to American values and traditions?
Watch: Trump touching glowing globe sparks comic book parallels
The Kingdom of Saudi Arabia is the financier and promoter of Salafism, a Sunni movement that advocates the medieval traditions of the Prophet Mohammed. These forms of Wahhabism in the Muslim faith are also being exported through the madrassa school system – the fountainhead of Islamist terrorism around the globe. Fifteen of the 19 hijackers of the 9/11 attacks were Saudi citizens. The 9/11 Commission report found that al-Qaeda, which masterminded the attacks under Osama bin Laden, raised money from Saudi society. As a private citizen, Trump himself had called Saudi Arabia "the world's biggest funder of terrorism".
Tillerson acknowledged the Saudi human rights problem at a congressional hearing, followed by sending his "Country Reports on Human Rights Practices", which documents human rights violations in the kingdom.
The Sunni kingdom neither tolerates religious worship by adherents of other faiths
nor allows women to drive
. Homosexuality is punishable by stoning to death. These sharia laws are hostile to the most conservative views of Trump's electoral base of the Christian right.
In his recent speech at the State Department, Tillerson argued that American values must take a back seat while national security and commercial interests drive President Trump's "America First" strategy. He maintains a US "foreign policy projected with a strong ability to enforce the protection of our freedoms with a strong military." For him, "we can only do that with economic prosperity" as the Saudis, Russian and Chinese do.
Such economic determinism with assorted other elements of the "America First" plan – like banning or deporting immigrants – is a dramatic departure from America's ­Jeffersonian foreign policy tradition of championing its founding values and protecting human rights.
Trump is driven by money and motivated by instant self-indulgence. When he first
met President Xi Jinping
(
習近平
) in Florida, the North Korean nuclear issue and ­bilateral trade concessions were purposefully linked for a possible deal. As the Trump family has commercial interests in China, a transactional business relationship seems to work well with Xi's "China First" strategy and the "America First" plan. When it comes to Saudi Arabia, Trump has also changed his rhetoric as he did with China.
Trump said, "Saudi Arabia – and I get along great with all of them. They buy apartments from me. They spend US$40 million, US$50 million. Am I supposed to dislike them? I like them very much." His commercial interactions with the Saudi royal family go back to the 1990s, when Prince Alwaleed bin Talal Alsaud had helped "bail" him out after his Plaza Hotel in New York and his Atlantic City casinos were struggling.
While in Riyadh, the US president signed a US$110 billion arms deal. Trump then said, "Until the Iranian regime is willing to be a partner for peace, all nations of conscience must work together to isolate Iran, deny it funding for terrorism."
Unlike Saudi Arabia, however, Iran – a Shia Muslim nation – was not directly involved in terrorist attacks on American soil.
Trump described the Obama administration-led Iran nuclear treaty as "the worse deal ever" and vowed "to dismantle the disastrous deal". Since then, he has quietly ­allowed the over-US$16 billion sale of 80 aircraft to Iran by Boeing, arguing that that would create 18,000 jobs. He also signed waivers to sanctions for Tehran to engage in business deals by accessing funds frozen by the US government.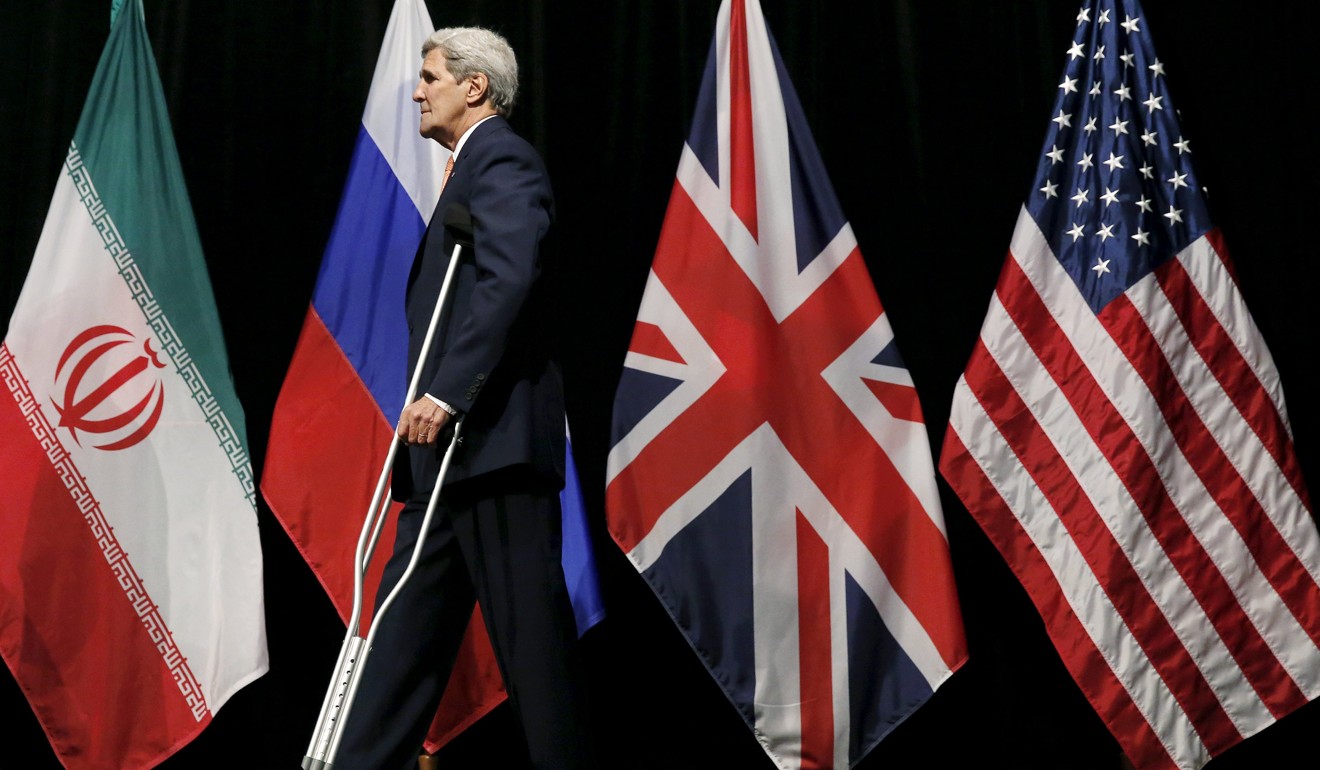 Unlike the civilisational societies of Saudi Arabia, Iran and even China, the United States was created by an enlightened band of founding fathers with a global vision for the new republic.
Welcoming immigrants from all corners of the globe, America has become the world and the world is America. The Jeffersonian ideals embedded in the Statue of Liberty – a gift from the French – and Ellis Island in New York must be the bedrock of American foreign policy.
The Jeffersonian inspiration is the "invisible attraction" that makes America stronger and more prosperous, not "a strong military" as Tillerson has argued. The most logical rationale came from Trump's defence secretary, James Mattis, who wisely remarked: "If you don't fully fund the State Department, then I need to buy more ammunition ultimately."
The deal-making, transactional president must not forget founding father and presidential forebear Thomas Jefferson, whose iconic memorial to the south of the White House keeps a watchful eye on the chief diplomat in the Oval Office.
Indifference to Jeffersonian values and American foreign policy tradition, which made America a great democratic nation, will have associated consequences for the troubled presidency.
Professor Patrick Mendis, a naturalised US citizen and a former State Department official and military professor during the Clinton and Bush administrations, is an associate-in-research at the Fairbank Centre for Chinese Studies at Harvard University. The views expressed are his own and do not represent the views of the Harvard University or the US government
This article appeared in the South China Morning Post print edition as: A question of values