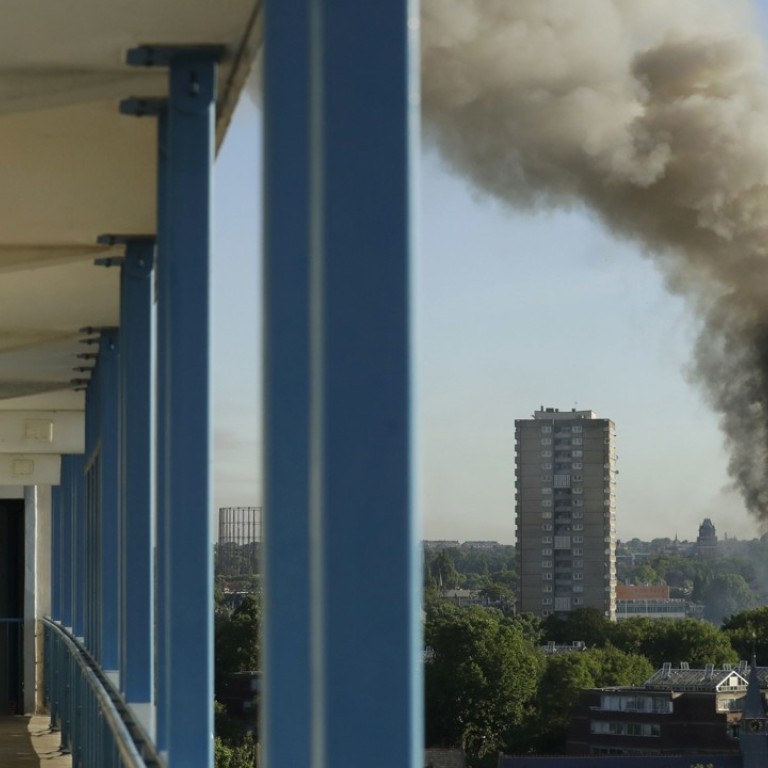 London fire tragedy has valuable lessons for Hong Kong
Our city has many old buildings with outdated fire safety facilities, and the government must be alert to the needs of owners and residents
The full catastrophe of the fire that destroyed a 24-storey residential tower in west London in the middle of the night continues to unfold as the death toll grows. Even at this distance our thoughts at this time must be with those who have lost loved ones, the injured and the homeless who escaped with their lives but lost everything else. There are questions that demand answers, however, such as how the flames and smoke spread so quickly through the tower without being contained, even briefly, or slowed by fire safety measures.
It is too soon for anyone to reach conclusions as to cause or blame. But it is disturbing that even before the flames died down survivors recalled the indifference of council officials and intimidatory responses from management to complaints about fire risk caused by the accumulation of rubbish during improvement work at the public housing apartment block. Perhaps most importantly for the public inquiry ordered by Prime Minister Theresa May, investigators are already turning their attention to the safety of the external cladding applied during the improvement work, which has been implicated in serious fires in other countries. Claim and counter-claim must be fully and openly investigated, including that of a staircase exit inadequate for emergencies in such a large building.
Hong Kong, which looks like a high-rise forest in comparison with London's skyline, has more than a passing interest in the outcome. Security chief Lai Tung-kwok rightly took the opportunity to warn of "hidden threats" in the city's many old buildings with outdated fire safety facilities, which are often compounded by their subdivision into small flats. Significant casualties and damage have resulted from fires that have highlighted hazards introduced by alterations and the danger of obstructed stairwells.
Since 2014, fire and buildings officials have ordered owners of 2,100 such blocks to improve fire safety facilities. This poses problems for those without owners or residents' bodies or property managers, but owners can seek government help to form corporations and could be eligible for subsidies for common-area repair work. The London disaster should prompt officials to keep the effectiveness of such schemes under review.