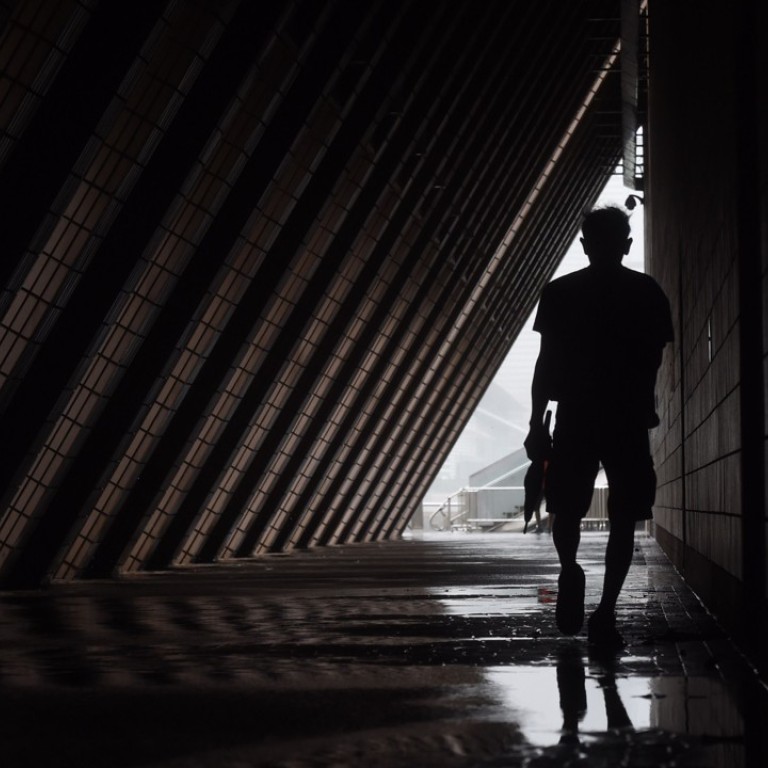 In suicide prevention, sometimes all it takes to save a life is a minute of your time
Paul Yip says preventing the tragedy of a suicide isn't a job only for the experts. Everyone can help by being available to the people around us who are going through hard times. Providing care at a critical moment saves lives
Sunday is World Suicide Prevention Day. The theme for this year is to "Take a Minute, Change a Life". Our centre, the Centre for Suicide Research and Prevention, launched a one-minute-video competition to mark the day, with the support of the Community Partner Foundation. We received many enlightening entries on how we can be guardian angels to others.
The winning video features a police negotiator's work to save lives. For people contemplating suicide, the most critical period is during their last minute of life: if someone could intervene at that point, there is a chance of stopping that person.
Kevin Hines, one of very few people who survived after jumping off San Francisco's Golden Gate Bridge, shared that, in the last minute as he was wandering along the bridge before he jumped, if someone had showed some concern, he would have changed his mind. Since his miraculous survival, Hines has been championing suicide prevention activities worldwide.
Kevin Hines: I jumped off the Golden Gate Bridge
Suicide prevention is not just something experts can do; everyone can help. Sometimes, taking a minute to help those in need really can save a life.
Suicide is still a major public health concern. There are about 800,000 suicides every year worldwide. It is the leading cause of death among teenagers.
In Hong Kong, we estimate that 12.6 per 100,000 people died of suicide last year, based on the latest figures provided by the Coroner's Court.
To enable a meaningful comparison of suicide rates among different countries and regions, the figures are standardised and adjusted for the age structure. After such adjustments, our age-standardised suicide rate is estimated to be 8 per 100,000 people, The global rate is 10.7 per 100,000.
Since 2003, Hong Kong's rate has been on a downward trend, from 18.6 per 100,000 in 2003 to 12.6 per 100,000 last year, notwithstanding the spate of student suicides lately.
The incidence of student suicide over the past two years attracted widespread attention. There were 69 suicide cases involving young people aged 24 or below in 2016 and the suicide rate of young people aged 15-24 was about 8.3 per 100,000 in 2016. Compared to the rate of 8.4 per 100,000 in 2015, there is little difference. Suicide cases of young people aged 15 or below are rare but have increased slightly, from 0.2 per 100,000 in 2015 to 0.5 per 100,000 in 2016.
To compare by gender, the suicide rates for boys and girls aged 15 or below have shown a slight increase in 2016, compared to 2015. The rate among females aged 15-24 has slightly increased, from 4 per 100,000 in 2015 to 4.9 per 100,000 in 2016. The rate among males in the same age group has slightly decreased, from 12.7 per 100,000 in 2015 to 11.6 per 100,000 in 2016.
All these rates are lower than those of many Western countries, including Finland and the US. Since the completion of a report on preventing student suicides, the government, many non-governmental organisations and schools have adopted a proactive approach to dealing with the challenge. More resources have been spent to equip teachers to detect students who need help, to create more space for students and teachers to build up the relationship, to improve the referral system, involving hospitals, social workers and teachers, for students in need. It is pleasing to see so many people who are willing to lend a hand or provide resources to invest in our young people.
As a new school year begins, we are particularly concerned about the younger age groups. Students as young as 10 have died from suicide in recent years, and several studies indicate that emotional distress is common among young people.
We appeal to everyone to pay continuing attention to the situation of youth suicide by taking the initiative to care and understand young people's feelings, and urge parents and teachers to educate and help young people learn how to resolve problems and handle stress in daily life. Sometimes, some young people, especially those with low self-esteem and low social support, feel that suicide is an acceptable method of dealing with problems.
Watch: A message for World Suicide Prevention Day 2017
Social media can be a good platform to reach out to these vulnerable members of our community. Take a minute to care for them – it will make a difference.
Furthermore, the suicide rates of other age groups remained higher than that of young people, especially among older adults.
We encourage individuals contemplating suicide to give themselves another minute to seek professional assistance, to walk out of the darkness towards the light. You are never alone and there are many people who are willing to walk with you through the difficulties. Seeking help is not a sign of weakness; rather, it is sign of strength to deal with the problem.
As the saying goes, it takes a village to raise a child. One suicide is one too many and we must all work together to prevent the tragedies occurring.
We hope every stakeholder – from teachers and social workers to you and me – will always have a minute to spare to listen to and care for the people among us who are experiencing emotional distress, and pay heed to their signals for help. Together, we can prevent suicides.
Paul Yip is director of the Centre for Suicide Research and Prevention at the University of Hong Kong
Where to get help:
●24-hour hotline at Suicide Prevention Services: (852) 2382 0000
●24-hour hotline at Samaritan Befrienders Hong Kong: (852) 2389 2222
●Society for the Promotion of Hospice Care: (852) 2868 1211
This article appeared in the South China Morning Post print edition as: spare a minute, save a life