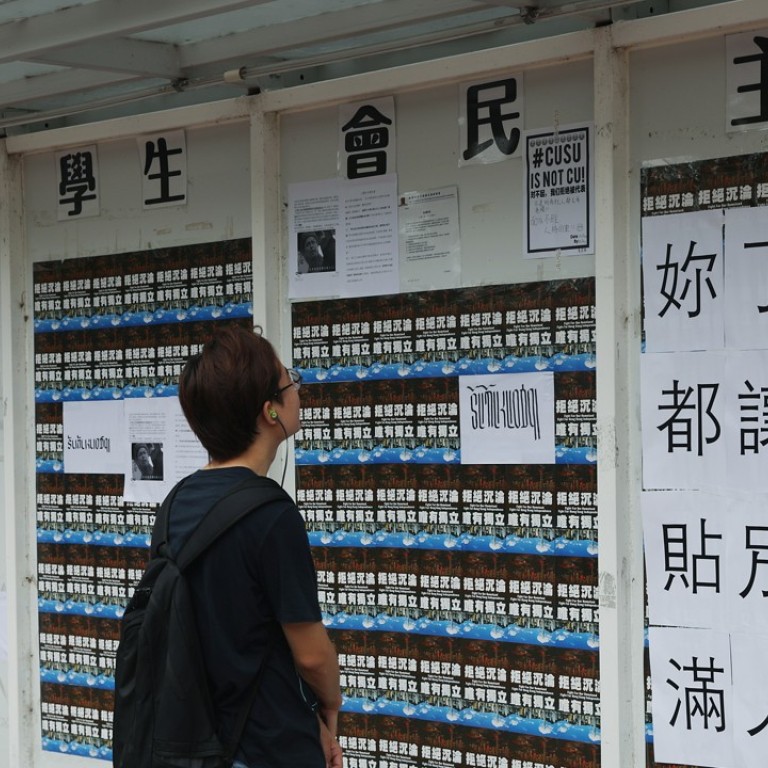 Debate on Hong Kong independence is welcome, but propaganda banners are not
Ho Lok Sang says discussions on 'Hong Kong independence' should not be taboo at the city's universities, but dialogue must not be confused with propaganda that challenges Chinese sovereignty and jeopardises public interest in the city
The presidents of 10 universities in Hong Kong issued a joint statement last week, stressing their stand on "
Hong Kong independence
". Declaring that they did not support the cause, they demanded that student bodies remove any propaganda promoting it, as such banners contravene the Basic Law,
or the universities would do so
. They also emphasised that
freedom of speech
has its limits and its abuse should not be tolerated.
Timothy O'Leary, head of the University of Hong Kong's School of Humanities and chief of concern group HKU Vigilance, questioned the statement. "It would have been nice to know what argument they have for the banners being an 'abuse' of freedom of expression," he posted on Facebook.
Over the weekend
, Chief Secretary Matthew Cheung Kin-chung agreed that advocating "Hong Kong independence" was abuse of free speech, and that there was "no room for discussion of Hong Kong independence".
To me, a discussion on Hong Kong independence, or any other subject, should not be taboo at our universities. But propaganda is not discussion. Propaganda is a one-way message from proponents to viewers to promote the cause, while discussions involve a dialogue between its supporters and opponents. I
would not ban such dialogue
in universities.
The 'democracy wall' and debate over the freedom of expression
Political propaganda, however, will not allow the necessary intellectual exchange to illuminate young minds. Professor O'Leary asks how the banners abuse the freedom of expression. My answer is simple: promoting independence on the presumption that it is good for Hong Kong is political propaganda. It
challenges the sovereignty of China
, and contravenes the Basic Law and the Chinese Constitution, which allows Hong Kong to exist as a Special Administrative Region of China.
Students interested in the issue can organise forums to discuss all dimensions of the subject. I would prefer bringing the debate out into the open rather than prohibiting all discussion, which will simply drive the thoughts underground.
Pro-Beijing lawmaker Lau Kwok-fan, also a Chinese University Council member, tried very hard to distinguish between discussion and propaganda.
However, neither former Chinese University student union president Tommy Cheung Sau-yin nor Hui Fung-ming, of the Education University Freedom of Speech Concern Group, appeared to get his point. Lau said they were discussing the subject, which was fine. But flying the banner of Hong Kong Independence on university campuses is not discussion: it is political propaganda challenging China's sovereignty over the city.
Former student union leader on Hong Kong youth and mainland China
Actually, the 10 university presidents want campuses to be places for intellectual pursuit, free from divisive politics. So, by implication, a banner advocating disposing of "one country, two systems" and adopting "one country, one system" instead should also be removed.
Challenging China's sovereignty over Hong Kong challenges the Chinese Constitution. Hong Kong enjoys privileges explicitly spelled out in the Basic Law, but is otherwise is still governed by the Chinese Constitution. Advocating Hong Kong independence will jeopardise the basic interests of its people, who desire a stable society.
Ho Lok Sang is dean of business at Chu Hai College of Higher Education
This article appeared in the South China Morning Post print edition as: Debate on independence is good, but banners are just propaganda