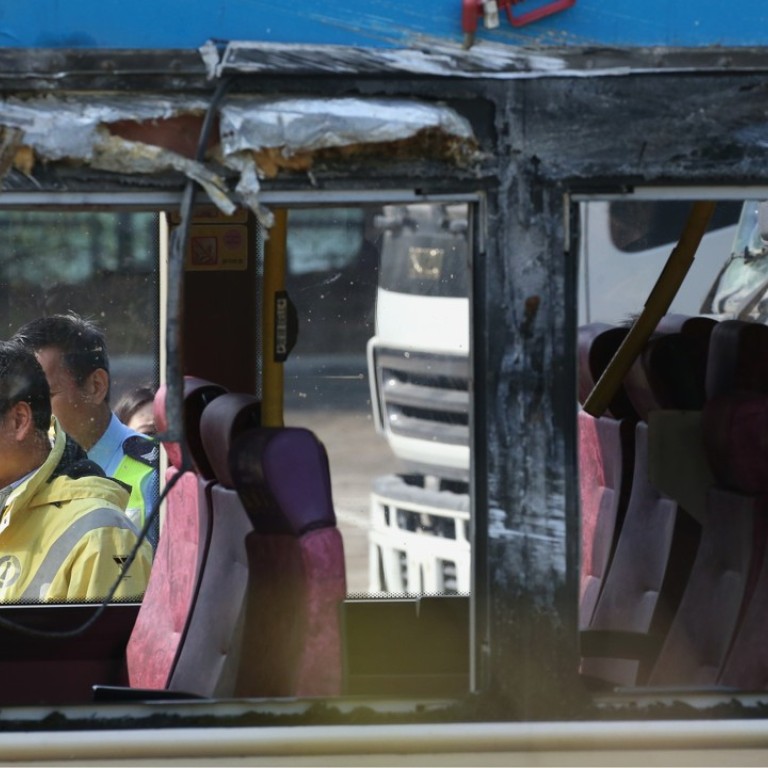 Lessons must now be learned from latest Hong Kong bus tragedy
The Tai Po accident on Saturday in which 19 people died came five months after a fatal incident involving a double-decker in Sham Shui Po; questions regarding transport safety need answers
Shock and sorrow followed the bus crash that killed at least 19 people on Saturday, the second fatal incident involving a bus in five months. Our first thoughts are with those who have lost their loved ones and those injured in the accident. Tragic as it is, relief is to be found in the concerted efforts by different parties to provide help to those in need. But it does little to ease their pain in the run-up to the Lunar New Year.
Next comes the question of what went wrong and who should be held responsible. In what is said to be the city's worst bus accident in 15 years, the KMB double-decker packed with passengers from Sha Tin racecourse flipped when negotiating a turn on Tai Po Road in the New Territories. The 30-year-old part-time driver, Chan Ho-ming, was arrested for dangerous driving causing death and grievous bodily harm, and may face manslaughter charges.
Various questions have since been raised, from the attitude and record of Chan to broader issues such as staffing and speed limits. We trust the independent committee appointed by the city's leader to overhaul bus safety will leave no stone unturned.
Worthy of serious review is the system for part-time drivers, with KMB currently relying on more than 500 of them, about 6 per cent of the team. While there are internal rules mandating sufficient rest for full-time drivers, the company has little control over part-time drivers with regard to their workload and rest outside driving hours.
The route in question only operates on race days. It remains unclear how familiar Chan was with it, but the suggestion that part-time drivers may be trained by just observing another driver on a particular route is disturbing. Chan had previously been involved in a careless driving incident and was reportedly in a bad mood on Saturday following words with passengers. These raise questions about KMB appointment and performance appraisal policies.
Unionists have seized the opportunity to hit out at management, saying poor salaries and manpower shortages have undermined the performance of drivers. While their grievances are understandable, pay rises cannot prevent accidents. But if there are systemic problems that affect the performance of drivers, the company must tackle them as a matter of priority.
In the wake of the accident that killed three and injured 29 in Sham Shui Po just five months ago, the government has acted with the right sense of urgency and judgment. This includes ordering an overhaul of bus safety and cancelling the Lunar New Year fireworks. This is in stark contrast to the poor response of KMB. That said, the authorities should have worked with the company to improve safety expeditiously.
The public is still owed an account of a review triggered by the Sham Shui Po crash. It is a shame it has taken more lives for Hong Kong to learn a painful safety lesson.