HKEX
Get more with myNEWS
A personalised news feed of stories that matter to you
Learn more
HKEX's new listing rules will bring the tech economy to Hong Kong, not just the stock market
Paul Lau says the Hong Kong stock exchange's overhaul of its listing regime to make the bourse more attractive to technology firms will not only expand capital markets in the region, but also spark innovation in the Greater Bay Area
This measured approach is of particular significance as the pre-revenue nature of the biotech companies may bring additional risks if they fail to commercialise their products or sustain their business after listing. It is therefore very important for investors to be well-educated and informed of the risks involved, which is essential to maintaining an efficient and high-quality capital market.
Indeed, a longer-term impact of this regulatory reform would be the injection of new knowledge and opportunities into the investor community, enabling investors to learn about funding emerging and innovative businesses, as well as their technologies, business models and strategies. 
 In addition, Hong Kong's role as an international financial centre – with the inherent advantages of a sound regulatory regime, transparent vetting processes, strong international investor base and abundant liquidity – is particularly attractive for new-economy companies with global operations and international investors.
Meanwhile, 
mainland stock exchanges
are considered to have a strong domestic investor base and higher valuations, which are desirable attributes for companies seeking to have a footprint in the domestic market.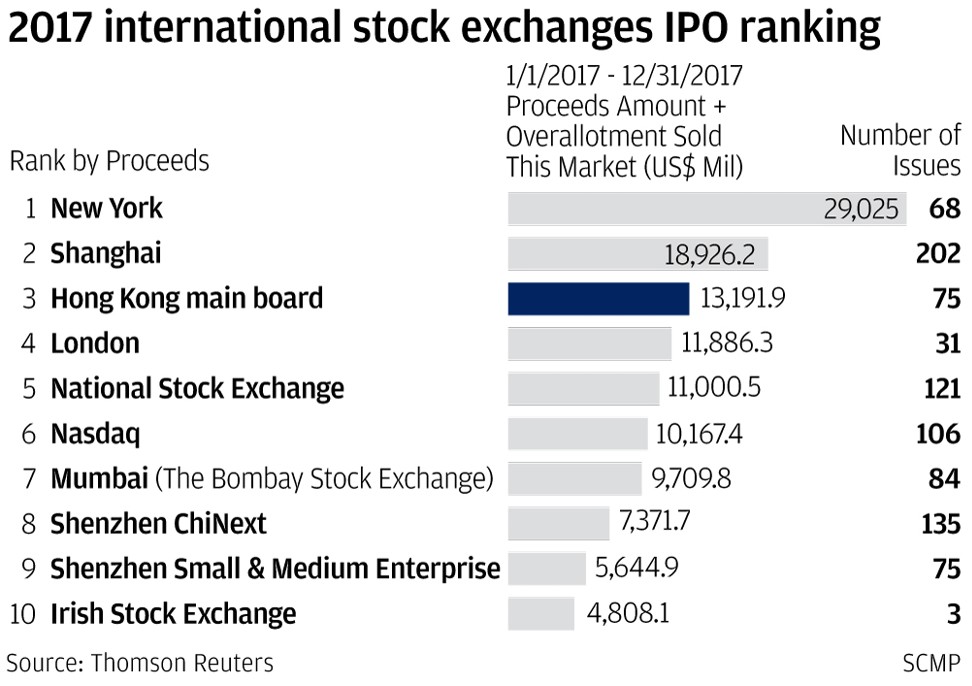 Furthermore, the China Securities Regulatory Commission has issued 
new listing rules
to accommodate the characteristics and needs of technology companies. This pilot programme will remove some traditional regulatory obstacles faced by technology companies seeking an A-share listing, such as the mandatory profit requirement and the prohibition of weighted voting rights.
These changes will allow non-listed red-chip or domestic companies to conduct initial public offerings without meeting the traditional financial requirements.
The new rules are also expected to encourage
China's tech companies listed overseas to return
to their home market through a listing using China depository receipts (CDRs). The use of CDRs could also give domestic investors greater access to the fast-growing mainland Chinese tech firms that have opted to list abroad.
While some Chinese technology companies may reconsider their listing destinations following the introduction of CDRs, they will also need to consider additional factors, such as listing requirements, valuation, target investors and brand building. 
The listing reforms in both the mainland and Hong Kong should accelerate the development of the new-economy sector in mainland China, which should in turn lead to more IPOs, equity and debt issuances, and other business opportunities. The development of the new-economy sector will also help facilitate the growth of – and connect the capital markets in – the 
Greater Bay Area
, a national initiative to economically and socially integrate the nine cities in the Guangdong Pearl River Delta, as well as Hong Kong and
Macau
.
In line with this, the reforms complement the Hong Kong government's vision of developing 
a biotech ecosystem
, which could attract top talent globally and from China to develop new technologies and businesses in Hong Kong. 
Overall, the global IPO market should perform strongly in 2018, as a growing wave of large tech companies continue to go public. It will also be a year of market transformation for new-economy IPOs, with the reforms in mainland China and Hong Kong in the spotlight. The new rules will further enhance the overall competitiveness of the stock exchanges in mainland China and Hong Kong compared to other major international listing venues, in particular the US bourses. 
In addition, Hong Kong is taking a further step and exploring the option of allowing corporate beneficiaries of weighted voting rights, while mainland China aims to continue to
open up its capital markets
with various reforms. 
The new reforms will help boost Hong Kong's entrepreneurial ecosystem and facilitate the growth of new-economy industries. This will not only create new opportunities for young people, but also encourage old-economy industries to transform and innovate at a faster pace.
Paul Lau is a partner and head of capital markets at KPMG China