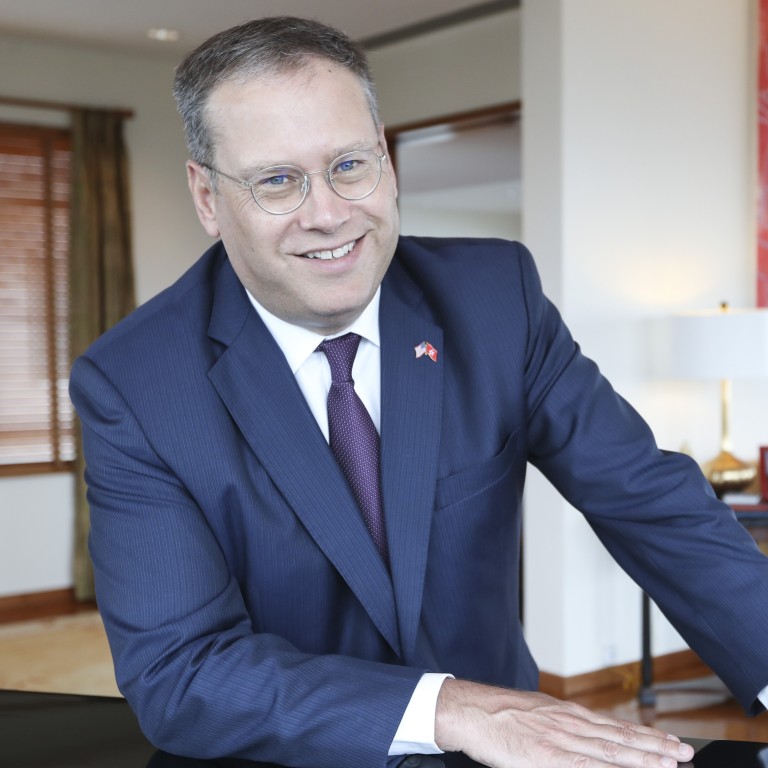 Strong ties with US provide comfort to city during trade war
With America marking the 175th anniversary of its oldest diplomatic mission in Asia, the benefits that both sides enjoy should counter fears that a special arrangement is under threat
The United States has had a diplomatic mission in Hong Kong for 175 years, longer than any other country and America's oldest in Asia.
US Consul General Kurt Tong, in laying out the history in a recent presentation marking the anniversary, also pointed out that there are substantial American economic interests in the city and for good reason; just as when the first consul arrived, there is no better place from which to tap the Chinese market.
That reality should be comforting for those worried about being caught in the middle of the trade war between China and the US. Amid the China-bashing of President Donald Trump's administration, the special ties and the benefits they bring for both sides need to be celebrated.
Those links run deep, through trade, investment and Hong Kong serving as a regional base for American firms. The attractions are geographical location, the city's open market policy, low taxes, infrastructure and advantages offered by its "one country, two systems" status within China.
In 2017, more than 1,300 US companies were based in the city, at least 700 of them regional headquarters or offices. Almost 100,000 American citizens were residents and there were 1.2 million US visitor arrivals. On trade, no economy had a bigger surplus with the US, which was Hong Kong's second-biggest export market and the US' 19th largest.
Hong Kong is also an important entrepot for Sino-US trade, with about 8 per cent of the mainland's exports to the US and 6 per cent in the opposite direction being routed through the city.
The US is a favoured destination for overseas study and Hong Kong has long been influenced by American culture. Combined, the factors are good reasons to uphold the US-Hong Kong Policy Act of 1992, which provides the framework for America's approach towards the special administrative region.
On the proviso that Hong Kong maintains a high degree of autonomy within China to safeguard American interests, it assures links on trade, bilateral agreements, access to sensitive US technologies barred from export to the mainland, and representation in international organisations.
But the trade war is prompting some in the US to question the arrangement, sparking fears in Hong Kong it may be reviewed or even scrapped.
The strong ties between Hong Kong and the US should provide comfort. Trade between China and the US is almost as old as the American republic, initially involving mostly tea and silk.
Hong Kong, from its earliest days as a British colony, has been an attractive place from which to trade with the mainland and it remains so; the development of the "Greater Bay Area" and the city's role in the "Belt and Road Initiative" improve its standing. As with any good bilateral relationship, the benefits are mutual.
This article appeared in the South China Morning Post print edition as: Strong ties with US provide comfort to city during trade war