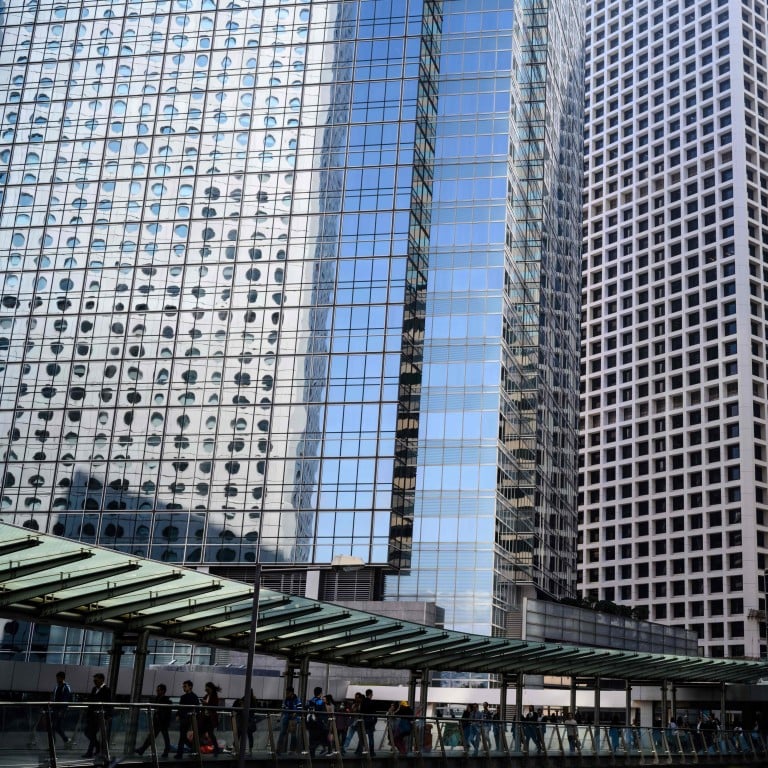 Hong Kong's property developers should have the sense to go green and protect assets from climate change
Hong Kong, with key assets just above sea level, faces threats from climate change. A new low-carbon charter shows it makes business and political sense to collaborate with Beijing to improve energy efficiency in buildings and reduce emissions
To the companies signing the charter, bravo. To those that have not, here are a few things to consider.
Energy efficiency in the built environment is crucial, since about 90 per cent of Hong Kong's electricity is consumed in buildings, which in turn contributes 61 per cent to the city's greenhouse gas emissions. According to the Business Environment Council, the energy intensity of office buildings fell by nearly a quarter between 2002 and 2008, but it hasn't budged since then. And the energy intensity of private residential buildings has remained virtually unchanged.
Effectively, Hong Kong has wasted 10 years. It has 11 years left, and has a long way to go in reaching the 2030 goals. According to the council's calculations, it is possible for buildings to cut energy use by as much as 55 per cent by 2030. However, in a business-as-usual scenario – with no change to building codes – actual reductions will be closer to 10 to 15 per cent.
Note to developers: do not expect a repeat of 2012, when a bid to introduce more stringent, enforceable building standards was quashed by powerful interests in the property sector. In the chief executive's 2017 policy address, it was announced that the government would review the existing standards to further promote sustainable building. Times have changed. The Low Carbon Charter serves as a reminder that the sector is under pressure and will have to respond.
The current scheme, which provides
gross floor area incentives
, is voluntary. New buildings which are given a "BEAM Plus" rating for energy efficiency are allowed more floor space. The existing stock does not have to meet energy efficiency standards unless a substantial renovation is undertaken; older buildings make up the majority of Hong Kong's stock.
It is important to provide better incentives for retrofits, and to take a life-cycle approach to building design – that is, look at the total energy consumption of a building over its lifespan, from energy embodied in the glass, cement and metal used to build it, to electricity consumption.
If the stick doesn't work, here's the carrot: climate preparedness and resilience are a natural progression in long-term corporate planning. Although Hong Kong is a vertical city, many of its key physical assets are only just above sea level. Storm surges, rising sea levels, heat stress and a compromised supply chain for key inputs like water are just some of the threats it faces from a warming planet.
Green building is not a public relations exercise but a key part of long-term business planning. Swire Properties is one of Hong Kong's most sophisticated green builders, and the sole developer from Hong Kong and China named to the Dow Jones Sustainability World Index. Swire, one of only two signatories to the Low Carbon Charter to choose Pathway 2, has long taken a "measure to manage" approach to energy efficiency.
Swire has carried out a climate risk assessment of its portfolio. And it is working with a research team from Hong Kong University of Science and Technology in a pilot study to measure carbon emissions from the construction of
One Taikoo Place
, with the aim of better managing carbon emissions from future projects. Swire has partnered with Tsinghua University since 2016 to work on energy efficiency and sustainability measures. As a result of one such innovation, Swire's Indigo has been rated as one of the two best malls in Beijing with regard to indoor air quality.
Pressure from China, regulatory change and the imperative to protect portfolios are three key reasons for Hong Kong's influential developer community to step up energy efficiency. Collaborating and innovating with Beijing is also the way to go. The action that Hong Kong takes signals a willingness to join hands with the mainland to protect valuable physical assets from the destructive effects of climate change. It is simply good business sense – and good politics – to join this common sense effort to cut energy use in buildings, as well as greenhouse gas emissions in Hong Kong.
Jill Baker is adjunct fellow at Asia Business Council, a research adviser at Terra Alpha Investments, and a contributor to Forbes.com