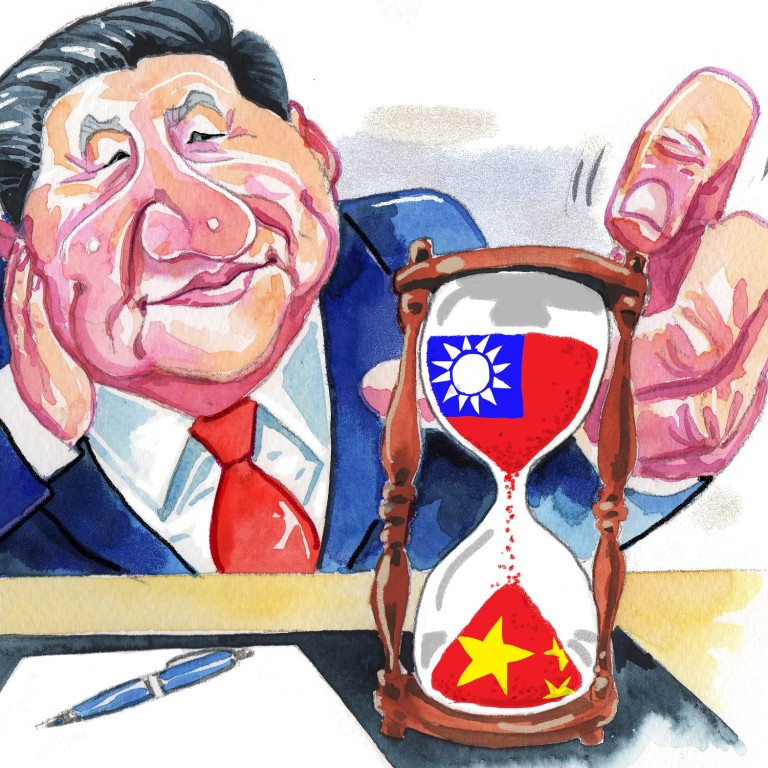 Xi Jinping won't force unification on Taiwan for now, the show of force by China's PLA notwithstanding
Xi has unification on his mind, but the conditions are not ripe for it, given that China is still locked in a trade war with the US and Taiwan is gearing up for elections. The PLA's incursion into Taiwanese airspace was intentional, but it won't be overplayed
As Taiwan gears up for the 2020 presidential election, unification and independence will surely be one of hot topics of debate.
At the gathering of the National People's Congress, Premier Li Keqiang spoke about Taiwan in his
government work report
, but only in a routine mention of the importance of upholding the "one China" policy. In his press conference, the focus was on China's offer of "preferential policies" for Taiwan. The island did not even come up in Foreign Minister Wang Yi's press conference at the two sessions, which was surprising considering the
spike in cross-strait tensions
since the beginning of this year, when President Xi Jinping
called on Taiwan
to accept a "one country, two systems" model of unification in a tough speech.
So it's clear Beijing has no intention of forcing unification at this stage. Perhaps it has been holding back from any tough talk because it does not want the Tsai administration or the DPP to seize on it to boost their election chances.
Did the PLA crossover two weeks ago indicate a change of mind? It is unlikely, as of now. Beijing may in fact encourage more such crossovers, in an effort to normalise them to force a new status quo on Taiwan, but it would carefully control the pace of change so things do not get out of control.
Most likely, China will choose to put pressure on Taiwan using a combination of methods to promote unification step by step. It may launch more preferential policies and try to initiate discussion on a "one country, two systems" framework with Taiwan's ruling and opposition parties. But it is unlikely to resort to threatening the use of force for now, not out of any goodwill, but simply due to several practical constraints.
One is that Xi's military reform is not yet complete, and the People's Liberation Army's combat power needs to be further strengthened to ensure it has any hope of withstanding a US military intervention.
Second, the Chinese economy is struggling in the midst of a trade war with the US. Strengthening the economy is a key priority of the Chinese government.
Third, Xi's work to consolidate his power base is not yet complete. Before these goals are reached, Xi's government would not rashly try to unify Taiwan, unless there is a sudden change in the external environment.
There are different views on when China would try to unify Taiwan. One popular theory is it would try to do so by 2021, the year the Chinese Communist Party marks the 100th anniversary of its founding by becoming a well-off (xiaokang) society.
This is the first of Xi's "Two Centenaries" goals, the foundation of his Chinese dream. The second is for China to become a global power by 2049, when it would celebrate the 100th year of the People's Republic.
As things stand, meeting the first goal with the prize of unification with Taiwan is extremely unlikely, given the lack of effort by Beijing to mobilise public opinion and ratchet up pressure on Taiwan. But the government also won't delay the settlement of the Taiwan issue indefinitely. Once Xi believes the conditions mentioned above have been met, he will move to unify Taiwan, by force if necessary.
There is no doubt Xi wants to complete the task within his term of office. He made this clear in his speech on January 2 to mark the 40th anniversary of the "Message to Compatriots in Taiwan", a 1979 Beijing policy statement widely seen as a peace overture. When talking about the 70-year history of cross-strait separation, Xi stressed that "the two sides must be unified and will definitely be unified". The first half of the phrase expresses the tough stance that unification is non-negotiable; the latter part expresses the confidence that, with its growing power, China has the ability to unify Taiwan.
With communism losing its appeal as a governing ideology, the Communist Party has turned to nationalism to rally the people. Xi's "Chinese dream" vision is an authentic nationalist declaration. If, by the end of the time frame for meeting the second centenary goal, the two sides remain separated, Xi would be seen as having failed in his task. And, if he wants to leave a legacy that surpasses Mao Zedong's, as many believe he does, unification is a must. No other accomplishment will be enough to secure him that legacy.
In view of these considerations, Taiwan was probably on Xi's mind when he pushed through the
abolition
of the presidential term limits last year. Given his age, it is reasonable to assume that he's aiming to effect unification by another milestone year – 2035, the year China is expected to become a modern socialist nation.
Deng Yuwen is an independent scholar and a researcher at the China Strategic Analysis Centre Inc. This article was translated from Chinese