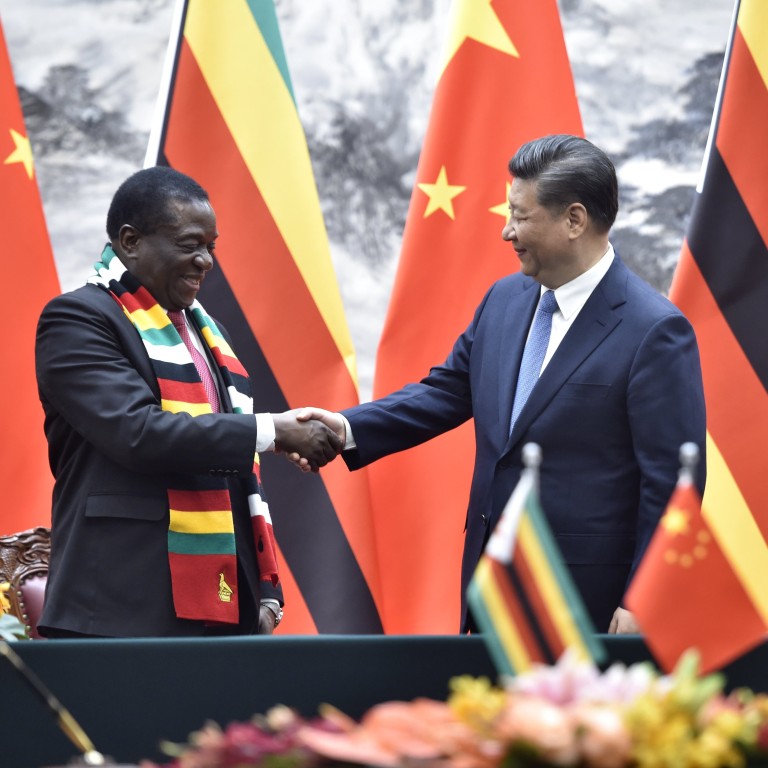 Opinion
The View
by Lexi Novitske
The View
by Lexi Novitske
China can beat the US in the African tech battleground if its investors form partnerships with local firms
China can both ease concerns about its intentions in Africa and better meet the continent's unique needs by putting its money behind those with local know-how
In the US-China trade war, Africa is turning into a technological battleground. In particular, China's "Digital Silk Road" ambition to link emerging markets with hi-tech telecommunications hardware infrastructure has sparked fears in Africa. In Zimbabwe, a Chinese company's development of facial recognition software is compared to Big Brother, while in Mauritius politicians express unease over Huawei's installation of 4,000 cameras.
These fears risk overshadowing all China is bringing to Africa's tech sector. Long before the
Digital Silk Road
, China played an integral role in developing Africa's tech infrastructure. Huawei and ZTE built and laid fibre optic and submarine cables off Africa's coasts, helping drive growth of mobile phone and internet penetration. China invested US$16 billion in Nigeria's telecoms sector alone from 2003 to 2018, half of total capital inflows.
Building on this, Chinese investors – including corporate venture arms of tech companies like Baidu, Alibaba and Tencent, as well as institutional investors – should invest in Africa's tech start-ups. But they need to partner with local investment firms who have mastered the idiosyncrasies of African markets and can identify the next African tech unicorns.
Chinese investors have a comparative advantage over other foreign venture capital investors: they can use their experience in China to help African companies gain market share. The African market is remarkably similar to China's before its explosive economic boom: China and Sub-Saharan Africa have large populations exceeding 1 billion people, rapid urbanisation rates and a tendency to leapfrog technologies. As Africa has leapfrogged the landline to the mobile phone, China went from cash to digital payments, bypassing cards altogether.
Given the size of China's market and the need to bridge the urban-rural divide, Chinese companies have developed business models with the potential to cross over into African markets.
Africa has already inspired some of China's largest companies. Alibaba (which owns the
South China Morning Post
) has set up the
eFounders programme
in partnership with UNCTAD and a US$10 million fund to support African entrepreneurs. Tencent has been an early investor in African start-ups such as Paystack and Cars45.
These companies bring expertise in scaling lean businesses in emerging markets and provide insights to help local partners. China's corporate venture investors should take note from these tech leaders, which focus on doubling down on investments in industries in which they can maximise their comparative advantage from decades of investment in China.
If tech-focused Chinese investors are to be successful in Africa, they must focus on local companies. This is a contrast to China's historical investment strategy, which generally approaches the continent as a new market for its existing technologies.
Given the differences between China and Africa's regulatory environments, consumer spending habits and digital trust, Chinese investors are likely to struggle if they try to copy and paste their business models – developed and honed for their home market – to African markets.
For example, over the last decade, improved logistics and developed e-commerce platforms have buoyed the consumer confidence of China's rural consumers, leading to rising spending levels. Africa's consumer class is still concentrated in its cities and has moderate spending power, slowing the expansion of e-commerce across the continent.
Chinese tech investors must identify local tech companies with existing strong brand recognition, local relationships and a solid customer base as possible acquisitions targets. Squashing local competition would be detrimental for both the local tech ecosystem and the long-term returns of Chinese investors.
To attract the best African start-ups, Chinese investors must offer a value proposition that can compete with other investors, in particular from the US. Africa's high-potential tech founders, who have commercial traction and are scaling, can pick and choose their investors. Capital is not the most important criteria; rather, savvy African tech founders look for strategic investors who advance their long-term goals, whether in market access, product development or hiring.
Aware of this, US venture funds position themselves as "smart money". They have a strong investment track record with successful exits and high returns.
These blue-chip VC investors, often based in Silicon Valley, are gateways to follow-on capital (the Bay Area represents 45 per cent of venture capital in the US) and access to the latest technology. To boost their competitiveness, Chinese investors can partner with local investors, which can help identify promising African start-ups.
From Addis Ababa to Lagos, African tech ecosystems are maturing, reflecting a rising middle class, increased internet connectivity and growing local investment. China has great potential to be a transformative investor in Africa's growing digital economy.
However, Chinese investors need to master the nuances of African markets if they are to succeed. Instead of going it alone and facing potential risks from investment decisions, Chinese investors should bet on local investment firms best poised to identify the next big opportunities in Africa's digital economy. This winning strategy will help them beat the odds.
Lexi Novitske is partner at the Africa Future Fund, a venture capital fund investing in early-stage opportunities in Africa's tech sector
This article appeared in the South China Morning Post print edition as: Secret to hi-tech Africa