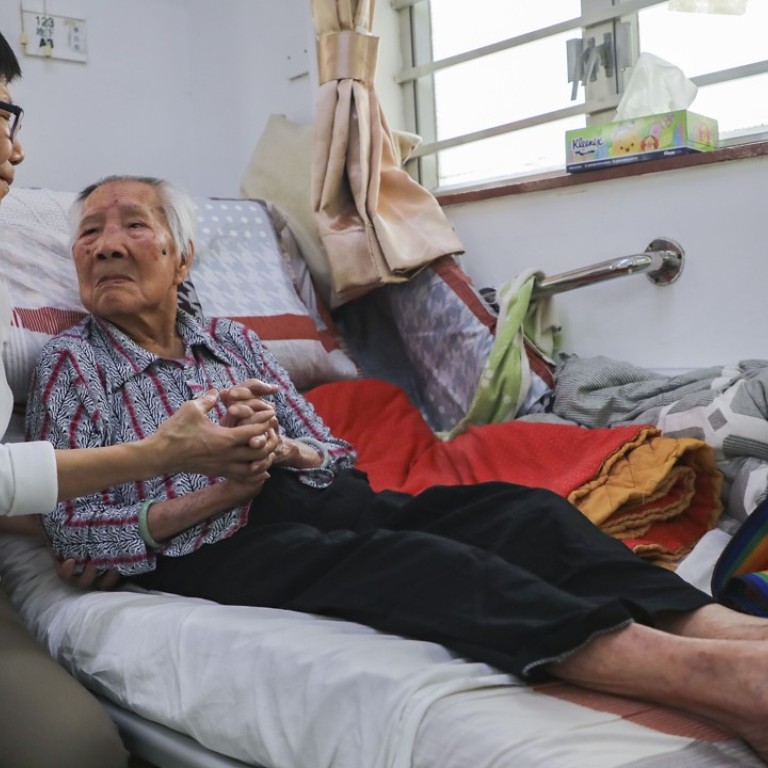 Elderly care is skilled work, and Hong Kong's migrant domestic helpers should be recognised for their skills
Daisy Tam says care work should not just be seen as a labour of love, and a proper recognition of the skill requirements of the job would not just be fair, but also – when the carers feel appreciated – result in a higher quality of care
"Care work, both paid or unpaid, is crucial to the future of decent work," states the International Labour Organisation in a
recent report
. Care work is the bedrock of economic growth, as well as contributing to the well-being of individuals and society.
However, this type of work remains mostly invisible and unacknowledged; whether caring for a baby or cooking for a sick parent, domestic care work has often been confoundingly regarded as a "labour of love". 
Care work is work. Anyone who has taken care of a child, sibling, parent, friend, ill or in good health, would recognise the time and skill requirements, opportunity and financial costs, and the physical and emotional investment. Skills vary, but often, it requires some form of knowledge, be it medical, culinary or linguistic, in addition to emotional labour.
The ILO estimates that, globally, 16.4 billion hours are spent in unpaid care work every day, and when valued on the basis of an hourly minimum wage, it would correspond to US$11 trillion, equivalent to 9 per cent of the global gross domestic product.
As Hong Kong braces itself for the impact of an
ageing population
, the care industry is a crucial sector for sustainable development. In less than two decades, the population reaching retirement age will have doubled, with only half the population in the workforce, and
2.37 million people
(31 per cent of the population) potentially needing care.
A pilot scheme training 300 domestic workers on elderly care was launched in June by the Social Welfare Department, with the goal to "enhance elderly persons' quality of life in the community and support ageing in place for them". This is a promising start, and again it models existing initiatives by Singapore and Taiwan.
In countries where there is little or no affordable elderly care services, as is predominantly the case in Hong Kong, domestic workers are more likely to shoulder the burden of care.
According to the ILO, this sector is generally over-represented by women, frequently migrants, with long working hours, low wages and precarious conditions. Domestic workers in particular experience "some of the worst working conditions across the care workforce".
Without improving the working conditions for caregivers, the quality of care will be compromised. The ILO makes clear that "poor job quality for care workers leads to poor-quality care work".
This is not only damaging to the well-being of those who provide care, but to those who receive the care. It might seem obvious, but this causal effect has rarely been considered in policy decisions.
Watch: A documentary gives voice to Hong Kong's domestic workers
If Hong Kong is to rely so heavily on migrant domestic workers to fill the care gap in the city, we must go further and recognise that they already comprise a skilled labour force.
Unlike other types of work that are defined by tasks, domestic work is defined by the workplace, which incorporates a wide range of skilled services, including indirect care activities such as cleaning and cooking, in addition to relational care – direct, personal care for children, and older and disabled people.
Care work is skilled work. To enhance the quality of care and, ultimately, the quality of life for those who receive care, it is worth seriously considering a suggestion in the ILO's Convention on Domestic Workers, to offer better prospects for domestic workers through upskilling schemes and other professional qualifications. This would not only contribute to a better working environment for the workers, but also, ultimately, a better society for all of Hong Kong.
Dr Daisy Tam is board chair of Enrich, a Hong Kong charity promoting the economic empowerment of migrant domestic workers
Reader response: Treat Hong Kong's home helpers well, they are the backbone of an ageing city