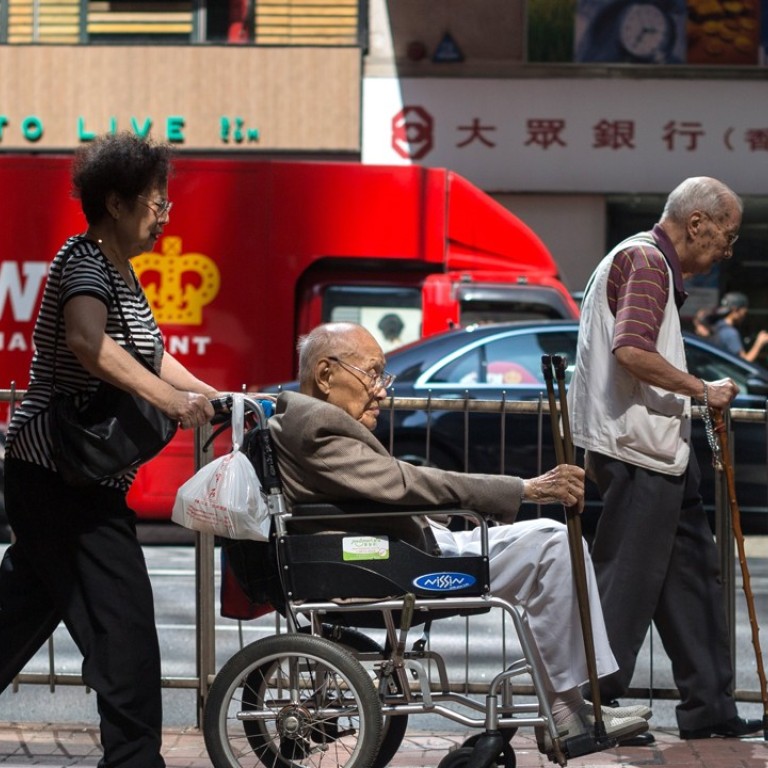 Migrants are a help to Hong Kong's ageing society, not a hindrance
The government should be proactive in helping migrants fit in to the city so that they can make a contribution
Hong Kong Chief Executive Carrie Lam Cheng Yuet-ngor recently declined to blame new migrants from mainland China for the city's housing crisis. And the fact is, without new migrants, we would have other problems, including a more rapidly ageing city and a greater shortage of manpower: the government therefore should be more proactive in helping newcomers to assimilate into our society.
The latest census information has confirmed that Hong Kong's population is set to age rapidly in the coming 30 years. The proportion of the population age 65 and over will increase from the current level of 17 per cent to 34 per cent in 2046. In absolute number terms, it will rise from 1.21 million people to 2.6 million. This speed and magnitude of ageing is more acute than developed countries such as Sweden and Australia, which are projected to have about 22 per cent to 25 per cent of their populations aged 65 and over by 2050. Population ageing has profound implications for government policies in such areas as the expansion of the medical sector, the provision of aged care services and social security expenditure, and can also have an impact on lifestyles and cultural values.
The birth rate in Hong Kong was 18.56 per 1,000 people in 1981 and has consistently decreased to 9.91 in 2017, whereas the death rate has increased steadily from 4.8 per 1,000 people in 1981 to 6.18 per 1,000 people in 2017. This dynamic indicates that there is a tendency for the natural increase of Hong Kong's population to drop to near zero over time and turn negative later, which in turn implies that the main source of future population growth for the city will be net migration.
In fact, net migration has consistently outpaced the natural population increase since 2014. During the period 2014 to 2017, net migration – or the number of immigrants minus the number of emigrants – to Hong Kong amounted to about 155,000 people, whereas the natural increase was merely 58,000. It could be inferred therefore that net migration is likely to account for about 70 per cent of the future population growth in Hong Kong. Net migration has slowed down the ageing of society, and the newcomers have formed a substantial part of the workforce. Without this, we would face higher costs for the services we are receiving now.
Accompanying the increase in longevity and the decrease in the birth rate, there are also signs of a weakening of traditional family and marriage institutions in Hong Kong. Household sizes have become smaller and are only about 2.8 people, with more nuclear families and singles. The number of divorces has been increasing and family support is diminishing. The shortage of care workers as well as the inadequacy of family support to meet the needs of the future elderly population should not be understated. In this context, more elaborate social support networks will have to be developed at the community level, such as voluntary activities and non-governmental organisations. More importantly, our society needs to enhance social capital, foster solidarity, promote altruism and a culture of looking after others.
At the same time, changes in Hong Kong's population dynamics will inevitably alter its social fabric, albeit gradually and incrementally. There are concomitant implications for culture, social cohesion as well as the linguistic environment. The rise of the "Hong Kong identity" in society in recent years could be understood from this demographic perspective.
Notwithstanding this however, the relationship between native Hong Kong people and newcomers need not be hostile, provided that suitable government policies are in place to manage the situation. Hong Kong can learn from the experiences of other jurisdictions in dealing with ageing populations, low birth rates and immigration.
In Australia, there has been heated debate on the level of immigration as the population has surpassed 25 million recently. The government has responded by curbing the annual intake of migrants, while measures to divert new migrants to areas of low population density are also being explored. In the meantime, more housing and infrastructure development projects are planned in major cities such as Sydney and Melbourne to mitigate the pressure from population growth on people's daily lives.
In Sweden, the government has provided comprehensive childcare services and subsidies to parents, while employers are being encouraged to adopt flexible working arrangements to cater for employees' family needs, so as to maintain a healthier society. Furthermore, both parents of newborns are entitled to parental leave of up to 480 days, and a substantial part of this generous paid leave is funded by the government. Of course, high income tax is imposed to sustain this effort.
To cope with the challenges of our ageing society, we do not need rhetoric that scapegoats any specific groups or provokes needless antagonism. What is required is a pragmatic attitude of facing the facts and difficulties and overcoming them. We do not have the luxury of simply talking about the population issue without addressing it with vision and concrete actions. Hong Kong today has an abundance of fiscal resources to meet these challenges, and it is time for the government and society to join hands to craft a vision for our collective future.
Paul Yip is the chair professor at the Department of Social Work and Social Administration at the University of Hong Kong. Raymond Yiu has engaged in public policy research for several years and is now studying at the Crawford School of Public Policy at the Australian National University
This article appeared in the South China Morning Post print edition as: Migration will help ease the challenges of an ageing society