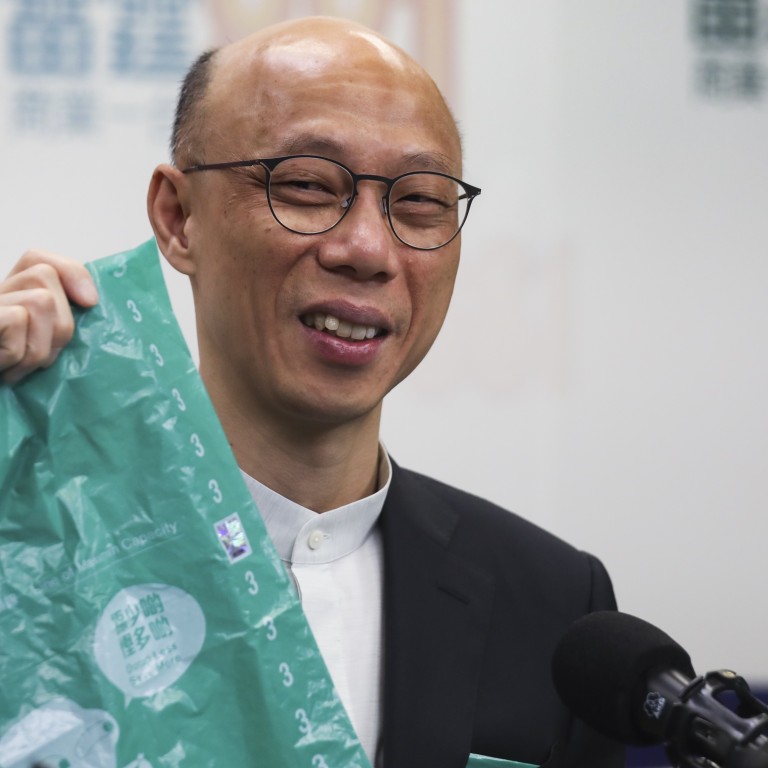 How Hong Kong can solve its waste crisis and become the Silicon Valley of recycling
Jill Baker says the city, with its enviable budget surpluses, has the resources to clean up its environment and lead the circular economy. A waste charging scheme has been announced, and 'reverse vending machines' are being considered
Many in Hong Kong had feelings of déjà vu or perhaps quiet embarrassment when the
solid waste bill
currently before the Legislative Council was announced. After revealing the plan to
charge households and commercial establishments for waste disposal
, Environment Secretary Wong Kam-sing was visibly defensive. He shouldn't be. This has the makings of a great plan. That it has been so long coming shouldn't blind us to the positive contribution it could make.
The plan means to encourage people to throw away fewer things, by imposing a charge by bag or weight. It will provide a fund that could be used to explore
waste-to-energy
possibilities and develop state-of-the-art technologies to recycle plastic and food waste, which would in turn reduce the waste put out in garbage bags. The grass-roots recycling efforts already under way suggest that many people are eager to do more to reduce waste. Hong Kong should clean up its environment and could become a leader in the circular economy.
If you can measure it, you can manage it. And when it is weighed and priced, most of us tend to pay attention. Under the scheme, an estimated monthly charge of HK$30 to HK$50 for a family of three, while modest, will go a long way to reducing the overflow to landfills. After getting over the resentment of paying for designated garbage bags, Hongkongers will come to see the merits of the scheme. The charge is not just a deterrent to creating waste, but also revenue that goes into the development of recycling.
So, is it crazy to think Hong Kong can have an even greater success with waste charging? Not at all. A Legco brief proposes that the money raised from waste charging be redirected into the improvement of recycling. An additional HK$300 million to HK$400 million will be provided to support recycling work for fiscal 2019-2020, and the budget will go up to between HK$800 million and HK$1 billion from the year the waste charging scheme is implemented.
Although the plant is designed to include a sorting system to recover recyclables, there is little in the waste charging scheme that connects the incinerator to the existing recycling and collection infrastructure. By contrast, Singapore's Parliament has mandated a futuristic pneumatic waste conveyance system. Waste will be sorted at source and then sucked through underground pipes to a central collection area, which eliminates the need for dumpsters and other garbage collection areas. In Hong Kong, the strong civil society should play an important role in making sure Hong Kong's recycling efforts evolve in a way that makes sense and uses the best, most cost-effective technologies.
Jill Baker is an adjunct fellow at the Asia Business Council and a research adviser at Terra Alpha Investments
This article appeared in the South China Morning Post print edition as: Waging war on waste