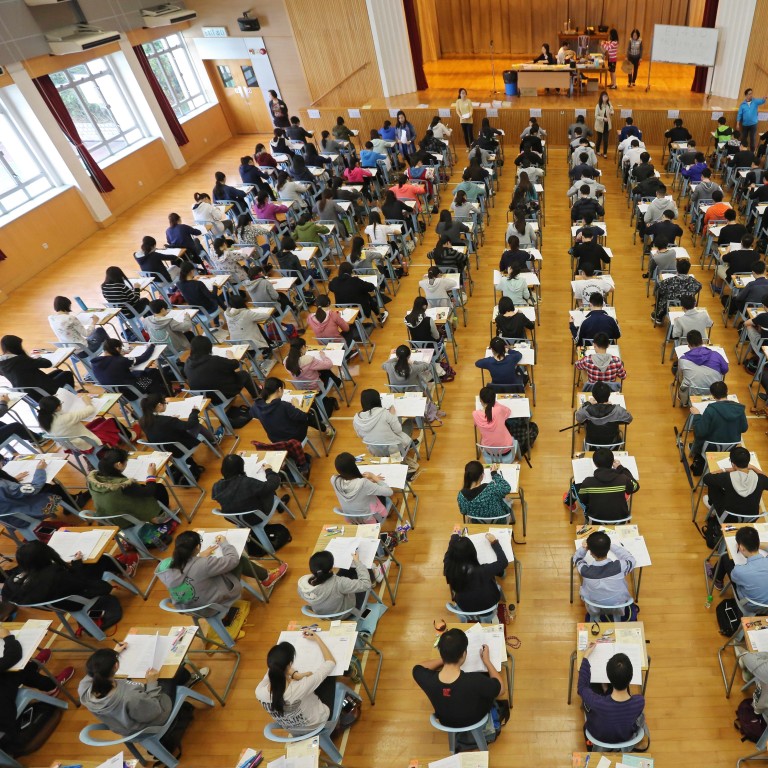 The road out of poverty and to gender equality in Hong Kong starts at school
Hong Kong should increase its spending, and use the money to fund unique education programmes for girls, with the goal of keeping them healthy and increasing their autonomy
Hong Kong is a society full of contradictions, and children's access to education is one of them.
Secondary school enrolments rose from 89.3 per cent in 2012 to 92.9 per cent in 2017, ahead of the East Asia and Pacific average of 79.5 per cent. But that still means 24,008 children who should be in secondary school are not.
At the same time, 92.8 per cent of girls of school age are in secondary education in Hong Kong, lower than the 93.1 per cent for boys. Despite reaching gender parity, the Hong Kong government does not give literacy data for its elderly and adult population, alongside their gender breakdown. These missing statistics would likely show a stark difference between men and women.
This has implications for poverty in Hong Kong. There is a large gap between low-income Hong Kong men and women. According to the 2017 census, there were 80,800 men who earned less than HK$6,000 (US$765) per month (HK$4,000 is the official poverty line), but 451,700 women. Fighting poverty in this city must address the variables that disproportionately affect women and girls.
There are three fronts: political, legal, and public. Hong Kong's female politicians can provide better role models for young girls, advocate for female causes and transform the ability of women to enter politics by running for public office. Legco is currently made up of 15.7 per cent women – far from gender equity.
Legal issues include changes to the 1995 Sex Discrimination Ordinance proposed last year, which should make the white-collar workplace more welcoming to women.
Arguably, the most attention should be given to efforts to remedy gender disparity. The government spent 3.3 per cent of GDP on education in 2018. The average in the OECD, a club of mostly rich countries, was 5.2 per cent in 2015. Of the recurrent expenditure of HK$80.1 billion, the government spent 22.8 per cent on primary education and 33.2 per cent on secondary education. Hong Kong should increase its spending, and use the money to fund unique education programmes for girls, with the goal of keeping them healthy and increasing their autonomy.
To educate and nourish girls, it is essential that the government help keep them safe. There is probably not a finer example of a vicious circle in Hong Kong society than the domestic violence that propagates poverty, and vice versa. Disturbances in young women's lives disrupt their studies, push them into bad social circles and ultimately lead to many quitting school prematurely. The psychological toll of a financially unsatisfying life breeds tension at home, and the vicious cycle continues.
In fact, seven districts – North, Kwun Tong, Sham Shui Po, Yuen Long, Wong Tai Sin, Tuen Mun and Kwai Tsing – have an average poverty rate of 14.7 per cent and accounted for 56.7 per cent of newly reported cases of child abuse, 52.7 per cent of newly reported cases of spousal or partner abuse and 32.6 per cent of newly reported sex crimes. In short, violence exists cosily in the poorest neighbourhoods. Law enforcement should definitely not become complacent, given the general decline in crime in Hong Kong in all categories, including violence, property, and drug offences. The government should promote economic development in poor districts to sever crime's ties to destitution.
The overarching theme is to enhance the security of women and girls by reducing their vulnerability to economic shocks, bad health, disability and personal violence. All of this is intrinsic to improving their well-being and encouraging investment in additional education and higher-risk, higher-reward activities. The government has its role to play, by managing the economy wisely and providing health and social services when they are needed. It is in this way that the assets of the poor can slowly be built up.
Gary Lai was the founder and director for 10 years of the anti-poverty campaign TKO Poverty
This article appeared in the South China Morning Post print edition as: The road out of poverty and to gender equality starts at school