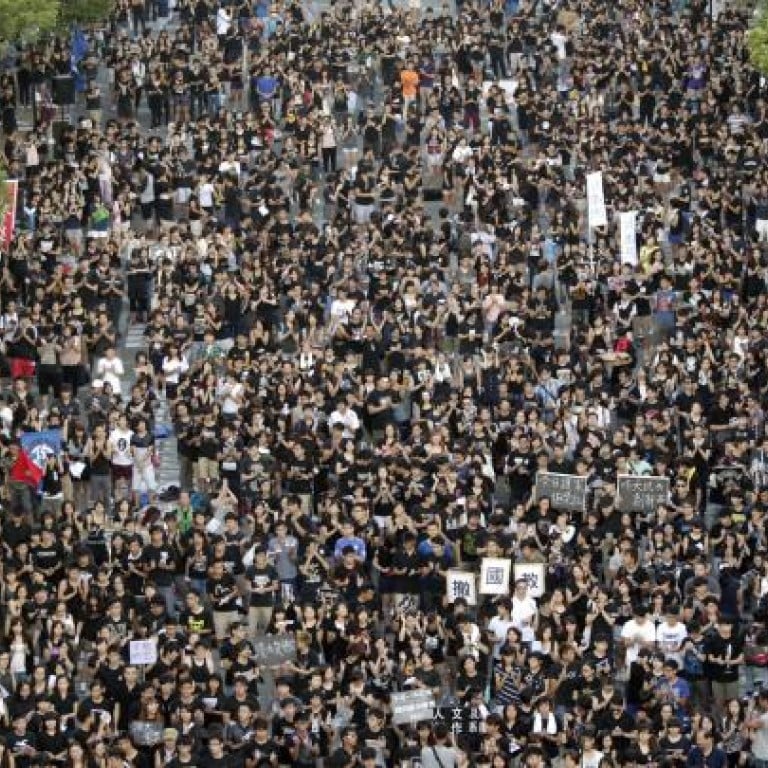 Letters to the Editor, September 17, 2012
Alex Lo, in his column ("The echo chamber that is public opinion", September 12), places himself on an intellectual high ground.
He's saying that when enough people think alike, these people don't think, implying he is the rare critical thinker.
Is it too difficult to think through what national education is about?
Plain and simple, it is just wrong and harmful to teach young minds Communist Party propaganda by dressing it up as "national education". This premise is not private or public opinion, nor does it have to relate to "opportunistic politicians and power-hungry media barons".
Many people read the guidelines carefully before coming to the conclusion that it is much too biased, and they are able to point out where the bias lies. It is patronising for Lo to claim that so many people are unthinking while he is the only thinking one.
He suggests the students "meet officials and negotiate the terms of the government's surrender".
One does not negotiate to patch up something that is wrong. Lo is simply insulting the intelligence of all who dare to stand up to point out what is obviously wrong.
To Ma Kit-wai, the Chinese University professor who said, "It is just outdated to [force] people to do something just because you are Chinese" ("Thousands boycott classes in national lessons protest", September 12), and to the students, I say .
Just as it is that with the elevation of one's position and authority come certain obligations and responsibilities, to enjoy the rights of a citizen of a country, one is expected to fulfil certain obligations.
This is a principle which has not become outdated. Up to a certain level of maturity, one has to be taught, as part of one's overall education, what those obligations are and how they may be fulfilled. That is not the same as being forced to do something.
If Mr Ma is not happy with the already-eased obligations of being a Chinese citizen, he is free to disown that citizenship and apply for foreign citizenship.
Is that not why students should receive national education?
Hong Kong has long been hailed as a city with a strong sense of democracy where citizens enjoy a free-thinking environment.
But, with the debate on the implementation of moral and national education in primary and secondary schools, we have heard a lot of talk about brainwashing because of the syllabus.
I wonder if the students involved in strike action understand what they are protesting about or are they being brainwashed by politicians, some teachers or even some parents?
National education is important because it raises people's sense of belonging to the nation and develops closer ties between Hong Kong and the mainland.
This is important given the deterioration in relations between mainlanders and Hongkongers.
Also, it will help students' careers when they start working if they have a deeper understanding of the country.
Some critics have said the teaching material for the new subject will be biased, while others defend it.
I think the arguments here are not valid.
Schools will be able to choose and to create their own teaching material.
In this regard they will have complete autonomy.
Being involved in these lessons should not be misconstrued as an act of patriotism and I have not seen any material that I would say aims to brainwash students.
It is my conviction that national education should be taught in primary and secondary schools.
There is nothing wrong with it being introduced to pupils at an early stage in their schooling so long as there is proper planning.
Even though national education has just got off the ground, student activists have already forced the government to rethink its policy of phasing in the controversial subject.
However, I believe students will be able to judge the material they are taught in the classroom and form their own conclusions.
In our school system, they should learn to be proud of their nation given that Hong Kong is an integral part of China.
I hope that the government will give more consideration to the guidelines to be offered for the new subject and that it will enable people to have a greater sense of belonging to their nation.
The apostle of non-violence Mahatma Gandhi said never underestimate the power of the people.
Citizens of Hong Kong who protested against the imposition of national education can be justifiably proud that the government has dropped its unpopular initiative. "One country, two systems" really works in Hong Kong.
The SAR government does listen to people's demands and acts on them.
I refer to the report ("Trades count losses on visitor halt", September 8).
There has been a steady increase in mainland visitor numbers and some people argue that Hongkongers have nowhere to go at weekends because everywhere is full of people from outside the SAR.
As the report points out, the proposed granting of multi-entry permits to migrants who reside in Shenzhen would have benefited some business travellers. But it would have led to many problems such as parallel traders and illegal workers.
In addition, property prices here are rising because of continuous investment by mainlanders.
It is worth noting that in busy areas of Hong Kong frequented by mainlanders, while the visitors from over the border might shop, many locals stay away and therefore do not spend. There are also hygiene problems in some busy areas.
It would have been a bad idea to implement this extension of multiple-entry visitor permits at this point in time. All possible problems connected with it must first be addressed.
I refer to the article by Albert Cheng King-hon ("Leung's weak housing policies won't bring down property prices", September 7).
Most of Hong Kong's problems are inherited from the last administration and the current government has been in office for only two months.
The rise in property prices has nothing to do with Chief Executive Leung Chun-ying's policies, which have not even been implemented.
If C.Y. does have the Midas touch to inflate property prices in such a short period of time, on behalf of millions of homeowners in Hong Kong I offer our gratitude for creating additional wealth for us. But that is not the case.
The rise in prices is brought about by:
An illiquid market that is subject to manipulation. We have only seen samples of properties increasing in prices. We have not seen the same across the SAR to be considered representative of the entire market. Here in Discovery Bay, the prices have been stagnant for a long time; and
The decline in the stock market with long-term uncertainties shifting investment money to the real estate sector, as Hong Kong properties are among the safest investments in the world.
In Hong Kong there are too many opinions, but few practical solutions.
I think the problem of internet addiction has existed for some time in Hong Kong.
However, the number of young people with this problem has increased in recent years. This is mainly caused by the growing popularity of social networking sites such as Facebook, Twitter and MySpace.
Another cause is the popularity of different internet sites showing thousands of films and TV channels for free. Teens also develop problems by playing online games.
It can be a gradual process and adolescents are susceptible during the long summer holiday when they have a lot of spare time available to surf the internet.
The problem of obsessive internet behaviour can be dealt with by parents.
It is important that they show their children that they care about and spend time with them.
The youngsters should not be encouraged to spend too long alone at a computer.
We lead busy lives in Hong Kong, but even where both parents have to work, they can supervise their children by making frequent phone calls from the office and keeping a close check on their children's computer record.
It is up to teenagers as well to exercise some self-control.