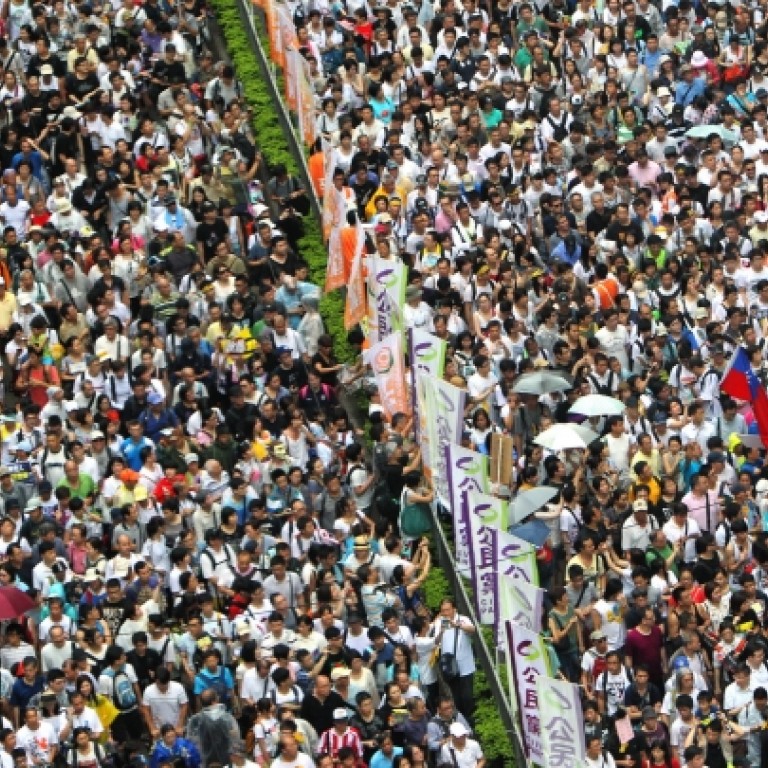 Letters to the Editor, July 4, 2013
As one of the relatively few expat parents of a St Stephen's Girls' College student, I would like to offer my perspective on the current controversy concerning the entry (or not) of the school into the Direct Subsidy Scheme (DSS).
Firstly, I believe that school fees should be viewed as an investment (in the child's future) rather than a cost. The question is not whether or not St Stephen's should become fee-paying, but whether the additional quality of education and opportunities to be provided with the resources raised would justify the fee, both at an individual level, and for the community.
There is a danger in thinking that a victory has been won because the school remains fee free: a free school will always struggle to provide the same level of education and opportunities as a properly priced fee-paying institution.
Secondly, I fear that St Stephen's entry into DSS will be rejected not because of a rational and considered analysis of all of the facts, but because there is a vocal section of the community campaigning for the status quo, based on a fear of change.
To reject DSS simply on the basis that St Stephen's has been fine in the past and will be fine in the future is a risky proposition. To quote Spencer Johnson from : "If you do not change, you can become extinct !"
Considered, rational analysis is required, rather than hysteria over the level of fees, or scaremongering over the prospect of change.
Bad estimates of attendees at the July 1 protest march could affect the police's ability to ensure public safety
Similar to many readers, I am also surprised with the huge discrepancy with regard to the police and demonstration organisers' estimations of the number of attendees.
You could drive a fleet of buses through the respective assessments. More seriously, I would think getting an accurate estimate is important, as this would likely determine the capacity and nature of public resources readily available should issues arise.
Political agendas aside, do these official estimates of numbers potentially affect public safety? Do the police have a good estimation procedure in order to support them when, and if, there really is a problem?
Tony Edwards, Repulse Bay
 
If I were writing Mr Cheng's report card, I would rate it very poorly. He bases his criticism of the administration's performance on a popularity poll, not on a critical itemised review of the long list of things achieved not by Chief Executive Leung Chun-ying alone but by his administration.
From an almost standing start, this is good going. Well done so far. And if Mr Cheng cares to find out what has been done and is being done there is more good news to come.
But why are there so many things to be done? Why are over a million people living in poverty? Why are there 200,000 people living in subdivided flats? Is it Mr Leung's fault now for trying to do something about it?
These problems are deep-seated and their origin and the failure to do something about them does not rest in the past few months, nor at his door. You might say, Mr Cheng, that the last half-a-million march was the wake-up call, for it was not simply about Article 23.
Why was it necessary 10 years later to have another march? That would be a more constructive analytical approach.
Mr Cheng says Mr Leung "can no longer shirk his responsibility, and neither can his so-called supporters".
I am writing this because I was a supporter and I am a supporter, not a "so-called supporter". I want to continue my support and get things done and will continue to give critical and constructive support and help when I can, even to the point of how to bring about election of the chief executive by 2017.
The message is clear, the way to get there will take careful, helpful and clever minds.
Edward Snowden merely exposed the National Security Agency's cybersurveillance and spying programs.
The NSA programs, on the other hand, have not only violated the US constitution; they have also engaged in extraordinarily serious acts of espionage against the central and Hong Kong governments, and the Chinese people.
This includes cyberspying on millions of Chinese mobile text messages, and breaking into the Tsinghua University network.
Hopefully the Chinese government will file appropriate criminal charges and then request extradition of the NSA leaders to stand trial in China.
Press reports indicate that the rate of poaching of Africa's most endangered animals, such as rhinos and elephants, for their tusks is rising.
I think the reason for this is that people are materialistic. They want to show off how rich they are and so they purchase ivory products to decorate their homes.
This demand obviously encourages the poachers to redouble their efforts.
These people do not care that by their actions these animals through being hunted down could eventually become extinct in the wild.
It is obvious that some officials in some governments in Africa collude with the poachers.
Other human activities, such as logging, also put at risk the habitats of these and other species. However, logging is also causing problems for humans in these countries, causing soil erosion and adding to global warming, as the trees absorb carbon dioxide.
Governments in Africa must do more to curb poaching, not just by passing laws, but also by enforcing them.
There also needs to be more education so that people appreciate that these animals and their habitats must be protected, because the preservation of these ecosystems is also important to humans.
Consumers can make conscious decisions that make a difference, such as refusing to eat shark's fin dishes or purchase ivory products.
We have to respect animal rights as well as human rights.
I took an instant dislike to the "User Permits (Lift)" that I have noticed on the inside walls of lifts since earlier this year.
Apparently they are issued by the Electrical and Mechanical Services Department to substitute the old "Form 11 - certificate on periodic examination". This was in use for a number of years, but now this certificate has been replaced by the permit.
The old certificate used to display more information. It is easy to confirm this because a lot of them are still stuck on the walls of lifts. The certificates state their purpose is to test the safety of the equipment and examine the lift. They also include the name of the registered lift engineer (and his registration number) who certifies whether the lift has been examined and the safety equipment has been tested to his satisfaction, certificate number, the date of certificate as well as the date of the next periodic examination and testing of the lift and safety equipment respectively.
The certificates also include the name and the address of the property management company in charge, and three signatures of a registered lift contractor, registered lift engineer and a deputy for the director of the department as an endorsement. The name of the relevant ordinance (now repealed) is also quoted.
In stark contrast, the new permit does no more than display the name of the new law and an expiry date in addition to the location of the lift. It looks more like a postcard.
Given the lift accident in North Point in March when seven people were injured, I wonder why this less informative permit system has been adopted. Is it intended to offer greater protection to those responsible for any lift failures?
This new system is a retrograde step when it comes to what is accepted as good practice.
As a taxpayer, I cannot understand why the government feels the need to borrow money by issuing iBonds.
Money is usually borrowed by issuing government bonds to finance budget deficits, the US being a good example, but we are told that the government has large budget surpluses, so why borrow?
I am also worried that the interest due to iBond holders will be paid using taxpayers' money.
Wouldn't the money used to pay the interest on the iBonds be better spent on the needy and those who are living below the so-called poverty line?
I hope the government realises that those who can afford to apply for the iBonds are not the poor, but the rather well-off, middle-class residents.