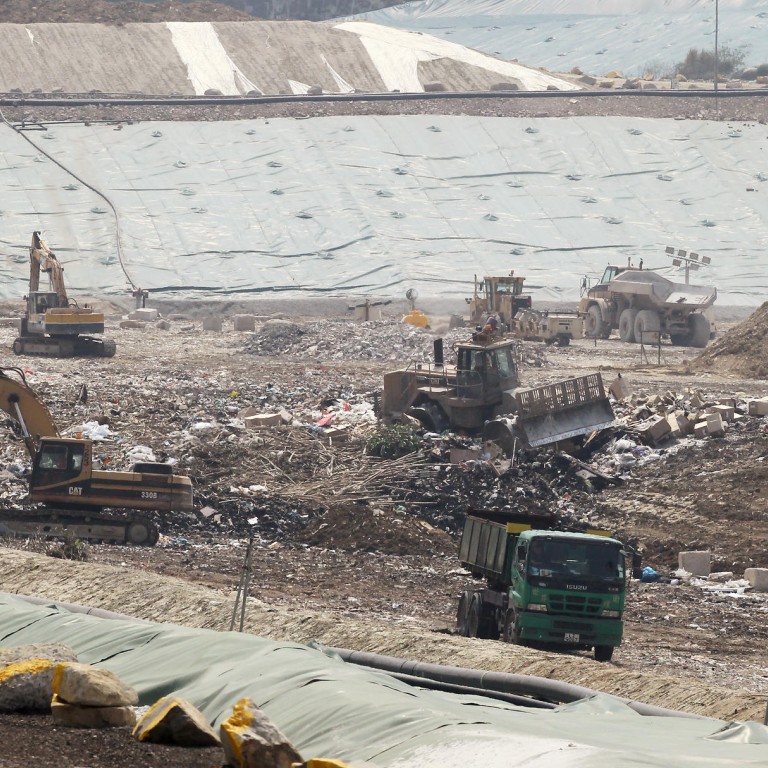 Letters to the Editor, July 18, 2013
While I back the implementation of an environmental levy on domestic waste, I also think extension of our landfills is necessary as a long-term measure. Public consultation is needed to arrive at the best solution.
While I back the implementation of an environmental levy on domestic waste, I also think
extension of our landfills
is necessary as a long-term measure. Public consultation is needed to arrive at the best solution.
However, it will be necessary to put both of these policies into practice.
The necessity of the extension of landfills is due to the heavy pressure from the depositing of waste.
Even if we start to reduce the volume from today, our landfills would still face the problem of reaching capacity in the near future if they are not enlarged. Also, a failure to impose a waste charge will be tantamount to Hong Kong taking a backward step.
This tax on domestic waste is the most effective means of reducing the pressure on our landfills.
It is an economic incentive on the public to reduce volumes of household waste and it has been effective where it has been adopted.
For example, in South Korea, shortly after a levy was introduced there was a sharp drop in volumes of waste.
If we want to solve the waste-disposal problem in Hong Kong, funding for further investigations into our options must be approved as soon as possible.
This is important, because such probes will take time given the need to balance the needs and benefits of all stakeholders through consultation and comprehensive preparatory work.
If there is any hesitation in implementing such initiatives, then the government will find it is running out of time and failing to find the best policy for all stakeholders.
Funding the policies I have suggested does not mean ignoring the importance of recycling.
While recycling does matter, landfill extensions are still an important part of end treatment of waste.
The Hong Kong government has been seeking a solution to the city's waste problems for several years but the problem remains unsolved.
I think we can finally find the best and most balanced solution through rational discussions with all stakeholders.
Given our government's penchant for sticking to outdated and costly technologies, can we possibly believe that its current plans to erect costly and outdated giant incinerators - generating no energy - are the best way to go? I think not.
This municipal solid waste conundrum mirrors the government's determination to build a monorail by the new Kai Tak cruise terminal.
Again, compared with modern light rail, this will cost a lot more to erect and run. The government should look at Sydney, where they are tearing down their own unsuccessful monorail, which has been a blight on the city centre.
Why can't our government learn something from other parts of the world and give us modern, efficient, cost-effective infrastructure projects, instead of sticking to expensive and outdated technologies?
Peter Forsythe, Discovery Bay
Late last year, Chief Executive Leung Chun-ying praised Hong Kong people for their generosity when helping people in need.
However, while they are willing to give financial donations, many citizens fail to help the needy in other ways.
Most of us will donate money rather than join an organised charity event, for example, as a volunteer.
Some people will argue that this is inevitable in a city where people have to work hard to earn enough to support their families.
They say it is therefore difficult for most citizens to find the time to be a volunteer.
They want to help, but would rather do it in the form of a financial donation.
Hong Kong people can get more involved. For example, there are two famous well-established charity events in the city - Hong Kong and Kowloon Walk for Millions and 30-Hour Famine.
Participants can get sponsorship from family and friends or join the event on behalf of an organisation, such as their school or company or uniformed organisation.
For example, with the former event, after they have finished the walk, they will feel a deep sense of satisfaction.
People also have other options which are not too time-consuming, such as volunteering to participate in the flag days that are allocated to charities by the government.
Donating money is only one way in which people can make a difference.
Hong Kong people are kind-hearted and generous in giving help.
Some Hongkongers became disillusioned about charities after fears that donations to help with the Sichuan earthquake victims earlier this year could go into the pockets of corrupt mainland officials rather than to the people who needed help.
However, they should not feel too cynical, or lose faith, because there are charities which can be trusted and which do make a difference to the lives of people in need.
He perhaps does not know that under the system envisaged, which he calls elitist, Hongkongers will be more equal and have more say than mainland people ever have.
At present, the priorities of the nation are to ensure security and unity. So we must have a system that is not susceptible to secessionists, of whom there are many, and that they do not gain power, as happened in Taiwan for a period of time.
Not only have some politicians demanded, respectively, independence for Hong Kong and to lease Hong Kong to Britain for a further 100 years, but in 2003 some student leaders questioned then security chief Regina Ip Lau Suk-yee and asked how she could place national security above freedom.
They have gone even further since then. Need I say more?
I am writing in response to the widespread arguments against democratic campaigns, especially Occupy Central.
They therefore argue that the pan-democrats or "Occupy Central" supporters are exaggerating the city's social problems.
It depends on what you mean by desperate.
Certainly, if you look at some opinion polls, when it comes to the level of trust people have in the Hong Kong government, the situation is indeed desperate. And why should economic growth be thought to be so important that it overrides everything else?
There will always be social problems in any society.
The widening wealth gap also affects Western democracies. However, just because democracy cannot cure all problems does not mean we should not pursue such political goals, because of fears about social stability.
In fact, campaigns like Occupy Central, which are part of the debate taking place on what is the best system for Hong Kong, could benefit society in the long term even if, in the short term, they appear to be divisive and problematic.
Hephaes Chau, Wong Tai Sin
As a former pupil of St Stephen's Girls College, I would like to express my concerns about the controversy in which the school finds itself [over its application to join the Direct Subsidy Scheme.
I have noted that a good number of alumni are now choosing to send their daughters to other schools. Many do this because they are not sure they will get enough "points" under the allocation system and their children will be at the mercy of a lottery.
Many also prefer to send their daughters to a private or Direct Subsidy Scheme institution and it is not just the alumni who are making these choices, but other parents at kindergarten, primary and secondary level. Why can't St Stephen's get these talented girls and why is it losing its competitive edge?
People are now willing to spend thousands of dollars on a smartphone even though a simple generation-one Nokia mobile would do perfectly well for making calls. The Nokia models are being phased out, because attitudes are changing. Given the choice, consumers prefer a smartphone.
As Diane Ravitch, a US historian of education, said, "The greatest obstacle to those who hope to reform American education is complacency."