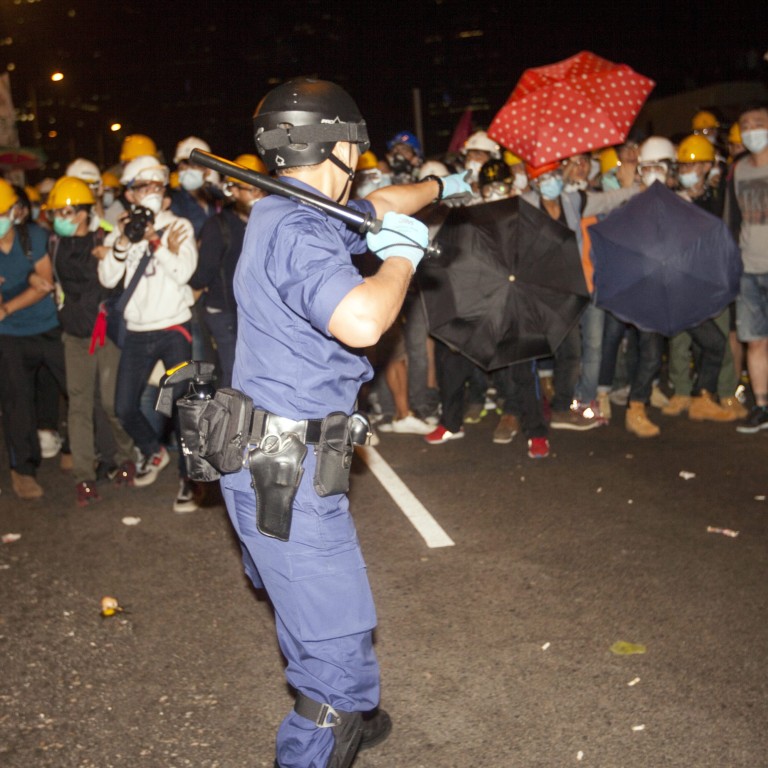 Hong Kong police must disclose baton-use rules and respect people giving first aid
Since the police dispersal of protesters on September 28 by firing tear gas and threatening gunfire, several groups in our community have published statements denouncing the force's aggressive tactics. Médecins Inspirés, a newly formed group comprising Hong Kong doctors in the public sector that are concerned about political reform, shares their outrage.
News reports of protester clearance operations in Mong Kok and Admiralty serve to prove that certain members of the police force were excessively belligerent. The use of batons to hit the head and neck regions of peaceful protesters and passers-by is unacceptable. We are extremely concerned with this indiscriminate, violent and potentially lethal behaviour.
The former editor of the , Professor Joseph Lian Yi-zheng, commented that in North America clear comprehensive guidelines for crowd control exist. For example, police officers in San Francisco may not wield their batons above head level or use them against peaceful protesters.
Blunt traumatic head injury can lead to devastating intracranial bleeding and coma, and may be fatal.
In North America, where violence in protests is frequently encountered, baton-use protocols are accessible to the public. In stark contrast, the Hong Kong Police Force have failed to publicly disclose their baton-use regulations despite repeated requests to do so.
The Hong Kong government bears much of the responsibility for this state of affairs. By failing to address these politically charged protests, the government has unfairly "outsourced" its responsibility to the police. The government has essentially destroyed hard-earned years of public trust for what used to be "Asia's finest police force".
During the clearance operations on December 1, we were appalled by how certain police officers believed they were above the law. Many healthcare providers received verbal threats of violence. Even more worrying was that while treating numerous protesters with head injuries, our colleagues also became victims of physical assault by the police. This greatly hindered our provision of essential healthcare and is an example of the police force's blatant disregard for humanitarian aid.
Thus we demand the police do the following: (1) disclose their guidelines for the use of police batons; and (2) respect and protect healthcare providers in the field, who are politically neutral. All injured people - protesters and police officers alike - have the right to receive appropriate humanitarian medical first aid.
This article appeared in the South China Morning Post print edition as: Police must disclose baton-use rules and respect first-aid givers