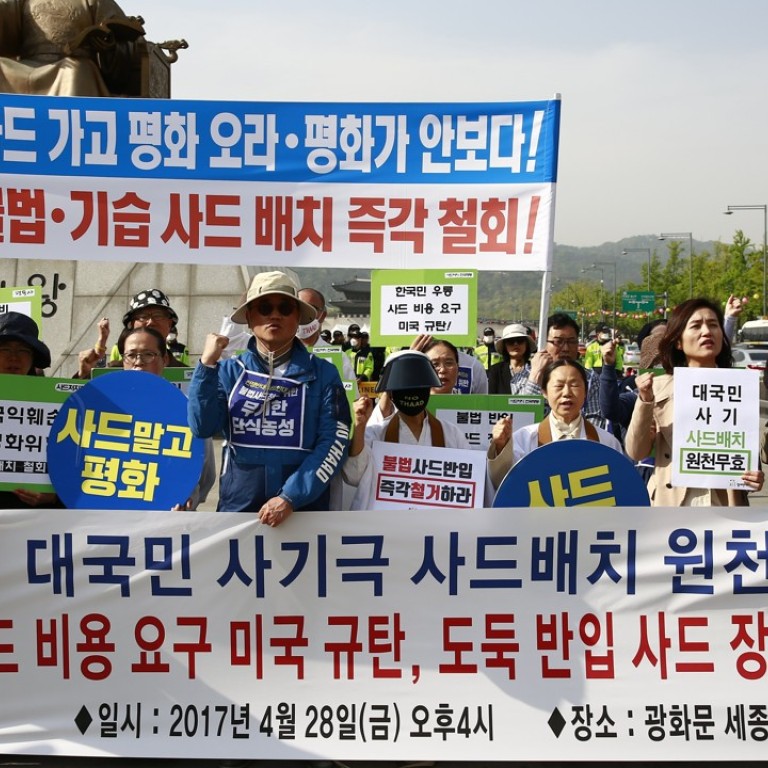 Can Seoul and Beijing ease tensions over THAAD for peace on the Korean peninsula?
The deployment of the US Terminal High-Altitude Area Defence (THAAD) system in South Korea is foolish. I agree with South Korea's new president, Moon Jae-in, who does not want the anti-missile system to become a point of conflict between his country and China.
There is no doubt that the military capability of North Korea is increasing, but employing THAAD to defend Seoul is like forcing a big fish into a small pond.
It would be fine if it only riled Pyongyang, but the fact is that China also feels intimidated. Since China and South Korea have enjoyed a high degree of interdependence economically, the deployment hurts South Korean businesses trading with and operating in China. And it does not appear to be blunting the aggressive attitude of North Korea, which has shown no sign of cutting back on military parades or missile tests.
China, however, is also adopting the wrong attitude: the leadership has done nothing to curb boycotts by consumers of South Korean goods. But Beijing knows Seoul is not the culprit. The initiator behind the deployment of THAAD on South Korean soil is Washington, but China chooses to keep silent about the role of the US, while tacitly supporting the boycotts of angry Chinese consumers.
China does not want to damage its relationship with the US, but that is no reason for it to take a hostile attitude towards South Korea. In such a dispute, the only winner is North Korea.
Dealing with the North Korean nuclear weapons issue will take the concerted efforts of Beijing and Seoul. Pyongyang will exploit any mistrust between these two parties and use it as a bargaining chip to gain whatever it can.
I hope Mr Moon's election victory can resolve the political deadlock over THAAD and ease tensions between Beijing and Seoul. We can then hopefully see further regional collaboration, which will bring real peace to the Korean peninsula.
Jiaxuan Lu, Shanghai
This article appeared in the South China Morning Post print edition as: THAAD is a barrier to chances for peace on the Korean peninsula