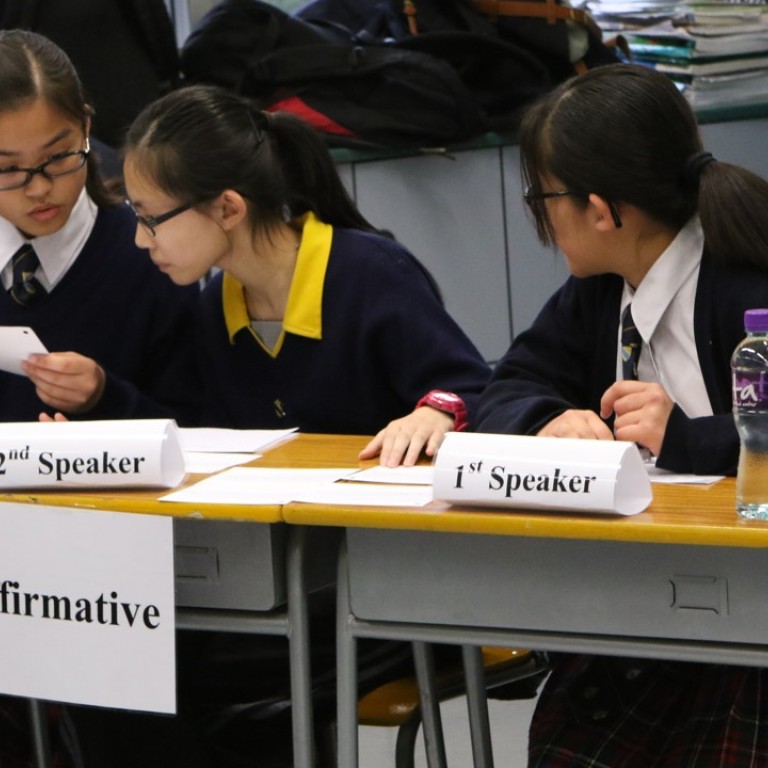 Letters to the Editor, March 4, 2018
Teenagers can steer course to bright future
Given the number of applicants with university degrees and high-quality vocational training, Hong Kong's job market has become even more competitive.
Many students find it difficult to get a job, as ­employers think they do not have enough skills.
So what can we do to increase our workplace skills? I think Hong Kong students should learn early to ­depend on themselves and take the initiative, and not just rely on schools to prepare them for the wider world.
Take school programmes or workshops. Students need to join these activities to learn leadership and teamwork. Also, they should try to take part in competitions or training programmes outside school, like leadership camps, or debates and public speaking contests. Such activities can increase the confidence of teenagers, which is a trait that prospective employers look for.
Especially for those who wish to join the service sector, off-site camps and activities can improve their social skills and help them to learn problem-solving techniques, which will stand them in good stead later.
It is up to students to take the responsibility to better prepare themselves for a successful future in the work force.
Jennifer Wong, Yau Tong
E-cigarettes should not be encouraged
I think e-cigarettes should not be encouraged at all, especially as overseas studies have proved that e-cigarettes have created a whole new market with children and teenagers.
In the US, the use of e-cigarettes among middle and high school students tripled from 2013 to 2014, bringing the share of high school students who use them to 13 per cent, more than those who smoke traditional cigarettes.
US public health authorities have warned that nicotine is dangerous for kids at any age, whether as an e-cigarette, hookah, cigarette or cigar. Nicotine exposure at a young age may cause lasting harm to brain development, promote ­addiction to smoking and lead to substantial tobacco use.
Promoting e-cigarettes is like encouraging teens and youngsters to pick up the bad habit. Hong Kong needs to restrict vaping as harshly as smoking.
Eunice Li Dan Yue, Shanghai
TV coverage of actress' death in poor taste
Bollywood superstar Sridevi was an immensely talented, beautiful and dignified actress with legions of fans around the world.
Besides being a movie star, Ms Sridevi was also a mother and wife. The family should have been allowed the space to grieve and overcome the shock of her loss.
Rajendra Aneja, Mumbai
Extend breaks so that pupils can play more
A recent citywide survey showed that half of Hongkongers aged 15 or older are overweight or obese. Also, a government report in 2016 revealed that about one in five children in the city is obese, with bad diet and inadequate exercise blamed for the trend.
Instead of a healthy, balanced diet, many youngsters today seem to survive on sugary and oily snacks. Meanwhile, they spend their days mostly sitting, or reclining on the sofa, as they play or chat on their smartphones. This not only makes them fatter, but also makes them prone to chronic lifestyle diseases later in life.
As a measure to reverse this unhealthy trend, I suggest that schools extend their lunch breaks. Lunchtime is too short now and pupils don't have enough time to finish their meals and then play. With an extended break, they can enjoy a more comfortable meal and then rest a bit before doing some exercise. This will help them to grow stronger and lose weight.
Physical exercise classes could also be extended and schools given government grants to build gyms for older students.
At home, parents could cut down on salt, sugar and oil in meals, and try to give their children a packed lunch more often.
Yuki Pang, Tseung Kwan O
Traditional tea holds its own against coffee
Office workers love coffee because the caffeine keeps them alert at work. Young people like going to coffee shops like Starbucks because they can chat with friends, or enjoy the Wi-fi, along with their preferred type of coffee.
But this does not really prove that people love coffee. I, for one, prefer tea. Tea is a traditional drink for Chinese, we have been making it for 2,000 years. Tea also has a calming effect as you prepare the brew and drink it.
In the past, people took tea in small cups, called "kung fu cha", which emphasised etiquette. It was tea that one should taste rather than drink.
As for office workers wanting to stay alert, I have news. Tea contains caffeine as well, and this age-old drink can also help to keep you awake at work.
Vincent Lin, Po Lam