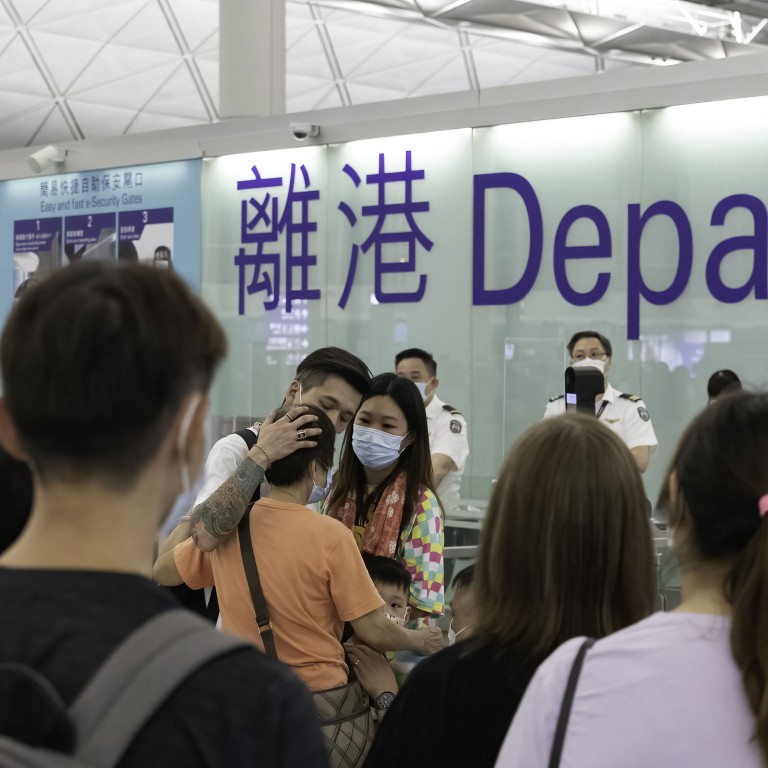 Letters
What's driving Hong Kong exodus if not the national security law?
Readers react to a Chinese official's comment on Hongkongers emigrating, ask how departures are classified as being permanent, question the city's quarantine policy and vaccine plan, and stress the value of vaccination and mask-wearing globally
Former British prime minister Tony Blair once observed that a simple way to take the measure of a country is to look at how many want in, and how many want out.
Huang Liuquan, a deputy director of the State Council's Hong Kong and Macau Affairs Office,
recently denied
that residents are leaving Hong Kong suddenly because of the
national security law
. So why do we have a
significant drop
of 1.2 per cent in our population, with so many
fleeing to Britain
?
Is it because people are attracted by Britain's higher tax regime?
Is it because Britain has such exquisite culinary delights as toad in the hole and spotted dick?
Is it because the cramped and largely non-air-conditioned London Underground is a much more pleasant form of transport than the MTR?
Is it because a predominantly English-speaking country is easier to navigate when Cantonese is one's mother tongue?

Or, perhaps it is because Britain is home to the Chelsea United and Manchester United football clubs, and one just needs to be closer to the English Premier League when we have no premier football club.

Assuming Huang is correct, it would be useful and interesting to understand why Hongkongers are leaving rapidly. Even if, for now, this resident has no plans to leave our beloved Hong Kong.
Simon Constantinides, Pok Fu Lam
How is permanent departure defined?
Your frontpage report "'No link' between national security law and exodus" (
August 26
) says "more than 89,000 residents had left Hong Kong in the 12 months since the imposition of the security law". The strong inference here is that those leaving had left permanently, to settle elsewhere.
For the purposes of clarity, I wonder if the relevant government department would please confirm how many of the quoted 89,000 actually left Hong Kong on a permanent basis, and how this is determined (for example, based on a one-way ticket).
I ask because Hong Kong is receiving adverse press worldwide and the so-called exodus is simply adding to the unfortunate negativity.
Karl Hurst, Repulse Bay
Science does not support 21-day quarantine
If a person has tested negative throughout that 14-day period, including on the 14th day, there is zero chance that they are still incubating the virus from outside, regardless of the variant or whether the country they come from is considered to be low, medium or high risk. This is a simple scientific fact, borne out by the evidence.
Adding an extra seven days of unnecessary quarantine is a waste of time, money and puts a strain on mental health. To claim anything else is anti-science, and goes against the available evidence.
Why does the government continue to pursue this policy, when there is no scientific backing for it?
James Webster, Wan Chai
Hong Kong, too, should roll out vaccine booster shots
The US government has explained that a booster shot is needed to counter the threat of a rising number of infections due to the Delta variant, and as statistics show that vaccine protection declines over time.
The US is not alone in rolling out booster shots. Despite a World Health Organization appeal to hold off giving booster jabs until more people in low-income nations are vaccinated, Israel, France and Germany have in recent days also announced moves to give vaccine boosters to older adults and people with weak immune systems.
Hong Kong should do the same as soon as the shots are available for import. The boosters should be given to those people in need, such as frontline health care workers and the elderly.
But before they are available, Hong Kong must not relax the social distancing and mandatory mask policies. When the weather turns cold, we could expect more people will stay indoors and the cold and dry weather may increase the chance of spreading of Covid-19.
Lo Long Him, Tseung Kwan O
Don't put others at risk by refusing vaccine and masks
We're fighting a toxic pandemic so American congressional lawmakers and leaders around the world must listen to science and the medical profession which deals with facts.
Forget about parents making their children wear masks, or not, get vaccinated, or not. We as adults have rights, to be sure, but that doesn't give us the right to put people and youngsters at risk by not getting vaccinated and not wearing masks.
This is a rare instance where science and the medical community are asking people to simply wear masks and get vaccinated, thereby protecting yourself and your neighbours from infection. Common sense tells us it really is a matter of life or death.
Herb Stark, North Carolina