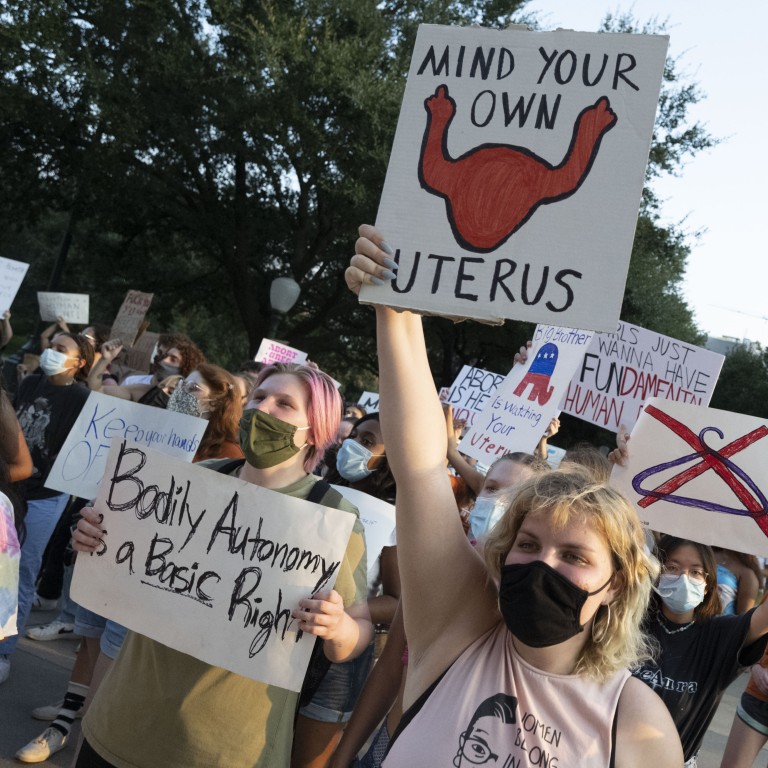 Letters
Why the Texas abortion law is doubly unfair
Readers discuss Texas' ban on abortions after six weeks of pregnancy, the Taliban's treatment of women, the advantage of a waste-charging scheme, and Hong Kong's student 'myopia boom'
I am writing to express my views on the report, "US Supreme Court declines to block Texas six-week abortion ban" (
September 2
). On September 1, the southern US state banned abortion providers from carrying out terminations after fetal cardiac activity is detected, usually around six weeks of pregnancy.
The law does not allow for exceptions on the grounds of rape or incest. The only exception is "if a physician believes that a medical emergency exists".
The law was cleverly drafted to expand enforcement beyond the government to allow people to sue abortion providers or anyone who "knowingly engages in conduct that aids or abets the performance or inducement of an abortion".
The plaintiff can receive up to US$10,000 from the accused if the case is successful.
Setting the threshold at six weeks is too harsh. At just six weeks, many women don't even realise they are pregnant. They may realise only after a few more weeks, perhaps because they were busy at work or weren't tracking their menstrual cycle carefully.
This amount of time is not enough for women to carefully consider if they are capable of bringing up a child, an important decision that involves being responsible for another life.
While Texas has effectively banned abortion in the state, women can still leave Texas to access the procedure. This means that the law will disproportionately affect the poor. Those who cannot afford the "travelling costs" might resort to clandestine abortions, putting their health at risk.
According to the World Health Organization, up to 13.2 per cent of annual maternal deaths are due to unsafe abortions. Texas risks adding to that statistic.
While governments might want to lower abortion rates, they should treat the cause, not simply the symptoms. Raising awareness of contraceptive methods and the value of life would be a better approach.
Kawaii Cheong, Tseung Kwan O
Taliban must recognise women's rights
Afghan women excel in many areas, and for the past 10 years, have even been taking part in international sporting events. I hope that the Taliban leaders can admit women into their government and take their views into consideration.
The Taliban leadership should realise that without women, who nature has granted the power to bear children, the balance of civilisation will disappear. The Taliban should move with the times and respect the rights of all Afghans, male and female, on equal terms.
Meanwhile, perhaps the United States and its allies can persuade China, India and the oil-rich nations to ask the Taliban to cease terrorist activities in exchange for humanitarian aid packages, which include food, medical supplies and educational facilities.
K.M. Nasir, Mid-Levels
Charging for waste will pay off
Waste charging
fundamentally creates a strong incentive for people to cut down on waste production at source. The causes of wasteful consumption are materialism and consumerism.
Hong Kong is a prosperous economy where people enjoy a very high standard of living and consume a lot of products and services, producing a great deal of waste as a result and straining the capacity of our landfills.
Since people need to bear the cost of the waste they produce under the proposed waste-charging regime, they will be motivated to cut down on consumption of unnecessary items to avoid paying more when disposing of their waste.
The waste-charging scheme can also encourage people to reuse and recycle old materials.
Now that people know the scheme will be implemented, they will hopefully take prompt action to reduce wastage. Those who fail to use the designated rubbish bags, after a grace period has passed, could incur a HK$1,500 fine.
Economic disincentives are relatively easy to implement and enforce. Once the price of waste disposal is made clear, people can calculate and pay the required cost. Ease of compliance will encourage people to adopt a more environmentally friendly lifestyle.
A similar example is the plastic bag levy, which was easy to implement and follow. All people needed to do was choose to pay the levy or bring their own bag. The scheme has changed the shopping habits of many people.
The implementation of the construction waste charging scheme and plastic bag levy shows that the government can enlist support and does not face much opposition from the business sector and the general public with regard to these initiatives.
Adrian Lam, Taikoo
Limit screen time to help fight myopia in children
I am writing in response to a
study
that found that the percentage of Hong Kong children who developed nearsightedness has increased an estimated 2½ times during the pandemic.
The study connected this "myopia boom" to children spending less time outdoors – the average time spent outdoors dropped from 1.27 hours a day to just 24 minutes. Instead, children have spent the past year staring at computer screens or mobile phones, as even schooling went online.
It will take self-discipline from children and parental supervision to reverse this trend. Perhaps the government can recommend devices that limit the time spent online.
Also, opening more outdoor spaces for children could help.
Hebbe Siu, Tseung Kwan O