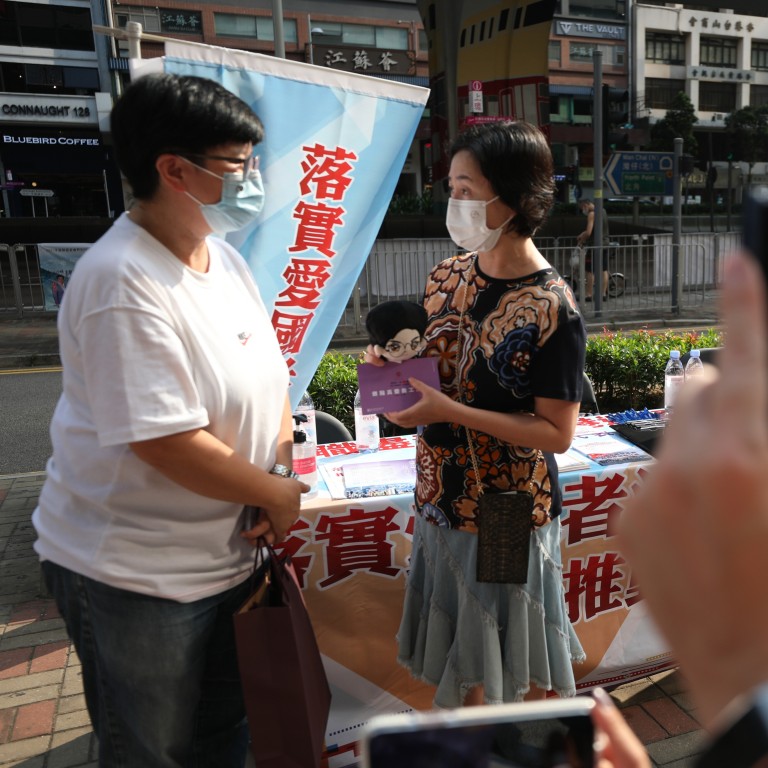 Letters
Understand Hong Kong's Election Committee changes before dismissing them
Readers discuss the upcoming Election Committee poll, the lack of motorcycle parking spaces, and road safety in Hong Kong
The first change as part of Hong Kong's
electoral overhaul
is the reform of the Election Committee. Increasing the number of seats from 1,200 to 1,500 is only the first step.
The past weekend saw many of the candidates for
uncontested seats
around Hong Kong
handing out leaflets
and statements on how they can help improve livelihoods. Despite the hot weather, they were tasked with getting close to the public and listening to people's views, good or bad.
However cynically some people might view this event, it is a good move for these candidates to experience first hand how the public at large live their daily lives and react to the changes introduced. This way, they can be an effective bridge between the people and the government by collecting public opinions and pragmatic policy suggestions.
As for the public, we should accept the leaflets and take the time to understand the changes. By doing so, we are channelling our voices and opinions to those who can speak for us. Anyone who wishes to improve a situation should make an effort to understand it thoroughly and then make a sound judgment. Avoiding or ignoring information will not help.
A good policy is not one that can please everyone but one that can be accepted by all. After all, policies can be revised and improved over time.
We have a good five-year plan ahead of us. All Hongkongers should take time to understand the policies and how Hong Kong can take part in them. By knowing what is ahead domestically and how our country is placed internationally, we can develop effectively.
The central government has announced plans for
Qianhai and Hengqin
which offer Hongkongers many incentives to work and establish businesses there. Northern Hong Kong should be developed quickly to
connect with Shenzhen
. Hong Kong should move rapidly to implement a low-carbon society and economy. These are some of the areas that the upcoming policy address should tackle.
The next task for our Election Committee is to select the right representatives for the Legislative Council, and ultimately our next chief executive, who can help Hong Kong formulate strategies that are in sync with what is ahead of us and our country. This is how our livelihoods can be improved.
Lusan Hung, Wan Chai
Lack of parking leaves motorcycle riders stuck
Between the end of 2019 and now, the fleet of motorcycles in Hong Kong has shot up by 18 per cent – from more than 58,000 to nearly 70,000. Covid-19 and travel restrictions have spurred motorcycle ownership for home delivery, commuting and sports.
The few motorcycle parking spaces available in public and private car parks, and the available spaces along our streets are filled to the brim. There are only some 36,000 motorcycle parking spaces in Hong Kong as reported by the Transport Department in mid-2020, just enough for half the motorcycle fleet.
There were 2,342 on-street and 4,701 off-street on Hong Kong Island as of May 31 last year. There were 8,497 on-street and 20,622 off-street motorcycle parking spaces in Kowloon and the New Territories as of August 31, 2020.
Recently, the police have undertaken strict enforcement against motorcycles outside authorised street parking areas. This has caused great dismay among the motorcycle community, most of whom are careful to park so that they do not hinder traffic or pedestrians.
Yes, that includes me. I have received more tickets for unauthorised parking in the last few months than in the preceding 37 years of riding a motorcycle daily in Hong Kong.
It is impossible to find an authorised parking space. It is impossible to avoid parking penalties. What does the government expect motorcycle owners to do now?
The government has issued vehicle registrations and accepted the payment of motorcycle registration and licensing fees. Accepting these payments creates an obligation to ensure the fleet of motorcycles can be accommodated.
Until the government has resolved the shortfall, the police should condone parking outside unauthorised parking spaces and only fine those who cause obstruction. The Transport Department can reallocate car parks for use by motorcycles in public car parks. Private car parks can consider the same.
Until then, the government might have to consider a halt to the issuance of new motorcycle registrations. This will not make friends, but not taking action would be a sore case of maladministration.
Paul Zimmerman, district councillor, Pok Fu Lam
Yes, Hong Kong drivers are really that bad
The short answer to the letter, "Are Hong Kong's drivers really all that bad?" (
September 3
), is yes. The author said that "in 2019 Hong Kong had 1.5 road fatalities per 100,000 inhabitants, the rate is 13 in the United States and 10 in New Zealand" to justify the conclusion "it is too sweeping to say that all taxi drivers in Hong Kong have low safety standards".
Using population as a measure to compare driver safety might not be that relevant. Hong Kong has 24 per cent private vehicle ownership per household, while the rate in the US is 91.3 per cent and 93.4 per cent in New Zealand.
Fatalities per 100,000 vehicles might be a better indication of driver safety. Hong Kong had 14.3 fatalities per 100,000 vehicles in 2019, while the rate was 12 in the US and 8 in New Zealand.
In 2000, Hong Kong had 3,274 taxi and 7,461 private car involvements in accidents causing injury. In 2019, the rate stood at 4,810 for taxis and 9,310 for private cars, an increase of 46 per cent and 24 per cent, respectively.
The insurance company CCW Global Limited recently published an article which estimated people have a 14 per cent chance of being involved in an accident on Hong Kong roads, terming it "a staggering number of accidents on our roads". Based on these figures, it might not be too sweeping to say that Hong Kong's taxi drivers, and
Hong Kong drivers
in general, can certainly improve safety standards.
Neil Dunn, Kowloon Tong