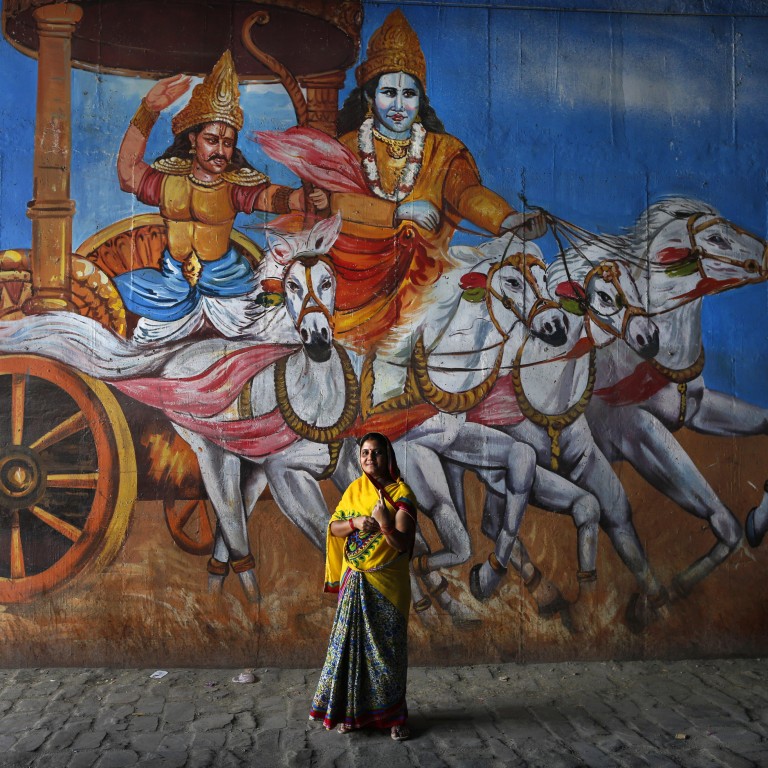 Letters
India democratic and unlawful? I beg to differ
Readers discuss a former Hong Kong minister's comments on democracy in India, and the wider social impact of racial profiling
I refer to the article, "Former minister urges youth to stick to the law" (
September 15
), in which India is cited as a democracy where "people disregard the law".
Control and balance are provided in a democracy and freedoms upheld, first of all, by the citizens themselves with the power they wield through their right to vote in or out a government, and second by an independent judiciary.
Democracy is thriving in India because of both these elements. The courts have the independence to rule according to the law and the laws are made by the legislature that the people elect. No one is above the law as has been evident from court rulings that sometimes even go against the government, particularly by the Supreme Court.
Mr Wong Yan-lung's contention that many people in democratic India disregard the law is ludicrous and outright insulting. If that were the case, there would have been absolute anarchy and institutions would have collapsed a long time ago.
India would not be an investment destination for anyone. Perhaps Mr Wong is unaware of the US$81.72 billion in foreign direct investment that India attracted in the 2020-21 financial year or that India has the fifth largest gross domestic product in the world.
Every country and every society has people who break the law and, yes, India has its fair share of them, but as with everything else, the numbers must be put in the context of the size of the population. However, most importantly, India has an independent judiciary to try those who break the law.
Even a "flawed" democracy scores over an autocracy any day, if basic freedoms are valued and the history of the world is anything to go by.
Anurag Bhatnagar, Mid-Levels
Racial profiling is socially divisive, not just 'unfriendly'
Last month, beauty retailer Sephora
was accused
of racially profiling a woman of Pakistani descent after its staff checked her bag as she was leaving the store without a valid explanation. While this is just another addition to the list of similar cases that have occurred over time, what is a bigger let-down is that a multinational company that sells international brands is involved. This reflects that we have reached a point where shopping is regarded as a privilege.
Hong Kong is often described as an open, tolerant and pluralistic community, but multiculturalism still remains a myth for members of the city's ethnic minority communities. There is definitely a problem when race undermines a person's credibility as a customer in a shop. In fact, many ethnic minority shoppers consciously avoid touching product samples and make sure they are well dressed to reduce the likelihood of racial profiling.
It is commonly argued that Hong Kong salespeople are just generally "unfriendly" and not racist, though this reasoning is far-fetched. This would have been valid if local Chinese and ethnic minority shoppers were subjected to racial profiling at a proportional rate but that is not the case.
Ethnic minority shoppers endure this attitude far more regularly because there are various racial stereotypes against them. Racial profiling is clearly derived from racist attitudes to ethnic minorities when the supposed general "unfriendly" attitude of salespeople is expressed as bag searches.
Racial profiling is an egregious and highly toxic form of discrimination since it is unjust scrutiny of minorities which fuels further stereotyping. This leads to an even greater polarisation of society into Chinese and ethnic minorities.
Such misrepresentation of ethnic minorities broadens their struggle to socially integrate and compromises their ability to hold reputable positions.
To overcome the racial exclusion that is embedded in our society, people should first check their blind spots and recognise unconscious bias. Individuals should take responsibility for educating themselves about racial equity, diversity and inclusion to unlearn implicit bias. Otherwise, we will not be able to overcome the majority-minority divide in society, a divide that has marginalised ethnic minority residents for as long as they have existed in Hong Kong.
Bibi Kulsoom, Kwai Tsing