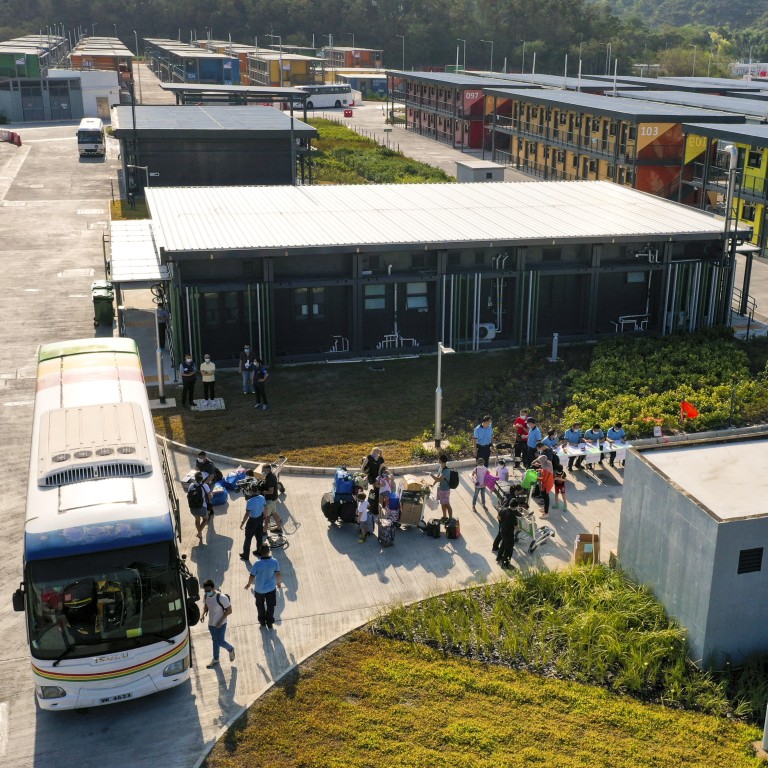 Letters
Hong Kong's foreign domestic workers must be prioritised for quarantine rooms
Readers discuss the shortage of quarantine rooms for helpers, the environmental costs of long quarantine, the discrimination warning to Cathay Pacific, colonial traditions and the state of recycling in Hong Kong
I am writing in response to the
article
, "Coronavirus Hong Kong: 800 quarantine rooms for domestic helpers gone within minutes of becoming available" (September 14).
As the coronavirus pandemic continues to rage, most people travelling to Hong Kong have to stay in quarantine for 14 days, or even 21 days.
However, with regard to foreign domestic workers headed back to the city, the supply of quarantine rooms set aside for them is far from abundant. As mentioned in the article, the rooms on offer last week were booked up within minutes.
Such a situation not only affects the helpers' employment and income, but also renders the Hongkongers who need domestic help helpless.
Many Hong Kong families rely on the support of domestic helpers. The government should pay prompt attention to the insufficient supply of quarantine rooms for these helpers.
Officials could even consider shortening the quarantine period or allowing home quarantine.
Having said that, despite all the inconveniences we have had to endure in Hong Kong, I hope people can continue to be patient and sanguine about the unforeseeable future. After all, this pandemic is an unprecedented crisis and everyone needs time to adapt to the new, ever-changing normal.
Ng Long Ching, Kwai Chung
Long quarantine adds to Hong Kong's waste problem
You could call it a kind of stupidity to be travelling right now. This is only superseded by my stupidity to have hoped quarantine upon my arrival in Hong Kong would have been reduced to zero days.
Has any of the people who decided on these rules ever gone through three weeks in hotel-room quarantine? Or are all of them on the government's VIP list, with
exemption from quarantine
?
It would give some comfort if these regulators would help quarantine hotel "inmates" understand how the rules evolved, and how successful they have been in filtering out serious cases.
Did instructions come from Beijing? If they did, tell us so and it would help us hold the local government in higher regard.
And I could not agree more with Mr Sean Barry ("Plastic trash piling up: Hong Kong green groups want quarantine hotels to stop using throwaway food containers, cutlery",
September 19
), with regard to wastage.
Mr Barry accounted for the plastic wastage during his hotel quarantine. My wife and I must have thrown away, in these 21 days, at least 40kg of freshly cooked food – not all of it because of the absence of any definable taste. Generally, it was also simply too much food.
In summary, it is insane what Hong Kong is doing to non-celebrity residents.
Roland Guettler, Lai Chi Kok
Equality watchdog should not thwart vaccination drive
When all of Hong Kong is working desperately to achieve total vaccination and herd immunity, the Equal Opportunities Commission chairman decided to thwart our efforts by issuing a warning to Cathay Pacific about firing employees for refusing jabs ("Coronavirus: Cathay Pacific gets discrimination warning after firing unvaccinated aircrew",
September 13
).
Did US President
Joe Biden
break the law when he
ordered
all federal employees to get vaccinated? This, in the land of the free!
Peter Fung, Central
Time to rethink colonial traditions like Christmas
The United Nations Declaration on the Rights of Indigenous Peoples protects indigenous peoples' right to practise their cultural traditions, including religions.
In Canada, the 19th century practice of forcing indigenous children to attend Christian residential schools has more recently been declared to be a form of "cultural genocide".
Hong Kong was once colonised by Britain. Christian schools, Christmas and Easter are colonial legacies.
Chinese Christians are often told many Chinese traditions are superstitions.
Traditionally, Chinese people wear red on happy occasions and white at funerals. However, in Hong Kong, the Christian tradition of the white wedding has spread to non-Christians.
In Canada, some schools no longer celebrate Christmas and some town halls no longer display Christian symbols. Hong Kong should consider following suit.
Some people accused China of religious suppression when China
removed crosses from churches
. Let us be reasonable. Who were the ones who forced their cultural traditions down other people's throats?
P.Y. Chan, Ontario
If necessary, outlaw failure to recycle
Hong Kong's solid waste problem is becoming alarming. Research has shown that Hong Kong is one of the worst performers in the region in terms of recycling.
As a Hongkonger, I have a responsibility to speak up.
Recycling is an important step towards having a clean environment. In Hong Kong, a huge amount of trash is produced daily and most of it is dumped in a landfill. As a result, our landfills are filling up.
Hong Kong is a small city with millions of people. If we do not call a halt to waste production, our city will be full of garbage.
Even organic items take a long time to decompose, and a lot of the waste sent to the landfills, like paper and metal, could have been recycled. If each is us is willing to take one small step and dispose of recyclable items in the corresponding recycling bins, I am sure the landfills in Hong Kong will meet our needs for a longer time.
The government should put itself on a war footing to tackle our recycling problem.
First, advertisements should be run to educate people about how to recycle waste. As we know, many people recycle items simply by throwing them away, without stopping to rinse the item, or remove the bottle cap that cannot be recycled together with the bottle.
If a publicity campaign does not work, the government could even consider outlawing the disposal of recyclable items. Given the severity of Hong Kong's waste problem, the government should immediately discourage such disregard for the environment.
Daniel Siu, Tuen Mun