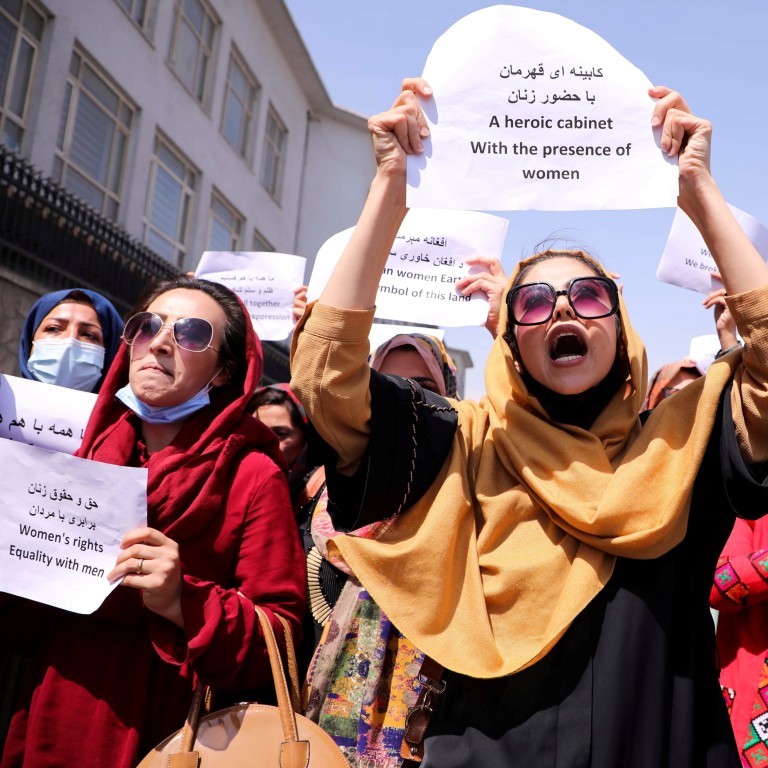 Letters
Taliban's focus on 'virtue' over Afghan women's rights is doomed to fail
Readers discuss the Taliban's approach to governance, installing seat belts in Hong Kong buses and the benefits of watching our local athletes
News of Afghanistan's new rulers setting up a ministry for "
propagation of virtue
" recalls the fallacy of "No Islamic state without virtuous Muslims, and no virtuous Muslims without an Islamic state".
Anthropologist Charles Lindholm's 2002 book, The Islamic Middle East: Tradition and Change, explores the results of "reliance on personal morality to provide order instead of developing political institutions". He found such reliance results in a kind of mental paralysis, "with reform-minded Muslims unable to think practically about civic life". This paralysis is then usually "exploited by ambitious groups united by self-interest and led by opportunistic power-seekers".
When this thinking is also driven by a "masculine" ethic of competitive individualism, it results in neglect of any moral condemnation of tyranny.
We are seeing this play out already under Taliban rule. The claims to sacred authority, according to Lindholm, are always bound to be "rendered questionable by the exigencies of secular power", with inevitable political failures leading to an even greater disillusionment with government.
Lindholm's finding that reliance on personal morality to provide order is never as effective as the slower process of civic institutions doesn't exclude the importance of virtue, of course. But does the
exclusion of women
from politics tighten this vicious circle?
Steve Liddle, Napier, New Zealand
Ability to travel safely on buses worth seat belt cost
Hong Kong's double-decker bus drivers hold HK$4.4 billion (US$565.3 million) worth of life in their hands.
The 2019 report on the cost-benefit analysis for
retrofitting seat belts
on franchised buses, prepared for the Transport Department, calculated that the value of statistical life – the cost of a fatality taking into medical costs, loss of output, property damage, police and legal costs – lost in a traffic collision is HK$30.2 million. A full double-decker can legally carry 147 lives.
The report also says seat belts "could be regarded as a fundamental component of occupant protection system in motor vehicles".
At the time of the report, there were 3,825 double-decker franchised buses that could be retrofitted with an extra 54 seat belts on the upper decks at a cost of HK$200,000 per bus, or HK$3,700 per seat belt. However, the Transport Department only required around 1,900 double-decker franchised buses to be retrofitted with seat belts. It was not considered cost-effective to retrofit seat belts in the remaining buses.
In the Report of the Independent Review Committee on Hong Kong's Franchised Bus Service, Hong Kong Police Force Chief Superintendent Stephen Baker was quoted as saying "passengers should have an option to enable them to travel as safely as possible … if seat belts are not fitted then that option is denied".
Since the tragic 2018 Tai Po KMB
bus accident
, how much have safety standards in regard to the retrofitting of seat belts been enhanced?
In the Transport and Housing Bureau's examination of estimates of 2021-22 expenditure, by the end of 2020 only 102 franchised double-decker buses had been retrofitted with seat belts. KMB has 1,163 buses to be retrofitted, but as only 72 KMB buses were retrofitted with seat belts by the end of 2020, progress appears to be slow.
It is impossible to predict which bus will be involved in a collision, so retrofitting seat belts must be a priority and the decision not to retrofit all buses with seat belts must be reviewed. Every bus seat must have a seat belt to allow everyone the option to travel as safely as possible.
In a cost-benefit analysis, installing a HK$3,700 seat belt to save a life worth HK$30.2 million sounds like a bargain. In effect, this decision determines who might live and who might die in a traffic collision.
Neil Dunn, Kowloon Tong
Watching our athletes can inspire, motivate us
I am writing in response to the article, "Give Hongkongers sporting chance with more live broadcasts, city's Olympians say" (
September 26
). I agree that more live events featuring local athletes should be broadcast. Also, we should support not just our Olympians but all Hong Kong athletes.
It was clear from
the Tokyo Olympics
that an overwhelming majority of Hongkongers are proud of our athletes. However, not all sport events are broadcast so people can watch.
Watching sports can inspire people to take up a sport themselves. Most Hongkongers lead sedentary lives, prioritising work and studies over their own health. Doing regular exercise can help people combat a range of illnesses from diabetes to high cholesterol.
Moreover, sports can promote teamwork and increase our sense of bonding as a society.
Trista Zeng, Kwai Chung