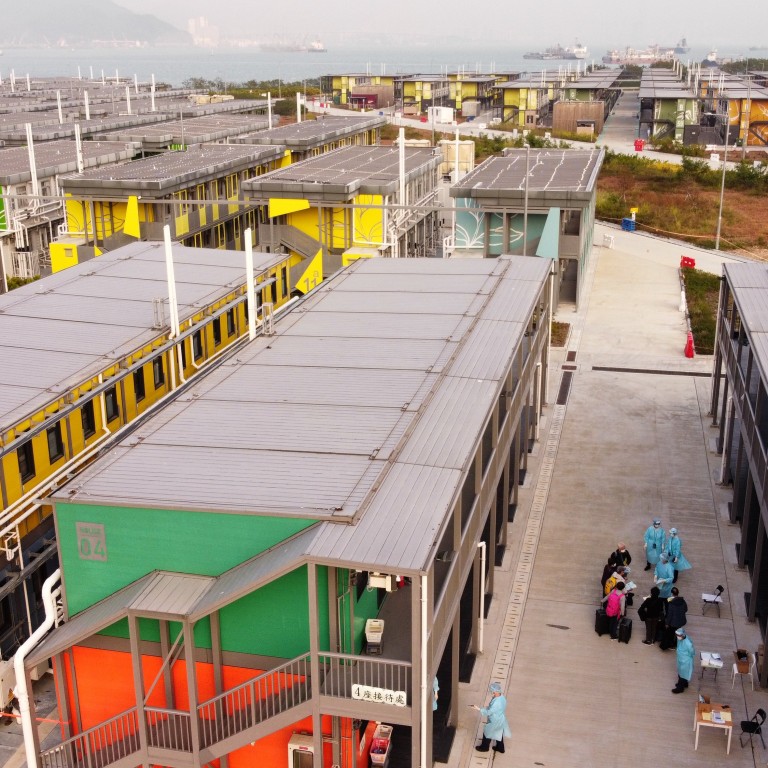 Letters
Hong Kong quarantine: how logistics at Penny's Bay can be improved to benefit staff and inmates
Readers discuss the experience at a quarantine centre, the politics of 'partygate', and the reality of living in a Covid-fearing city
As I sit in my room at the Penny's Bay quarantine centre, I reflect on how the logistical difficulties in such a huge compound for over 1,000 inmates might be alleviated.
The room itself is basic, but adequately furnished with two beds, two chairs and two tables. The bathroom looks clean enough after a wipedown with disinfectant. The blanket is warm enough.

The air con, however, functions independently of the remote control. A constant tussle with the thermostat is now my regular exercise.
On my first morning here, I did not receive breakfast despite sending in my meal plan. What I thought to be my breakfast in the cold white bag on my window ledge turned out to be leftovers from the previous night's dinner. I was surprised that the night's rubbish had not been collected, but realised what had happened when I was handed a red bag for garbage disposal the next morning.
After repeatedly contacting the meals department and the hotline, I received my meals after 3pm. Two lunchboxes arrived, followed by a third.
I'm not complaining. I feel bad for the workers having to prepare individual meals instead of being able to do everything at one go. It must be tiring hurrying around this huge complex on foot.
The government should consider giving these workers a golf cart, or a tricycle with a carriage, to make deliveries which they now do on foot pushing a trolley. This would increase the number of lunchboxes delivered per trip, lower the number of trips for the workers and increase the chances of food being delivered hot.
A red garbage bag should be included in the registration pack so we can start throwing away the remains of meals in the correct bag.

Inmates should be advised to reserve the window ledge for incoming meals and materials only. Outgoing rubbish should be put on the floor outside the door.
Inmates should be given a demonstration of how garbage should be carefully tied up, as this could prove intricate for some with poor eyesight like me, and told that a new bag will be placed on the window ledge every morning.

The registration process should start as soon as passengers alight from the bus, instead of waiting until all passengers and luggage have first been offloaded and an orderly queue has formed. The incoming briefing can still be held for the whole group, even if some are registered, and some are not. After the group briefing, registration can still continue, while those already registered can disperse to their own rooms.

I hope these comments will be helpful to those in charge of supervising the quarantine centre. I am especially thankful to the medical and frontline staff, who have largely remained courteous, compassionate and dedicated in the face of pressure.

Stephanie S.Y. Cheung, Shek Tong Tsui
Principal official involved in 'partygate' must go
The government has been mulling the introduction of a vaccine passport scheme, under which patrons of restaurants, gyms and other public facilities, as well as students, would have to have taken at least one dose of a
Covid-19 vaccine
.
In hindsight, the scheme should have been introduced in the second quarter of 2021. While carrots in the form of private vaccination-for-reward campaigns worked to a certain extent, the inoculation rate in Hong Kong has been dismal compared to developed economies such as Singapore, Canada and Israel.
Following the 2019 social unrest, the bond between the government and the people has never recovered. Unvaccinated people I have spoken to cite their innate suspicion of the government as one of the main deterrents to taking the vaccine. Other deterrents include the risk of post-jab infection.
Hongkongers must get over the misconception that vaccination confers immunity against Covid-19; rather, it adequately reduces the risk of severe illness and of spreading the virus to those who cannot get vaccinated due to pre-existing conditions so as to avoid overwhelming an already stressed local health care system. Government officials should communicate this better.
Officials attending a large party at this time have undermined the public's already waning confidence in the government. If the equivalent had happened in mainland China, the official(s) involved would have already been sacked.
In 2002, the Tung administration introduced a revamp of Hong Kong's political system by implementing the Principal Officials Accountability System. What is the purpose of such a system if a principal official is not held accountable for his misconduct?
Through my limited political training, I have learnt that politics is all about perception. To maintain the integrity of the accountability system and that of the government Secretary for Home Affairs Caspar Tsui must go.
Michael Leung, Kwun Tong
We're a Covid-fearing city, live with it
Since the Hong Kong government has chosen a zero-Covid policy, residents need to accept that there will be a quarantine period in the forthcoming years. Covid-19 as yet has no cure, the vaccine is just a self-defence mechanism and every single trip abroad will result in some homecoming quarantine for all travellers.
We just have to live with this reality and accept it as a cost of living in Hong Kong. It's the price we pay for zero-Covid but it ensures the government can live up to its goal.
We may be the only city living with this much fear of Covid-19. Many places around the world don't take this disease as seriously as they did when the pandemic initially started. It's all good as long as you don't need to travel frequently.
Rishi Teckchandani, Mid-Levels