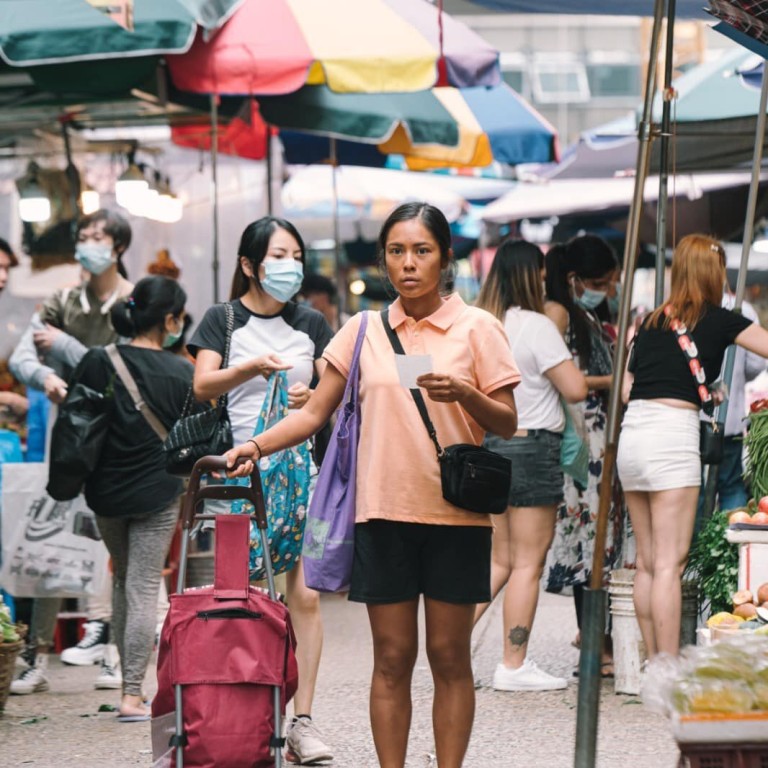 Letters

|
Hong Kong's brownface perception gap: we need to talk about everyday racism
Readers discuss the mixed reaction in Hong Kong to TVB's use of brownface, and highlight discrimination against Southeast Asians in the city
Feel strongly about these letters, or any other aspects of the news? Share your views by emailing us your Letter to the Editor at
[email protected]
or filling in
this Google form
. Submissions should not exceed 400 words, and must include your full name and address, plus a phone number for verification.
Debate over the TVB series Barrack O'Karma 1968 highlights just how differently segments of Hong Kong society interpret what is racist or discriminatory.
On the one hand, NGOs and migrant worker representatives have criticised the depiction of a Filipino character by a Chinese actress in brownface as based on stereotypes and akin to cultural appropriation. On the other hand, many internet users have been left wondering "what's the big deal?", or are lauding the actress' performance and noting there was no malicious intent behind the portrayal.
While Hong Kong is home to people from all walks of life, this episode is one of many recent and high-profile incidents that confirm just how big of a perception gap there can be between ethnic minority and majority audiences. Hong Kong is a diverse city, but it is still far from inclusive.
Ever since Resolve Foundation released a
storytelling campaign
on everyday racism in 2018, we have been examining the structural causes of casual discrimination in our society. These subtle, sometimes unintentional behaviours may seem relatively trivial – small social gaffes not meant to cause serious harm.
But when minority communities experience them day in, day out, they add up, sending a message that one does not belong. Failing to address biases at everyday level – as innocuous as they may seem – allows them to fester, laying fertile ground for more structural forms of racism, overt discrimination and vilification.
The ambiguity of these microaggressions means that conversations are often difficult and nuanced. Because we all have biases, it is likely that we have all been guilty at some point in our lives of accidentally committing one; each of us has work to do on our allyship journey.
In a 2021
survey
by the Equal Opportunities Commission, 51.5 per cent of respondents considered racial discrimination to be prevalent in Hong Kong. Clearly, we can do better. The question is how to effectively educate and empower residents to identify and constructively address pernicious forms of everyday racism in their workplace, school, neighbourhood, home or online.
The different reactions to this incident show that Asia's World City stands to benefit from education programmes on diversity and inclusion. We can also broker more opportunities for majority audiences to actively listen to minority voices, validating and respecting their views and focusing on impact rather than intent.
These moments are a learning opportunity we can lean into to build greater consensus and understanding of equality and how to advance it in this vibrant city.
Angie Tse and Victoria Wisniewski Otero, Resolve Foundation
Brownface episode tip of the iceberg of prejudice
TVB has
come under fire
recently for its depiction of a Filipino domestic helper in the series
Barrack O'Karma 1968
, in which a couple hire a domestic helper and suspect that she does voodoo. The Canadian-born Chinese actress has been heavily criticised for a video in which she used make-up to darken her skin while poorly imitating a Filipino accent. TVB has since apologised, but the broadcasting company maintains that the character was "successfully portrayed" through the actress' "professional performing techniques and sophisticated handling of role-playing".
As someone who is Filipino and has several relatives who work here as domestic helpers, I not only find this portrayal insulting and racist, but think it does a disservice to Hong Kong's domestic workers in general, as it reinforces and perpetuates long-held stereotypes.
I'd like to highlight some of the discrimination domestic workers face both systemically and on a daily basis. Domestic workers are often looked down upon in Hong Kong. Most domestic workers are from Southeast Asian countries such as the Philippines and Indonesia. People from these countries tend to be stereotyped as uneducated, clumsy and thieves.
Most people have been civil to my domestic helper aunt. However, I always noticed the way shopkeepers were quick to dismiss and even ignore her when she wanted to buy something, while they attended to other customers right away. I also distinctly remember getting followed around by an employee at a store, presumably because she thought we were going to steal something. Meanwhile, every other customer was left alone.
In addition, migrant domestic workers are vulnerable to mistreatment. While all domestic workers here are entitled to legal rights, such as statutory holidays and wage protection, these rights are not strictly enforced. For example, several domestic workers who contracted Covid-19 in February
were evicted
and had their contracts terminated illegally. The infected were forced to isolate in the cold as many facilities were overrun.
If a domestic worker is fired, they only have two weeks to find a new employer or risk being fined up to HK$50,000 and sent back to their home country. The government responded by reminding employers of the consequences of violating the Employment Ordinance, but failed to put out guidelines for employers if their domestic helpers contracted Covid-19.
To provide for their families, these women work in a city whose culture and language are completely foreign to them. I can only hope that this incident will make people of all races in Hong Kong more aware of the hardships domestic workers face here.
Bilo Daineset Phyllis Solmiano, Tung Chung