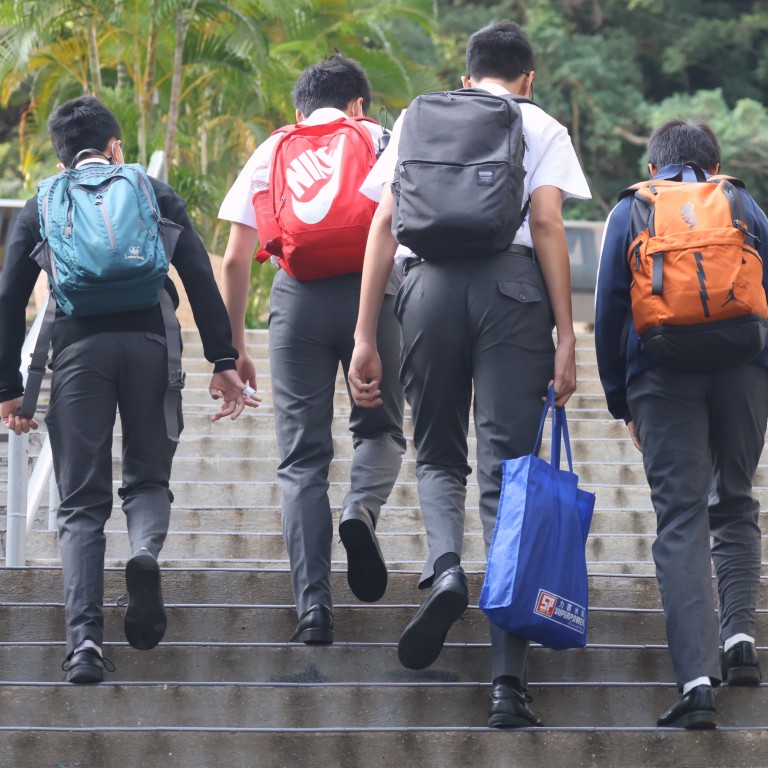 Letters
Hong Kong schools must take the long view on hairstyles for boys
Readers discuss how school rules requiring boys to have short hair reinforce outdated gender norms, the need to ensure policies do not contravene the Sex Discrimination Ordinance, and the courage needed to take a stand as a student
Feel strongly about these letters, or any other aspects of the news? Share your views by emailing us your Letter to the Editor at
[email protected]
or filling in
this Google form
. Submissions should not exceed 400 words, and must include your full name and address, plus a phone number for verification.
A student's recent
complaint
to the Equal Opportunities Commission regarding his school's alleged discriminatory control over boys' hair styles has drawn widespread support on the internet. Some internet users have also questioned the link between long hair and masculinity.
With
new standards
of male beauty sweeping across Asia, as exemplified by our androgynous yet well-liked celebrity boy band
Mirror
, it is clear that our society has become more receptive to diverse representations of manhood.
As an in-service teacher in a boys' school, I am gladdened by my students' shifting perceptions of men's beauty. Although I am not a big fan of the long hairstyles, I find it crucial that schools provide a safe space where boys can develop a healthy self-image without fear of shame or judgment.
Yet derogatory labels such as "unmanly", "unkempt" or "thuggish" are often attached to those with long hairstyles. Not only are these descriptions untrue, but they also damage our youngsters' self-esteem and lead to anxiety in self-perception.
Given how entrenched our traditional values are, boys with long hair may sometimes be seen as effeminate by their peers, or are bullied or excluded in social life. Unfortunately, by banning long hairstyles and further stigmatising those who have long hair, schools only reinforce this perception.
Worse still, students are often made to follow these rules with no chance of negotiating.
But despite the online support for the teenager's challenge of the school ban on long hair for boys, it's too early to say stereotypes are being broken. In our quest for wider acceptance of new male beauty standards, we may unthinkingly reinforce the stereotypes of strength and toughness, for example. For instance, people may say: "You can be manly even with long hair", but the notion of masculinity remains unchallenged.
From speaking in a high-pitched voice to adopting a swinging gait or curling up their wrists, boys' behaviour has been policed at a young age. To enable boys to thrive, it is vital to help them unlearn toxic masculinity. It is only when we remove the biases against effeminacy that we can truly create a society liberal to all men.
It remains to be seen whether the complaint can effect change. But even if it doesn't, I hope this will not be the end, but the beginning of a stride towards true diversity for men.
Fitzgerald Lo, Tai Po
School rules should align with city's laws
Recently a secondary school student
lodged a complaint
with the Equal Opportunities Commission against his school which allows long hair for girls but not boys.
Some hold a relatively conservative view that schools have the authority to make their own rules. Such a view has overlooked the fact that laws and regulations are hierarchical.
In Hong Kong, the Basic Law, being our mini constitution, is supreme, followed by ordinances, and distantly school regulations which obviously cannot and must not contravene the city's laws. If they do, they need to be amended accordingly. In this case, if the school regulations do not align with the
Sex Discrimination Ordinance
, the latter prevails.
Legality aside, from an education perspective, shouldn't our schools teach and practise equality of the sexes?
Francis Lo, North Point
Student's strong stance is worthy of respect
I refer to the article on a teenager
challenging
his school's policy on long hair for boys.
In general, many students, including myself, do not bother to think more deeply about school rules but just blindly obey them. The rule in question has been there for decades, but no one had tried to challenge it. Yet this Form 5 student did.
I admire him for being so brave and speaking out on inequality. By doing so, he is confronting the many people who hold a more traditional view. One can imagine the huge pressure on him.
No matter the outcome, I support him for speaking out, and I hope the Education Bureau can review the rule.
Kasey Ng, Tseung Kwan O