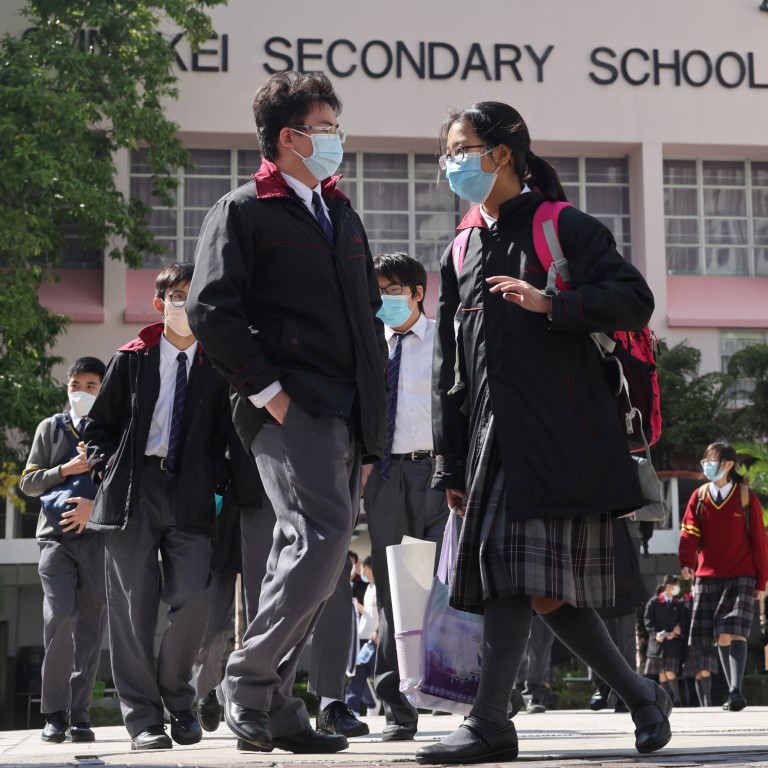 Letters
In targeting students, rather than seniors, Hong Kong's vaccine policy has got it wrong
Readers discuss how Hong Kong is failing to follow its Covid-19 death data, and why the easing of some restrictions is confusing
Feel strongly about these letters, or any other aspects of the news? Share your views by emailing us your Letter to the Editor at
[email protected]
or filling in
this Google form
. Submissions should not exceed 400 words, and must include your full name and address, plus a phone number for verification.
Once again Hong Kong is targeting the wrong portion of the population with its extended measures.
Secondary schools will need a
90 per cent triple vaccination rate
to operate full-day classes, despite every child having to do a rapid antigen test every morning. Let's look at the statistics as per the Hong Kong coronavirus website's death analysis.
For 12- to 19-year-olds, as of August 31, total reported cases since the fifth wave were 65,322; there were five deaths and the number unvaccinated (i.e. those yet to receive one shot) was zero out of 447,300. During the fifth wave from January to April, there were doubtless countless more unreported cases among this cohort.
In contrast, for the 70+, reported cases were 185,181; there were 8,301 deaths and the number unvaccinated was 212,000 out of 989,500. With the case fatality rate for unvaccinated 70- to 79-year-olds at 4.8 per cent and that for the 80+ at 14.88 per cent, we are looking at thousands more potential casualties among the unvaccinated alone.
We were promised a scientific approach, and I would like science to explain which group out of these seems most at risk and in need of a third jab – or even a first jab!
On the subject of scientific approaches, the
comparison drawn
by the health secretary on August 26 also fails under scrutiny. Professor Lo Chung-mau cited the UK's total deaths of around 200,000 and said if this were translated to Hong Kong, we would see some 20,000 deaths. In choosing the UK, Prof Lo included death data from the beginning of the pandemic, i.e. before vaccines were readily available.
The first vaccine administered in the UK was on December 8, 2020. By March 23, over 23 million people had received one dose.
Daily deaths in each of the four nations plateaued three to six weeks after the highest average first doses per day. Since then, there have been just over 75,000 deaths, accounting for 37 per cent of the deaths in the UK from Covid-19.
If this number is translated to the Hong Kong population, that would equal 8,448 deaths. The death tally in Hong Kong already stands at 9,724 as of September 5, with a whopping 97.8 per cent of those deaths occurring after the first vaccines were administered in Hong Kong.
To compare Hong Kong with the UK and, as the headline of one
reader's letter
put it, be "smug" about being different to other nations, shows how data and science is not being followed, how atrociously the last administration handled vaccination and hospitalisation and what the current administration urgently needs to rectify – and it's not 12- to 19 year-olds getting a third shot to be able to spend a day at school.
Justin Fletcher, Mid-Levels
Case numbers rise, restrictions ease. What gives?
I really feel Hong Kong is toying with the mental health of every citizen. Whilst our Covid-19 rates are rising, our Covid-19 restrictions are reducing. Should we fear Covid and what happens next as the disease evolves or should we be brave and expect restrictions will ease further and we can open our borders?
There is no sense of direction any more and it feels like we have abandoned thought when it comes to predicting our future.
Mentally it's very exhausting to expect any good news because cases keep rising and restrictions keep easing, which makes the cases rise further. Are we embracing the virus or keeping our borders shut? What's the actual plan? Or is there no plan and we are all just living from day to day?
Rishi Teckchandani, Mid-Levels