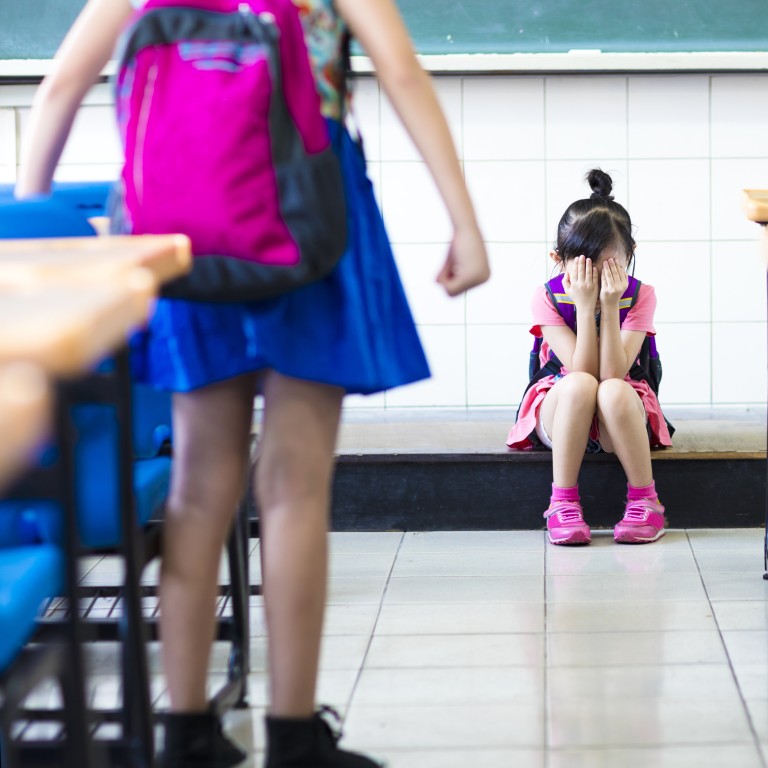 Letters

|
Hong Kong's bill on reporting child abuse should include bullying
Readers discuss adding serious playground bullying to the proposed legislation on making reporting of child abuse mandatory, visa renewal procedures, the need for bus shelters, and how to revive the economy
Feel strongly about these letters, or any other aspects of the news? Share your views by emailing us your Letter to the Editor at
[email protected]
or filling in
this Google form
. Submissions should not exceed 400 words, and must include your full name and address, plus a phone number for verification.
After reading the Post's
recent reports
on the proposed law to make it mandatory for professionals such as teachers and social workers to report suspected cases of child abuse, I have a suggestion. Child abuse should be defined more broadly to include bullying that involves injury.
We tend to understand child abuse as referring to the act of an adult harming a child. This can lead an apathetic professional or parent to turn a blind eye to the same degree of injury to a child caused by their peers.
Bullying is often aggravated by inaction or omission by adults. In this sense, there is an equally compelling case to impose a responsibility on adults to intervene and protect.
The proposed child abuse law aims to motivate professionals to report cases of suspected child abuse. Yet, there can be many considerations that prevent the swift reporting of serious bullying, such as concern for the school's reputation. Therefore, incentives are needed to prevent bullying.
Just as the proposed child abuse law takes into account the severity of abuse, the scope of bullying can cover situations where there is serious harm or an imminent risk of serious injury.
Martin Kwan, Kennedy Town
Immigration staff should request documents with care
I am writing to complain about the runaround my domestic helper was subjected to when she turned up at the Immigration Department in Wan Chai on September 26. Her contract runs to November 2023, but her visa expires in less than two months. I thought this would be a routine straightforward procedure.
Apparently there is no walk- in visa service, but the department does cater to special cases depending on merit. That is understandable. My helper had an interview on September 28 with a certain consulate for a visitor's visa, and so she urgently needed to extend her stay in Hong Kong. She was asked for proof of the interview and gave the immigration officer the necessary paper.
But then she was also asked to provide an air ticket and a supporting letter from me. I had no problem submitting the letter of support, though I found it irrelevant to her visa application as I had filed the official form and another letter stating she is still under my employ.
However, I was very surprised when she was asked to submit a letter stating she was planning the trip of her own volition. My helper spent a good day and a half running around. I hope the department will look into this and train its staff to ask bona fide applicants only for relevant documents and letters.
S. Lin, Tai Po
More coordination needed to make taking a bus enjoyable
To prevent a waste of resources, either the KMB bus stop should be moved to the bus shelter or the bus shelter moved to Pok Fu Lam to aid Mr Gong.
District councils, the Transport Department and bus companies should all be working together to make taking the bus a more enjoyable experience, starting with shelters. These are in really short supply along Chong San Road as a whole.
Neil Dunn, Kowloon Tong
Should Hong Kong lean into the new economy?
Nonetheless, emerging industries could also pose a threat to society as they often involve the use of advanced technology. For instance, self-driving cars could become involved in accidents, drones could crash, the collection of data could lead to privacy-related lawsuits and doctors seeing patients over the internet rather than in person could be prone to misdiagnosis. These problems must not be overlooked.
Meanwhile, these new businesses will have an impact on traditional ones, which could be forced to restructure or face closure. Without sufficient labour policy support, radical changes of the economic model might provoke structural unemployment.
Adrian Lam, Tai Koo