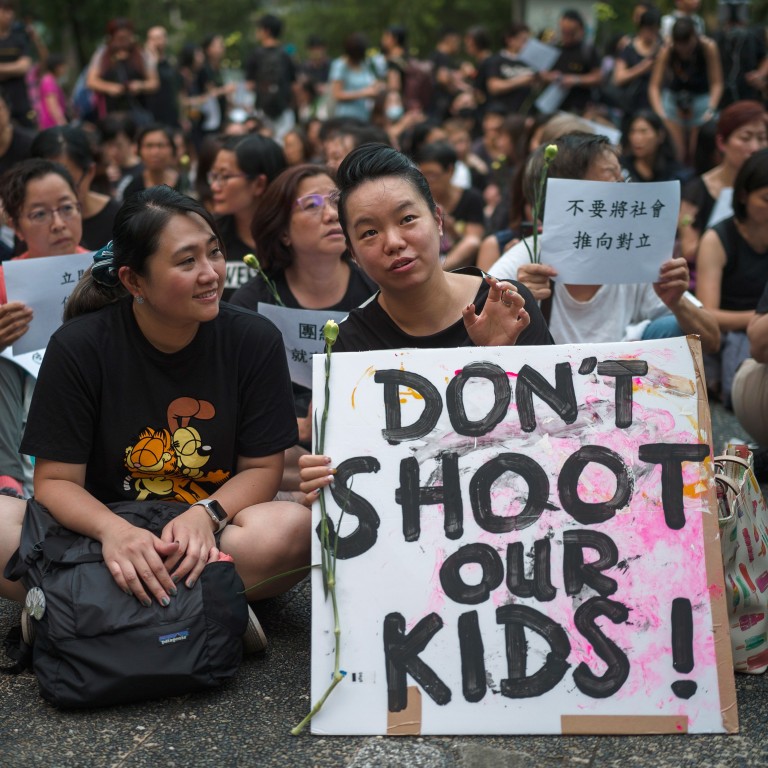 Opinion
Opinion
by Charmaine Carvalho
Opinion
by Charmaine Carvalho
How mum became the word in Hong Kong's extradition protests
Whether used in support of the government or to castigate it, the potent symbol of motherhood has been animating speeches, memes and slogans. The problem is, it plays into China's reductive narrative of Hong Kong as the prodigal son
Last week, a meme circulated on social media comparing Hong Kong Chief Executive Carrie Lam Cheng Yuet-ngor
crying during a television interview
over the sacrifices she has made to serve Hong Kong with a woman – dubbed "real and kind mother" –
pleading with the police
not to harm the young people protesting against the government's extradition bill on June 12. Another
social media post
contrasted a photograph of Lam with her son to one of a protester bleeding on the ground.
In
the interview
, Lam alluded to herself as a mother who could not simply give in to her children when they act out. Internet users contrasted Lam's concern with the maternal anguish felt for the protesters who blocked roads and were tear-gassed and beaten by police.
A
petition
with over 44,000 signatures on June 14 objected to Lam styling herself as the proverbial "good mother": "We are a group of mothers in Hong Kong, and we would definitely not use tear gas, potentially lethal rubber bullets and bean bag rounds on our own children, and we would not be able to stay unmoved if we see young people covered with blood after being bashed by police batons."
In
a column
in the
Post
on June 13, headlined "When Hong Kong police hurt our children, rather than protect them, they shatter our trust in good governance", clinical psychologist Bertie Wai writes of being moved by the "young faces" of protesters, noting: "Thirty years [after the Tiananmen Square crackdown], we are still begging for our children's safety."
The women supporting the protesters under the banner of motherhood are thus placed in a genealogy of courageous mothers that includes the
Tiananmen Mothers
, who have continued to demand justice for their children in the face of 30 years of Chinese government denial.
Cultural theorist Ashis Nandy has pointed out how Gandhi, who popularised the ideal of civil disobedience that many Hong Kong protesters are inspired by, subverted the colonialist narrative of the colonised as effeminate by valorising maternal power in his anti-colonial struggle, whereby women were said to embody a spirit of non-violence that men should emulate.
The
sit-in
of Hong Kong mums at Chater Garden in Central on June 14 in support of the protesters, which organisers say attracted at least 6,000 people, some holding posters saying "Don't shoot our children", could be seen as an example of this strategic deployment of maternal power.
In fact, the need for the extradition bill was initially pinned on the case of a woman murdered in Taiwan, whose mother
pleaded for justice
. However, Lam's recent decision to stress her motherly instincts, having thus far chosen to cultivate an "iron lady" persona, has backfired. Instead, she has been cast as the archetypal wicked stepmother. At Sunday's protest, at which
two million marched
, according to the organisers, people held up placards reading "Carrie Lam is not my mother."
Bruno Bettelheim, in his analysis of fairy tales, argues that the character of the stepmother offers a way for children to process their negative feelings towards their own mothers. In Hong Kong's case, the "real" mother behind Lam is China.
Hong Kong officials have been increasingly at pains to refer to China as the "
motherland
". Last year, a senior Chinese official described the Chinese constitution as having a
"mother-son" relationship
with Hong Kong's Basic Law.
It is within this logic of the motherland, which calls upon sons to die for the country if needed, as they would presumably do for the mothers who gave birth to them, that I see the current "mothering" of the extradition debate as problematic.
During the June 12 stand-off between protesters and police, an officer used a slur referencing a reporter's mother, spawning another series of playful pop culture reactions, highlighting how mothers remain the discursive ground on which battles for honour are fought.
The discourse of motherhood that both Lam and, to some extent, the mothers who oppose her espouse dovetails too neatly into China's narrative of Hong Kong being the prodigal son who must now acquiesce to the superior wisdom of the parent.
While the protesters who clashed with the police on June 12 were young – a
Guardian
report on June 16 was headlined
"They're kids, not rioters"
– opponents of the bill span the age spectrum, as the Sunday marches show. Their protest is grounded in well-founded fears about the differences in mainland China and Hong Kong's legal systems and the implications for "one country, two systems".
To cast them as children in need of maternal protection and concern does the cause a disservice and promotes unhelpful stereotypes of mothers, "good" and "bad".
Charmaine Carvalho is a production editor at the Post. She has a PhD in creative writing, with a focus on gender studies, and over 15 years' experience as a journalist in Hong Kong and India