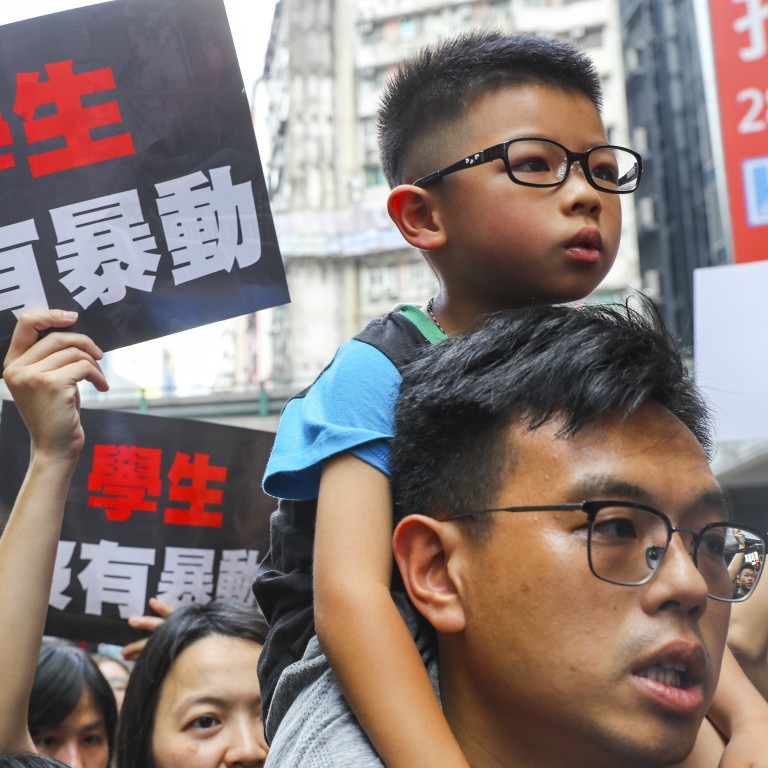 If extradition protests left you emotionally distressed, here's how to protect your mental health and your children's
Overexposure to distressing events, like clashes between protesters and police, can have a big impact on people's well-being, especially children's. But we can learn to protect ourselves and recognise signs that we may be at an emotional tipping point
It has been a difficult week or so in Hong Kong as political turmoil casts a dark shadow over the city. The unfortunate
death of a protester
has added to the city's grief. As
more than a million
people took to the streets, it is not only those on the front line who are directly affected, but also those repeatedly exposed to the images and coverage of the event as it unfolds.
Overexposure to distressing events and news can be overwhelming, even traumatic. Research shows that repeated exposure to negative or violent media images can increase emotional distress and is linked to poor mental health, even for those who did not directly experience the event.
Our
online
youth crisis counsellors have been working round the clock to provide emotional support to young people. The number contacting the platform rose from 10 to 158 in a four-hour period in the early hours of June 16, the morning after the protester fell to his death.
The wide range of negative emotions can include panic, fear, anger, hatred, anxiety, self-blame, guilt, helplessness and sadness. Some may experience thoughts and images they cannot suppress. In times of heightened emotions, small events may trigger a major reaction, intensifying negative emotions.
Experience of distressing events can also affect us physically, including through palpitations, headaches, trouble sleeping, nightmares, lethargy, changes in appetite, feeling restless and finding it hard to concentrate. These are signs that our body is stressed, and if we ignore them, we leave ourselves at the tipping point for an emotional breakdown later.
In this day and age it is almost impossible to shield ourselves from distressing news and events, but we can learn to protect ourselves by taking care of our mental health.
If we find ourselves in a situation of emotional distress, we should acknowledge it and try to find a safe, comfortable environment to quieten down. When we are calm, we can think more clearly and make better judgments. When we take care of ourselves, we can take better care of others and be more accepting of differences.
News can keep us informed, but it is best to avoid watching stressful and distressing footage repeatedly. Find a friend you trust, and seek support from them. We can also try to express our inner feelings through words, drawings, music, drama and other art forms. We can cry or vent our anger to release negative emotions.
Once we are rid of negative emotions, we can inject positivity and find new meaning in life. Exercise and enough sleep will also help stabilise our emotions. If symptoms of stress and emotional distress persist, we should seek professional help.
Distressing events and intense media coverage can trigger a strong emotional response in many people, but children and young people may be particularly sensitive. Children may feel scared by events and worry that the same thing will happen to them. Parents should pay attention to their children's reactions and look for signs of stress. Explain what they have seen in an age-appropriate way without sensationalising it.
The events may make them feel insecure about the future, so it is important to encourage children to talk about their feelings and parents can remind them that good things happen, too. Remember that children look to their parents as examples and role models, so it is important for adults to look after themselves and set a good example.
Hongkongers should be of proud of themselves, considering
how orderly
the marches have been, with no broken shop windows or burning cars. Likewise, the police did their duty to facilitate the march. It was very sad, however, to see
confrontation
between the police and the people, due to the actions of a few individuals.
The most effective way to prevent flooding is to divert the water, rather than build a high bank. Likewise, to mitigate social pressure, we should direct it rather than build up barriers. The government and the community should exercise restraint and humility to restore trust and order in Hong Kong.
Paul Yip is director of the Centre for Suicide Research and Prevention at the University of Hong Kong
This article appeared in the South China Morning Post print edition as: Protect mental health in times of political turmoil