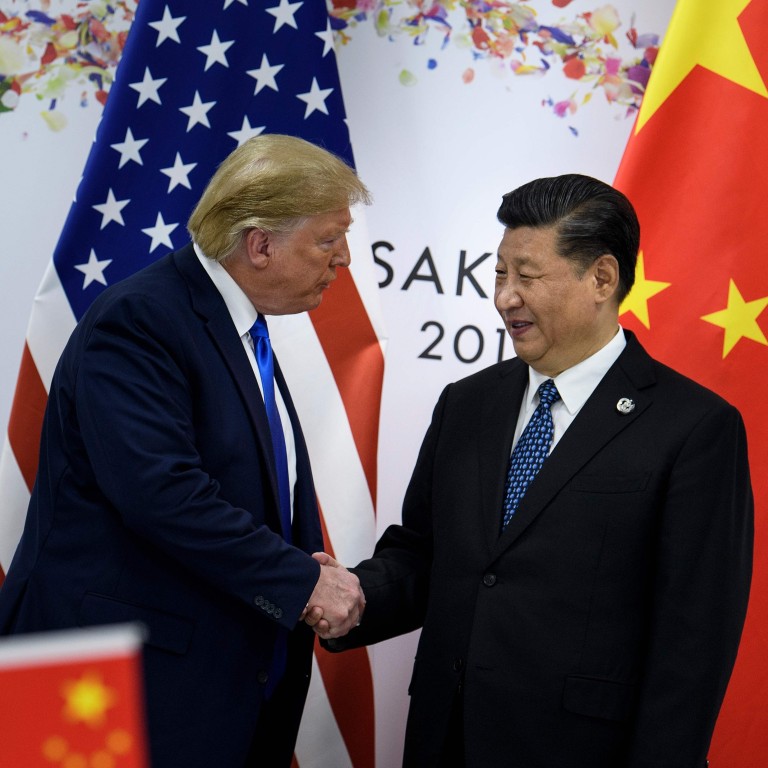 Opinion
Editorial
by SCMP Editorial
Editorial
by SCMP Editorial
China and US must build on trade war truce
Despite fundamental differences, the two countries can only benefit from pragmatic cooperation or lose from confrontation
The
summit between Xi Jinping and Donald Trump
has avoided a dangerous escalation of the United States-China trade war, thanks largely to complementary efforts from the two presidents to engineer a truce. Amid deteriorating relations, the outcome is the best anyone would have seriously hoped for. The alternative was a continuing stand-off when damage from tit-for-tat tariffs is deepening and spreading through the global economy. The US will not go ahead with punitive
tariffs on an additional US$300 billion of Chinese imports
– which would have covered virtually all shipments. This not only clears the way for resuming negotiations that collapsed in May and buys more time to close a deal to head off a long trade war, from which no one would emerge a winner. It has also opened the door to reciprocal defusing of politically charged issues that were doing nothing to bring a settlement any closer.
Trump's reversal of a ban on American firms selling key components to
Chinese technology giant Huawei
is a key case in point. It is seen as throwing a lifeline to a flagship of Chinese hi-tech prowess and world leader in next-generation communications. The issue was fraught with conflict of American self-interest. Trump conceded because of lobbying from Silicon Valley interests. Symbolically, amid worries about decoupling and "Balkanisation" of technogical development, it is arguably the single most important element of the summit outcome. It could mark a pragmatic turning point in negotiations. As the US enters the election season, more surprises may lie ahead.
On balance, if promises are delivered, China has got a good deal, apart from Trump taking the heat off
Huawei
. He addressed fairer treatment of Chinese students amid a controversial crackdown on visas and admissions and, according to Xinhua, he also promised to uphold the one-China principle after Xi stressed the importance of Taiwan to China. Moreover, the recent unrest in Hong Kong apparently went unmentioned. The US got a Chinese undertaking to buy "a lot more" American farm products and to support more talks between Trump and Kim Jong-un on the
North Korean nuclear threat
. That said, Beijing knows well this is no more than a truce. It understands the best course is to push for greater reform, as promised in Xi's speech at the Group of 20 summit in which he vowed to safeguard intellectual property rights, further liberalise the economy and reduce barriers to foreign investors. Indeed, how fast China can reform its economy could decide the ultimate outcome.
So long as personal relations between Xi and Trump remain above the fray, hope is never lost. Despite fundamental differences, as Xi observed at the summit, the two countries can only benefit from pragmatic cooperation or lose from confrontation.