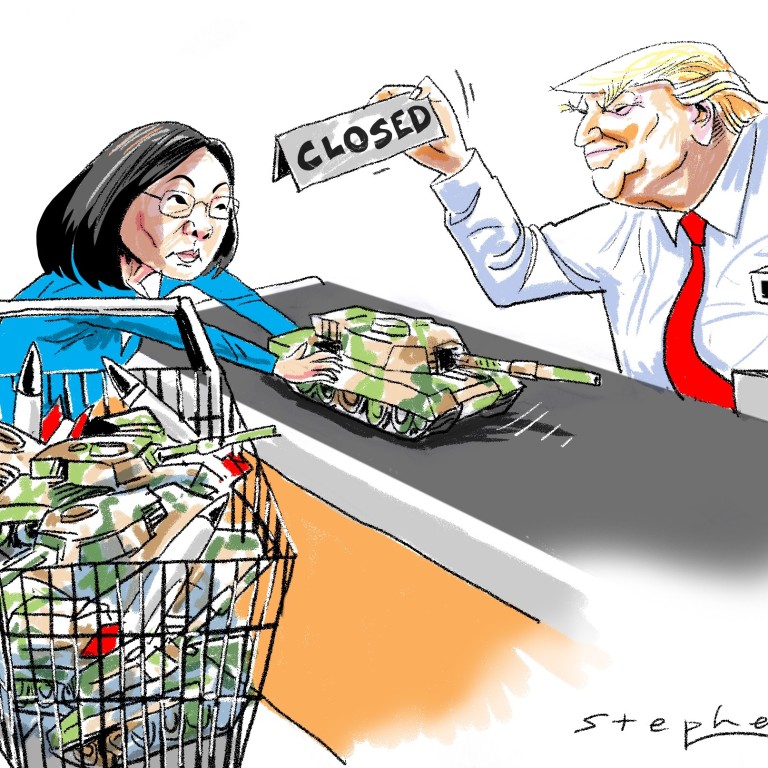 US arms sales shows Taiwan's security is non-tradeable to the US and key to its Indo-Pacific strategy
It is in the interests of both Taiwan and the US to hew to a force-deterrent policy to turn China towards a peaceful cross-strait reconciliation. For the US, it is also a sign to its allies of its dependability and commitment to regional stability
The Trump administration has notified the United States Congress of its intent to sell 108 M1A2T Abrams tanks and Stinger missiles worth US$2.2 billion to Taiwan. While China has predictably reacted with
outrage
, this latest arms sale reflects rational calculations by Taipei and Washington, which concluded that this sale is firmly in their respective interests.
Importantly, the notification makes clear that Taiwan's security is not trade-bait in a grand bargain between Washington and Beijing, but a notable indicator that the Trump administration is faithfully implementing its
Indo-Pacific strategy
.
Taiwan's rationale to acquire new tanks and the air defences to protect them is clear. China's military has modernised and expanded rapidly and President Xi Jinping has openly
declared
that the use of force to reunify Taiwan with the mainland remains a policy option.
Investments
by the People's Liberation Army (PLA) in amphibious vessels, heavy lift aircraft, attack helicopters, as well as long-range strike capabilities, make the invasion of Taiwan an increasingly realistic threat. To counter the PLA threat, it is necessary for Taiwan to modernise its legacy force and develop new asymmetric capabilities.
M1 Abrams tanks and Stingers, an improvement over the existing M60 Patton tanks bought in 1991, are intelligent military choices and an integral component of Taiwan's "Overall Defence Concept". The vision, by Taiwan's Chief of the General Staff Admiral Lee Hsi-ming, emphasises asymmetric and innovative capabilities, mobility and survivability, and maximising Taiwan's defensive advantages by improving its littoral fighting capabilities. Taiwan's success at turning it into a full-fledged military strategy and doctrine will be critical to its ability to deter Beijing.
The US calculus is more complex but equally grounded in national interests. There are some who tout the sale's economic benefits to US workers and the defence industry. Others note that the weapons offered are short-range and defensive, consistent with obligations under the
Taiwan Relations Act
. These items will not upset the cross-strait military balance, nor change the US-China political dynamic.
Most importantly, the weapons sale to Taiwan is an important aspect of a political deterrence strategy. The sale is a signal to Beijing of US
commitment
to Taiwan and to a peaceful resolution of cross-strait differences — this is perhaps the arms sale's most valuable attribute.
The sale is also a substantial indication to allies and partners in the region about US commitment, dependability and willingness to stand up to China on behalf of valued partners. It underpins the US Indo-Pacific strategy, which emphasises
deepening relationships
and improving the military capabilities of partners and allies.
Beijing undoubtedly sees this and the US Indo-Pacific strategy in a different light, but that perspective misses the essence of the calculus.
The Trump administration's decision to sell tanks to Taiwan while
negotiating
the US trade relationship with China reflects confidence, and a relentless focus on US interests. It should also debunk theories that the US is using Taiwan to contain or impair China.
President Donald Trump made concessions to President Xi at the G20 summit in Osaka, Japan, to relieve US pressure on
Huawei
, purportedly to build trust and support the US bargaining position in bilateral trade negotiations. This makes sense. Trading Taiwan's security for economic concessions does not. Taiwan's security, deterring China's use of force, and the peaceful resolution of the cross-strait conflict are key American interests that cannot and should not be traded for
soybeans
or market access.
Taiwan arms sales have always been a factor in the US-China relationship, and will continue to be central because until China renounces the use of force and exclusively pursues peaceful means for reconciliation, it remains squarely in the US national interest to ensure that Taiwan can defend itself and manage cross-strait relations from a position of relative security.
This concept of supporting choices that promote long-term peace and prosperity is at the core of the Indo-Pacific strategy. The US Defence Department's report on the Indo-Pacific strategy, released to coincide with the
Shangri-La Dialogue
in Singapore in early June, stated it succinctly: "The United States has a vital interest in upholding the rules-based international order", which "includes a strong, prosperous and democratic Taiwan".
The US will undoubtedly have more opportunities to demonstrate its commitment to Taiwan's security and the defence of allies and partners. Taiwan has requested new F-16V fighter aircraft to replace its ageing F-5 fighters, and that decision is
reportedly pending
.
The Taiwan factor in the US-China relationship will continue to be manageable so long as the Trump administration focuses on its interests and continues to recognise that Taiwan's security is not a tradeable commodity, but an integral aspect of its Indo-Pacific strategy.
Drew Thompson is a former US Defence Department official responsible for managing bilateral relations with China, Taiwan and Mongolia. He is a visiting senior research fellow at the Lee Kuan Yew School of Public Policy, National University of Singapore. He is on Twitter @TangAnZhu