Opinion
Opinion
by Michael Chugani
Opinion
by Michael Chugani
Can Carrie Lam, or anyone, defuse the Hong Kong rebellion before the National Day fireworks on October 1?
Beijing is seething after Hong Kong protesters defaced national emblems. It would be even more embarrassed if the 70th national anniversary was marred by scenes of unrest. The authorities need to work out how to meet protesters' demands
We are fast approaching October 1. This will not be just another national day. Beijing will stage a big bash to celebrate the
70th anniversary
of the People's Republic of China. Patriotism is the theme. Will Hong Kong be a party pooper?
I fear so, unless Chief Executive
Carrie Lam Cheng Yuet-ngor
extricates us from the political abyss she has plunged us into. She's got less than two months. So far, she has proved to be a leader who can't even lead, let alone work miracles.
Beijing
seethed
when protesters vandalised its liaison office last month, defacing the national emblem. As if that was not humiliating enough, protesters last Saturday removed a Chinese flag from a pole next to the Kowloon Star Ferry and
threw
it into the harbour.
If this in-your-face insult, flashed around the world, had happened on the mainland, the perpetrator would face the kind of justice I don't even want to imagine. But it happened here, and all Beijing could do was fume.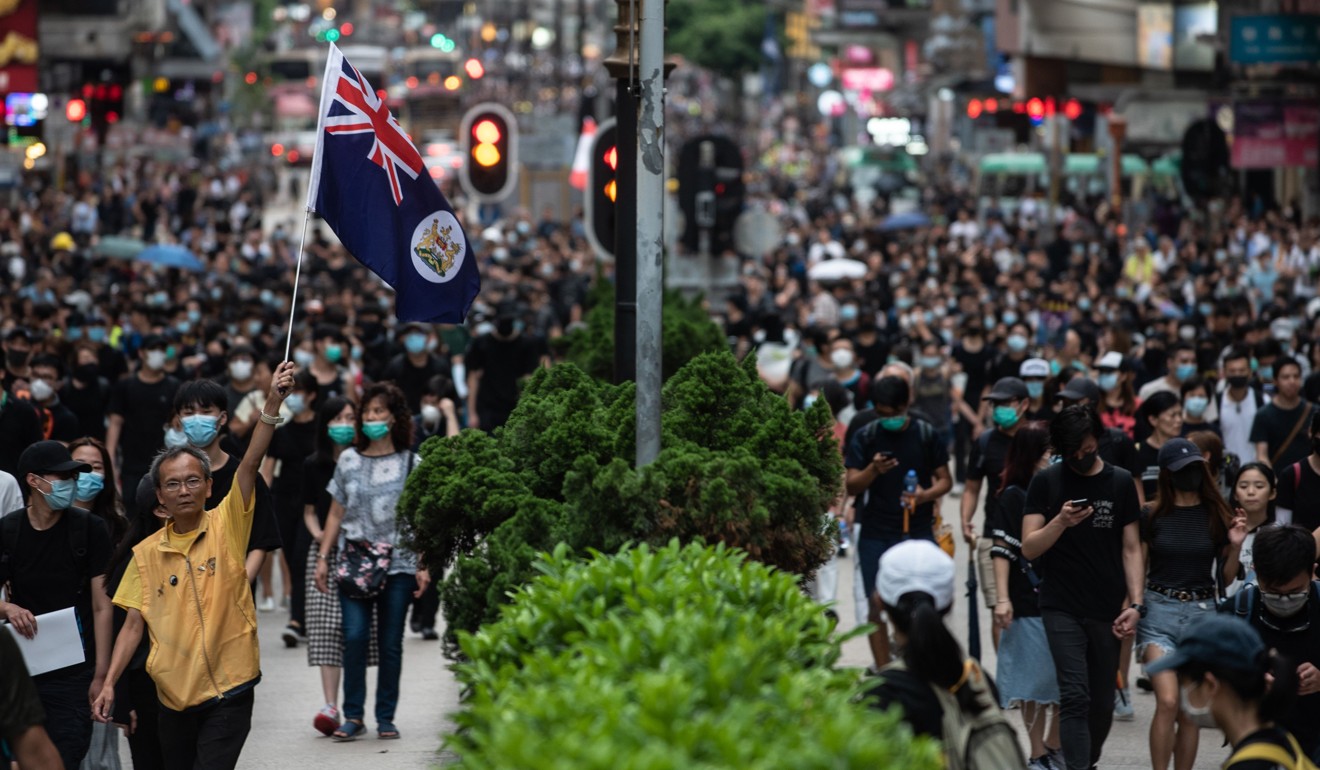 To many Hongkongers, removing a flag or defacing an emblem is no big deal. They grew up in a society where freedom of expression is taken for granted. But to Beijing, symbols matter.
Having been historically humiliated by Western powers, the rising superpower
bristles
at insults to its national dignity, such as when Hong Kong protesters wave colonial-era or American flags. Why else do you think Lam highlighted the flag incident as a challenge to China's sovereignty at her press conference on Monday?
Hong Kong traditionally marks the October 1 national holiday with a flag-raising ceremony, large receptions, including at the liaison office, and
fireworks
, which invited elites watch from the Convention Centre.
Lam and other wishful thinkers are betting the unprecedented unrest will subside when
students
return to school. I won't bet on that. Even if the protests fade without the government meeting at least some of the protesters' five demands, it will be like lava settling back in a volcano.
Sooner or later, that volcano will erupt again. Who's to say it won't happen on October 1? Already, I am hearing talk about mass protests. We know what happened on
July 1
, when Hong Kong marked the 22nd anniversary of reunification.
Leading elites had to watch the flag-raising on large screens
inside
the Convention Centre. Hundreds of thousands marched in the streets, and radicals stormed the
legislature
, defacing Hong Kong's emblem.
It would embarrass Beijing no end if guests again had to watch the flag-raising on screens, the fireworks were cancelled, and the liaison office had to cover its emblem in a
glass case
, as it did after the protesters' vandalism.
What would embarrass Beijing even more are scenes of tear gas being fired and radicals clashing with police as China celebrates its 70th anniversary. Images flashed around the world would not be of China partying but of Hong Kong burning. The world would be wondering how this could happen in a city that is part of China.
Some say the events in Hong Kong are riots. Others, including Lam at her Monday press conference and Beijing, say it is a
revolution
instigated by foreign forces. I call it a rebellion.
A riot is a violent disturbance of the peace by a large crowd. A
revolution
is about using violence to overthrow a government. A rebellion is about resisting a government or ruler.
Beijing claims the radicals have mounted a revolution to gain independence from China. A tiny number of radicals may indeed feel they can commit this folly, but most protesters are simply fighting for a governance change that will give them greater autonomy under
"one country, two systems"
.
They are rebelling against the current configuration, which they see as skewed against them, and which allows Beijing to erode their promised freedoms.
The government has ignored their grievances for so long that only a leader who has the full trust of the people has any chance of defusing the rebellion before October 1. Lam, clearly, is not that leader. I'm not sure one even exists.
Michael Chugani is a Hong Kong journalist and TV show host