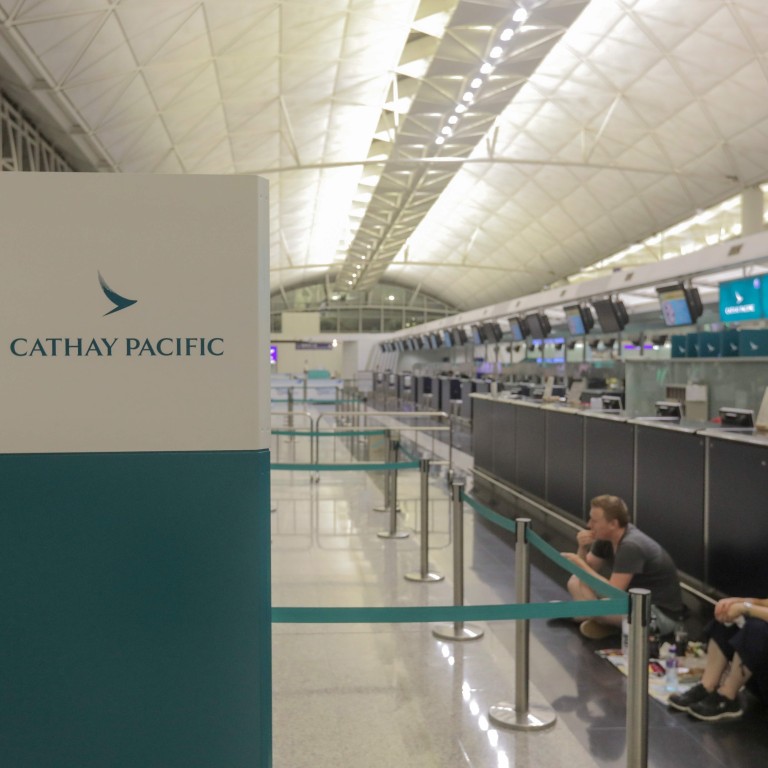 China business or human rights? Hong Kong protests leave Cathay facing a tough balancing act
Doing business in China while respecting human rights is never easy for any company
Cathay can overcome the challenges only if it explores ways to honour both the legitimate demands of Chinese authorities and its own responsibilities on rights
The
recent notice
from the Civil Aviation Administration of China, that no Cathay Pacific staff who had taken part in "illegal protests", "violent actions" and "overly radical activities" would be allowed to fly to or from mainland China – and the response of Cathay as well as its major investor
Swire
to this notice – has put the spotlight on the issue of companies' human rights responsibilities.
Similar questions have been raised about the responsibility of companies
supplying
tear gas, rubber bullets and beanbag rounds to
Hong Kong Police
, or of companies whose
shopping malls
protesters may enter and take shelter in.
It is now well established that companies have a responsibility to respect all human rights while doing business. In June 2011, the UN Human Rights Council unanimously endorsed the UN Guiding Principles on Business and Human Rights (UNGPs), which outline an authoritative framework for corporate human rights responsibility.
The responsibility under the guiding principles is over and above any responsibility that companies may have under domestic laws. The UN Human Rights Council is also currently negotiating a treaty to add "legal teeth" to this responsibility.
Since Swire, a company incorporated in the UK, is a shareholder of Cathay Pacific, the OECD (Organisation for Economic Cooperation and Development) Guidelines for Multinational Enterprises would also apply here. To act in conformity with these guidelines, Swire should "avoid causing or contributing to adverse human rights impacts and address such impacts when they occur".
A complaint to the UK's National Contact Point could be made for an act in breach of the OECD guidelines.
Moreover, Cathay Pacific has a code of conduct which provides, among other aspects, that any "form of harassment or discrimination on the basis of … political opinion will not be tolerated".
Let us consider how Cathay and Swire have discharged their human rights responsibilities in line with international standards. So far,
Cathay has
(i) sacked two of its airport employees for leaking information, (ii) terminated the employment of
two pilots
for their involvement in, or support for, protests, (iii) instructed that Cathay property should not be used to post non-work content or to make unauthorised public announcements, and (iv) advised its employees not to "express any radical opinions in social and open media" or "support or participate in illegal protests", or otherwise face disciplinary action, including
termination
of employment.
Moreover, both Cathay and Swire issued separate statements, which included the following: "We resolutely support the Hong Kong SAR government, the chief executive and the police in their efforts to restore law and order. We condemn all illegal activities and violent behaviour, which seriously undermine the fundamental principle of one country, two systems as enshrined in the Basic Law."
Cathay's decision in the first situation would be justified and in line with its responsibility to protect the privacy of its customers, as long as due process was followed and the disciplinary action was proportional to the alleged wrong conduct.
However, the dismissal of two pilots, who were previously suspended from duty, for protest-related incidents is problematic. The pilot charged for alleged rioting has not yet been convicted, and, even if convicted, this should not be equated with a typical crime.
The conduct of the other pilot hardly compromised passenger safety or harmed Cathay's reputation. The termination, which appears to have been done to please Beijing and discourage other staff from supporting protests, would run counter to Cathay's responsibility to respect the human rights of its employees.
If Cathay wishes to maintain neutrality amid the protests, it would make sense to ban the use of Cathay property to post non-work content, or to make unauthorised public announcements.
But, if Cathay and Swire should decide to condemn all illegal activities and violent behaviour which may threaten the Basic Law, then they should also condemn the Hong Kong SAR government, the chief executive and the police who are the
root causes
of these protests and have forgotten the "
two systems
" limb of the "one country, two systems" principle.
In fact, Cathay should encourage its employees to utilise office space and property to promote human rights values.
To carry out its fourth decision, Cathay would have to monitor the after-hours personal life of employees and make value judgments in line with the
Chinese authorities' stand
. In effect, this could leave Cathay open to charges of being an agent of the Chinese government, rather than operating within the parameters of the Basic Law and the UNGPs.
The challenges that Cathay faces could be overcome only if it explores ways to honour both the legitimate demands of Chinese authorities and its human rights responsibilities. Such an exploration should be done in consultation with all stakeholders, rather than blindly following Beijing's dictates.
Doing business in China while also respecting human rights is never easy for any company. Cathay may not regard leaving the lucrative Chinese market as a viable option. But nor should it ditch its human rights responsibilities to make profits.
China is of course
powerful
, but Cathay should not take lightly the "private power" of human rights. Many Cathay stakeholders, including its employees, customers and investors, might demand that the airline make profit with principles.
Surya Deva, an associate professor at City University's School of Law, specialises in the area of business and human rights