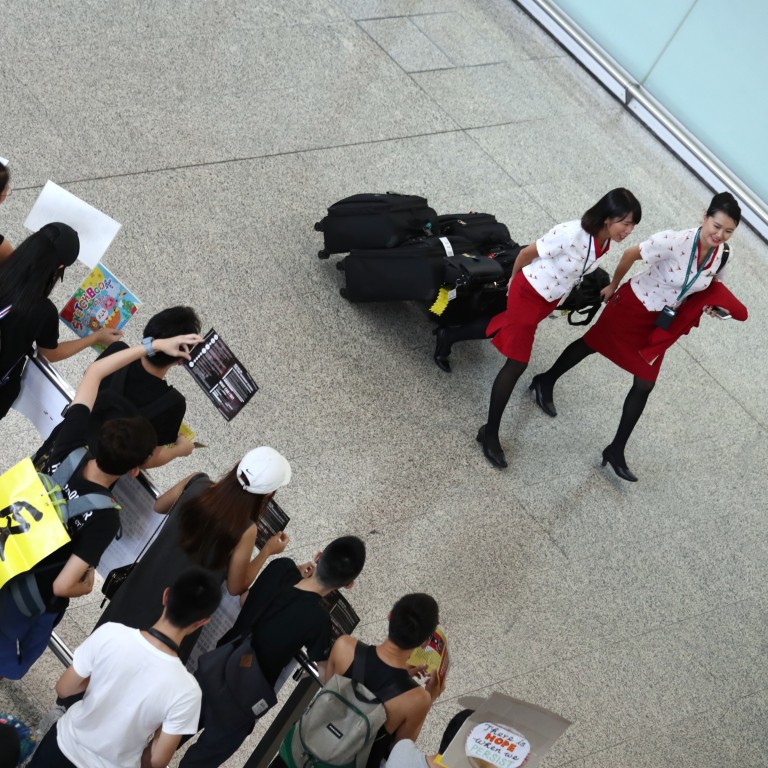 As Cathay feels the heat of political risk in China, it's time to remember lessons of the Mao era
Xi Jinping's administration highlights how politics has always been in command in China, and companies must either adapt or rethink their China business
But nationalistic leaders and web users would do well to remember the losses suffered through extreme political correctness in the Mao era
China made
Cathay Pacific
an offer it couldn't refuse: sack CEO Rupert Hogg or see the airline's all-important China routes put at risk. So
Hogg went
. The dismissal of the Cathay chief heralds a
new era
of China risk. The days of China hiding its strength and biding its time
are over
. Business is increasingly exposed to China political risk.
With China's threat to vet the political correctness of
flight crew
, China is turning back to the days of the Cultural Revolution, when to be "Red" (politically correct) was to be more important than to be "Expert" (scientifically and technically competent).
Next in Beijing's line of sight are the
accountants
, as if financial
statements
benefit more from Red number-crunchers than Expert ones. Good luck with maintaining Hong Kong's role as an international financial centre if that happens.
China wants the world to know that politics underpins its new line. Hogg's departure on August 16 was announced first on a mainland Chinese website, before the airline could notify shareholders through the Hong Kong stock exchange, as is legally required.
That reshuffle at the top followed the dismissal of
two Cathay pilots
, fired for their role in Hong Kong's anti-government movement. One pilot, who has been charged for his role in a protest, is presumably still innocent until proven guilty in Hong Kong.
Earlier, Cathay's chairman John Slosar had defended its employees' right to free speech ("We certainly wouldn't dream of telling them what they have to think about something"), a well-meaning attempt at sticking up for individual liberties that quickly ran up against Beijing's policies.
The requirement for political correctness is another front in the new cold war. Businesses like clear rules, transparency and predictability. Unless there's a clear marketing advantage, there's a good reason that most steer away from politics. That may no longer be an option.
Cathay's punishment is only the most dramatic escalation of business risks with regard to China.
Amazon
, Coach, Versace, Nike and Pocari are among those that have been attacked for their politics, with China's netizens and the government
applying pressure
. Each company was deemed insufficiently supportive of China.
In the United States and Europe, boycotts tend to focus on liberal causes. Think of the anti-sweatshop
Nike boycotts
of the 1990s. Anti-palm-oil
actions
focusing on Nestle and other consumer goods companies have been a more recent cause.
Chinese netizens are playing a different role. They focus on issues of perceived
racial or national
insults. Chinese consumers angry at what they see as implicit support for an independent Taiwan or Hong Kong have rounded on companies.
The
humiliations
of the 19th-century Opium Wars are resurrected. Choose sides, China demands: even T-shirts need to display their political correctness or companies will pay the price. Since 2017, South Korea's
Lotte group
has seen its China retail business pummelled. Its crime? Under pressure from the South Korean government, Lotte allowed some of its land to be used for the THAAD missile defence system.
Businesses may choose to do without China. Amazon has already
pulled out
. Swire's fellow British hong, Jardine Matheson, now gets most of its profits from outside China. Li Ka-shing's Cheung Kong and Hutchison companies have shifted most operations
out of
Hong Kong and China.
Don't be tempted to think that this twin pincer of a tougher government attitude and more aggressive consumer action is a passing moment. Hong Kong's economy is
faltering
and China's is showing its
slowest growth
in three decades. The choice to apply political correctness tests now shows that Beijing doesn't know or doesn't care about the chilling effect on business that these sorts of actions have.
The consistent message since Deng Xiaoping's time is that politics is more important. A contracting economy is a small price to pay for continued Communist Party control.
When Deng first met Margaret Thatcher in 1982, the British prime minister hoped to negotiate continued administration of Hong Kong in exchange for a formal resumption of sovereignty by China in 1997. She warned Deng that direct Chinese rule threatened to wreck Hong Kong's prosperity. Deng assured Thatcher that China could
manage Hong Kong
just fine. He warned that political
control
was more important than economic success and, if forced to choose, China would opt for politics.
In his politics-first approach, Xi Jinping's administration is continuing in a long tradition. This simply makes visible the truth that politics has always been in command in the People's Republic. Businesses will have to
adapt to
this new reality or rethink their China business.
Vetting flight crew over their political beliefs echoes the choice of politically correct Reds over independently minded scientists. That led to disaster in the 1950s and 1960s and to the People's Republic's lost decades under
Mao Zedong
.
Xi and the mainland's
flag-waving netizens
might reflect less on the humiliations of the Opium Wars and more on what was lost through Mao's emphasis on Red political correctness.
Mark L. Clifford is executive director of the Asia Business Council